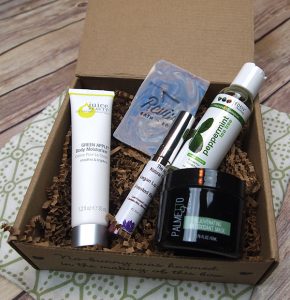 The holiday season is upon us, but it always feels like Christmas when the mailman delivers my monthly Vegan Cuts Beauty Box!
Have you ever wanted to try a new skin care product or have been curious about a cosmetics brand that you've been hearing about, but have been reluctant to shell out a ton of cash, worried that the product in question might not be right for you? Well, then the Vegan Cuts Beauty Box is the perfect solution! The Beauty Box is a subscription service that delivers a box of cruelty-free skin care and beauty products to your door once a month. Each box contains 4 to 7 samples and/or full-sized products, and if you like what you've tried, you can purchase the full-sized counterpart from the Vegan Cuts Marketplace.

The October Vegan Cuts Beauty Box was full of products that will help you get ready for sweater weather: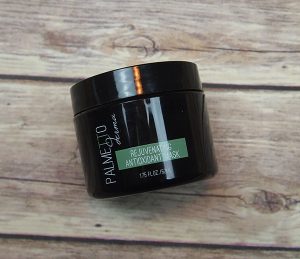 Palmetto Derma Rejuvenating Antioxidant Mask – With the weather change comes skin problems, at least for me. This clay facial mask has helped combat the issues I usually deal with, and has left my skin feeling refreshed and radiant. It's loaded with antioxidants, which help nourish and protect skin.
Juice Beauty Palmetto Derma Green Apple Body Moisturizer – I think most of us experience dry, scaly skin during the cooler months. For me, dry patches start to develop not long after the temperature drops into the 60s. Made with jojoba and shea butter, this lotion has helped put a stop to that. It has a rich, luxurious feel, and a fresh despite that it's "Green Apple Body Moisturizer," it has a fresh, lemony scent.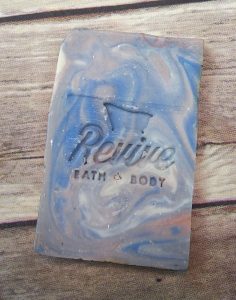 Revive Bath & Body Hand Crafted Soap – For some reason, when I was opening the little glassin bag that this soap came in, three of my four cats came running over, acting as if I had treats for them. I let them sniff the bar, so that they could see for themselves that I wasn't holding out on them. They did not like the scent at all. But I do. The invigorating blend of peppermint, rosemary, and lemon is just the trick to help wake me up on cold and dark autumn mornings. The handcrafted soap is rather pretty, too.
Eden Bodyworks Peppermint Tea Tree Shampoo – Like the Revive soap, this shampoo has an uplifting minty scent that makes it easier to wake up on dreary mornings. It has a nice tingle to it, too! It's formulated to remove all traces of dirt and product build-up without using harsh chemicals that can strip hair.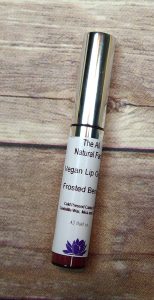 The All Natural Face Vegan Lip Gloss – I'm impressed that this lip gloss has only four ingredients: cold-pressed castor oil, candelila wax, mica, and oxides. I received the color Frosted Berries, which is a mauve tinted color with a white undertone. It compliments my skin perfectly, and it has a glossy shimmer, which makes it perfect for holiday parties.
A Vegan Cuts Beauty Box subscription is the perfect holiday gift for the chic vegan in your life. Subscriptions are available for 3 months, 6 months, or a full year.