I like avocados for their taste, texture, and healthy nutritional profile. I eat them in salads, on crusty dense bread, mashed into a chunky guacamole, or simply halved and sprinkled with lime juice and flaked sea salt. Then, there is avocado-based ice cream! You may have already enjoyed some of the naturally vegan avocado ice creams that are standard fare in Mexico and other countries, and if you have, you know the good fat in this fruit churns into ultra creamy frozen desserts. You won't notice the slightly vegetal flavor of the fruit if you use just-ripe—not very ripe—fruit. But don't worry too much: It's the chocolate and mint that you'll taste the most. As a New Yorker with limited avocado choices, I use the creamy, neutral-flavored but rich Hass from California.

Mint Chocolate Chip Ice Cream
Makes about 1 1/2 pints / 
3/4 liter ice cream
Ingredients
1 1/2 cups plus 2 tablespoons / 390 ml almond milk
1 1/4 cups / 300 ml agave syrup or pure maple syrup, Grade B or dark amber
1 cup / 150 grams just-ripe Hass avocado, mashed (about 1/2 an average-size fruit)
1/4 cup / 25 grams Dutch-process cocoa powder
1 teaspoon / 5 ml pure vanilla extract
1/2 teaspoon natural mint oil or 3/8 teaspoon mint extract
1/2 teaspoon guar gum

3 ounces / 85 grams vegan mint chocolate, finely chopped

1 recipe Mint Chocolate Ice Cream Shell (recipe follows), for serving (optional)
Preparation
Process the almond milk, agave, avocado, cocoa powder, vanilla, and mint oil in a blender on high for 1 minute or until completely puréed.
Sprinkle the guar gum directly on the mixture. Blend on low for 30 seconds, then increase the speed to high and blend for 1 minute. Taste the mixture. The mint should be strong but not overpowering. Add more mint oil cautiously, drop by drop, if needed.
Pour the purée into a 2-cup / 500-ml measure. Add enough almond milk to equal 2 cups / 480 ml.
Pour the ice cream base into a 2-cup / 500-ml container. Cover and refrigerate the base for 2 to 4 hours until thoroughly chilled before churning. Chilling the base thoroughly means faster churning, which results in a creamier frozen dessert.
When the mixture is cold, give it a good whisk. Pour into an ice cream maker and churn according to the manufacturer's directions. It will look like soft serve when it is ready. Add the chopped chocolate and process for another minute or two.
Using a silicone spatula, immediately transfer the frozen ice cream to the chilled container. Cover tightly and freeze for at least 3 hours until the ice cream is firm enough to scoop.
Serving
Serve the ice cream in chilled bowls. Add a few tablespoons of Mint Chocolate Ice Cream Shell if you like.
Keeping
The ice cream will stay creamy for at least five days in the freezer.
Chocolate Ice Cream Shell
Makes 1 cup / 240 ml
Ingredients
7 ounces / 198 grams dark chocolate (68 to 70%), finely chopped
2 tablespoons / 30 ml mild tasting extra-virgin olive oil or coconut oil, melted
1/2 teaspoon pure vanilla extract
Preparation
Place the chocolate in a small heatproof bowl and set it in a saucepan of very hot water over the lowest heat. Allow the chocolate to melt undisturbed until about two-thirds is melted.
Remove the saucepan from the heat and stir with a silicone spatula until all the chocolate is melted. Stir the oil into the chocolate until incorporated. Add the vanilla.
Keep the shell in liquid form until ready to pour over the ice cream – do not refrigerate.
Serving
Spoon a few tablespoons of the liquid shell over a dish of ice cream and wait a few seconds until it magically hardens. The liquid sauce will turn into a firm chocolate shell within a few seconds of touching ice cream and will turn matte when it hardens.
Keeping
Store the Chocolate Ice Cream Shell in a jar in the refrigerator for up to two weeks. It will harden. To warm before using: place the jar in a small saucepan. Pour hot water to reach about halfway up the sides of the jar and warm over the lowest heat until liquefied.
Variation
Mint Shell: Add 2 or 3 drops of pure mint or use or 1⁄4 teaspoon good quality mint extract, or to taste.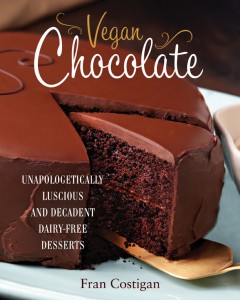 Recipe reprinted with permission from Vegan Chocolate: Unapologetically Luscious and Decadent Dairy-Free Desserts, © 2013 by Fran Costigan, Running Press. Photo © Kate Lewis