If you haven't been vegan for very long, you may not know about the early days of vegan "dairy" products. I went vegan in 2001, when there was one type of mayo readily available, and it tasted kind of like rancid oil. There were one or two types of vegan cheeses on the market, and they were similar to waxy chalk. My only guess as to how the companies stayed in business is that vegans were so eager for vegan versions of their favorite dairy products that they were in denial over what they really tasted like.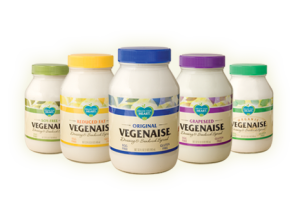 I'm not really sure when I first discovered Follow Your Heart's Vegenaise, but it was was a life changer. Rich and creamy, it tastes like what I remember mayonnaise to taste like. I began using it everywhere I could, and I found myself coming up with excuses to make sandwiches and potato salad, just so I could have more of it. A few years later, I heard that Follow Your Heart had begun making Vegan Gourmet Cheese. I heard that it melted and stretched and could be used on pizza. I salivated at the idea of a cheese pizza. I had friends in California who had tried it and told me it was amazing, but distribution hadn't quite reached the East Coast yet. I remember the day I finally found Vegan Gourmet Cheese. I was in Watkins Glen, NY, visiting Farm Sanctuary, and I stopped at the local health food store to see if there were any snacks I could buy for the ride home. There in the refrigerator case was block after block of Vegan Gourmet. Fortunately I had a cooler bag in the car so I bought as much as the bag would hold. Soon after, I was able to get Vegan Gourmet Cheese at my local Whole Foods. Pizza Night became a regular occurrence and I started looking for foods to melt cheese over.
Vegan Gourmet Cheese is now available in shreds, making Pizza Night and Taco Tuesday even easier. They melt, stretch and they taste like cheese. Win win win! Vegan Gourmet Shreds are available in Mozzarella, Cheddar and Fiesta Blend. I like that they melt without getting slimy or oily, unlike some other vegan cheeses on the market.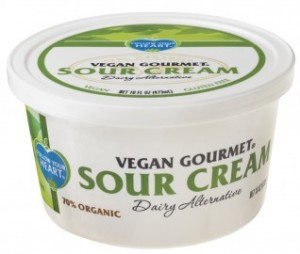 Shortly after I discovered Vegan Gourmet cheese, I noticed that they were making both cream cheese and sour cream, which meant that vegans had now successfully conquered the dairy world. We could now have bagels and cream cheese on Sunday mornings. We could have a baked potato with the works. We could make cheesecakes and dips for parties. A new era of vegan food was upon us. Going vegan no longer meant giving up cheese, mayo or sour cream – it just meant switching to a more compassionate brand.
Speaking of dips for parties, Follow Your Heart was kind enough to share this recipe for Spinach Artichoke Dip with us. This is sure to be a hit with guests at holiday parties this month. You may want to make a double batch, because it will disappear quickly! 
Vegan Spinach Artichoke Dip
Ingredients
½ white onion
2 cloves garlic
½ cup Vegan Gourmet® Cream Cheese
½ cup Vegan Gourmet® Sour Cream
¾ cup Vegan Gourmet® Shreds- Mozzarella
1 cup marinated artichoke hearts, chopped
2 cups frozen spinach, thawed and drained
Bread crumbs or Panko
Preparation
Chop onion and garlic and sauté in olive oil on low heat until translucent. In a medium sized bowl, mix the onions and garlic with the cream cheese, sour cream, mozzarella shreds, chopped artichoke hearts, and spinach.  Add freshly cracked pepper and a pinch of salt. Pour into oven safe dish and sprinkle with breadcrumbs.  Bake at 375 for 30 minutes or until bubbling and browned on top.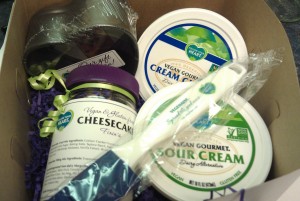 Vegan Gourmet is also being kind enough to give a cheesecake making kit to one lucky Chic Vegan reader! The kit includes:
Follow Your Heart® Vegan Gourmet® Cream Cheese
Follow Your Heart® Vegan Gourmet® Sour Cream
Vanilla Extract
Mini Heart-shaped Springform Pan
Cheesecake Filling Bag: Sugar + Cornstarch (exact measure)
Margarine (non-hydrogenated & non-dairy)
Gluten-Free Crust Mix: Vegan & Gluten-Free Crumbs + Sugar (exact measure)
Spatula
Follow the instructions below to enter. U.S. residents only, please. Contest ends at midnight EST on Monday, December 16th. Good luck!
Recipe and photos courtesy of Follow Your Heart