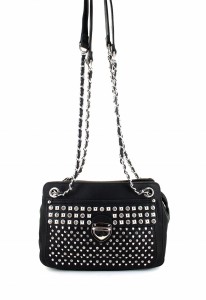 I can attribute my obsession with handbags to my mother. She was from a generation that believed that you had to have a bag to match every pair of shoes to make the perfectly assembled outfit.  Needless to say, she had quite the collection of handbags.
Now my style is not nearly as formulaic as my mother's, but I did inherit her love of handbags of all shapes, styles and colors. I am constantly on the lookout for bags that are durable, functional, stylish, and of course vegan. So when LANY asked me to do a review of their vegan handbags for Chic Vegan, you know this girl jumped at the chance.
Located in Los Angeles, founders Robert and Jane's vision behind LANY is to "…create fashion-driven, affordable yet uncompromising quality handbags." Well let me tell you people, they've done it and done it well.
So let me introduce you to LANY handbags so you can see for yourself!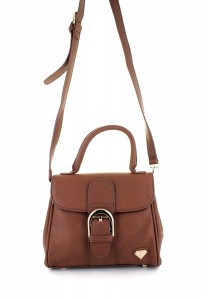 Appropriately named, Love at First Sight is a great bag full of sass. But don't let that sparkly exterior fool you, this
bag is not just another pretty face.  Full of functionality, Love at First Site has lots of useful compartments and pockets, so you can keep everything nicely organized.  The chain link straps add to the chic sophistication of this compact shoulder bag.  Available in green, navy, pewter, purple and black (shown), you can have a bag to go with every outfit!
The Buckle Me Up cross body bag is all class. This ladylike bag has a timeless style that goes well with any outfit, day or night.  With a convenient long strap, this bag can be worn as a cross body or on your wrist with the top handle if you prefer.  The top flap has a magnetic buckle closure that opens up to reveal an interior lined with several convenient compartments and pockets.  Available in beige, black or brown (shown) Buckle Me Up bag is a staple that should live in everyone's closet.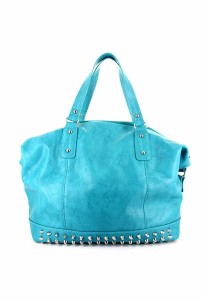 We all have tons of things that we lug around on a daily basis, so why not do it in style with the Studded Feet Barrel bag. With its bottom covered in heavy metal studs, this oversized barrel bag has a cool rock n roll vibe.  Because I mean, who couldn't use a li
ttle rock n roll in their life, right?  This bag is available in a rainbow of colors with my personal favorite being the turquois featured below.
LANY has a wide assortment of styles to choose from and no matter which bag you choose, you can be guaranteed that you will get a beautifully made, high-quality handbag that makes a statement. The only question left is, what statement do you want to make?
Images source and credit for all images: LANY Handbags