One of my favorite dinner dishes is a stir-fry with spicy peanut sauce. This salad was inspired by that dish, and it has a crave-worthy dressing that's similar to my beloved stir-fry sauce. If you're pressed for time, you can use pre-made baked tofu, but the homemade version is so good that it's definitely worth the effort.

Stir-Fry Salad
Makes 2 to 4 servings
For the Tofu
1 container (16 ounces) extra-firm tofu
1 tablespoon tamari
1 tablespoon sesame oil
1 tablespoon rice vinegar
1 tablespoon water
For the Dressing
5 tablespoons natural creamy peanut butter
2 tablespoons rice wine vinegar
3 tablespoons water
1 tablespoon toasted sesame oil
1 tablespoon tamarind paste
1 tablespoon lime juice
1 tablespoon tamari
1 teaspoon fresh ginger, minced
2 teaspoons agave nectar
1 teaspoon garlic chili paste
1 clove garlic, minced
For the Salad
1 head romaine lettuce, shredded (about 4–5 cups)
2 cups napa cabbage, shredded
2 cups mung bean sprouts
1 red bell pepper, julienned
2 carrots, shredded
2 scallions, sliced
1/4 cup peanuts, chopped
Make the Tofu
Drain and press the tofu.
Cut the tofu into 1-inch cubes.
Preheat your oven to 400°F. Line a baking sheet with parchment paper.
Mix together the tamari, sesame oil, rice vinegar, and water. Marinate the tofu in the mixture for about 15 minutes. Toss the tofu occasionally so all sides absorb the liquid.
Place the tofu on the baking sheet. Bake for 10 minutes and then flip the cubes. Bake for another 10 minutes and flip the cubes to an unbaked side. Bake for another 10 minutes and remove from the oven. Set aside to cool.
Make the Dressing
While the tofu is baking, mix all of the ingredients together in a blender.
Make the Salad
Mix together the lettuce, cabbage, sprouts, bell pepper, and carrots.
Divide the salad mixture between 2 (or 4) plates. Top with the dressing, tofu, scallions, and peanuts. Enjoy!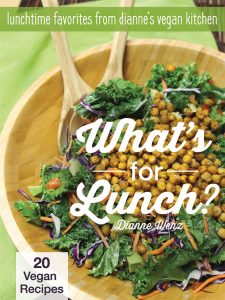 Recipe reprinted with permission from  What's for Lunch? Lunchtime Favorites from Dianne's Vegan Kitchen. ©2016 Dianne Wenz. Download your copy of the e-book here: http://www.diannesvegankitchen.com/cookbooks/