Do you love avocados as much as I do? Make stuffed avocado the star of supper!
If there is one thing the Striepes love, it's avocado. Even when Darrol is going through the pickiest eating phase, I can usually get him to eat some avocado. Dave and I like sliced avocado on basically any dish.
And you can't blame us, right? Avocado is the tops. It's creamy and satisfying, and you can feel good about eating it. I've written about why avocado totally deserves superfood status before. It may be fatty, but unlike fatty animal foods, the fat in avocado does your body good.
More avocado goodness: Oil Free Avocado Pesto, Grilled Avocado Sandwich with Sriracha Mayo
What I love most about this stuffed avocado recipe is that there is barely any cooking involved at all. There's a good bit of chopping to do, but your actual stove time is under 10 minutes.
In the thick of summer, that's a blessing in my book. It's also nice for someone who's usually preparing supper with a curious toddler in the kitchen who – despite lots of reminding – has no sense of stove safety.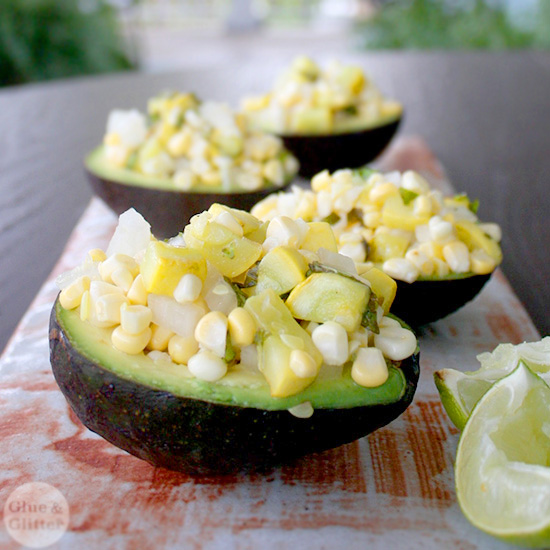 More Information than You Wanted about Prepping Corn
You make this summery stuffed avocado with raw corn, sliced right off of the cob. If you're never eaten your corn raw before, you are in for a real treat! I am not slamming cooked corn at all. I kind of think of raw corn as a whole other food. Cooked corn is sweet and crunchy, but when you cook your corn kernels, they lose the mellow starchiness that's a nice contrast to the rich avocado and sauteed squash in this recipe.
Of course, if you're in a hurry, you can also use canned or frozen corn to make this. To prep canned or frozen corn for this recipe, toss it in a colander, and rinse under the tap, then let it drain while you do the rest of the prep, so you're not introducing too much extra liquid to the equation. The frozen corn will defrost pretty quickly under tap water in the summer. In winter when tap water comes out frigid, you might need to defrost in boiling water on the stove or in the microwave.
If you go for the raw corn, I thought you might like my method for getting the kernels off without spraying them all over the kitchen counter. My secret is to use a large, shallow bowl, like the 2.5 quart glass bowl from my Pyrex storage set. That bowl is perfect, because the sides keep the kernels contained, but they're not so high that they interfere with your hand as you saw the kernels off.
To remove the kernels, just stand the cob on one end in your bowl, then use a sharp knife to saw straight down, top to bottom. Repeat until you get all of the kernels off. Easy peasy!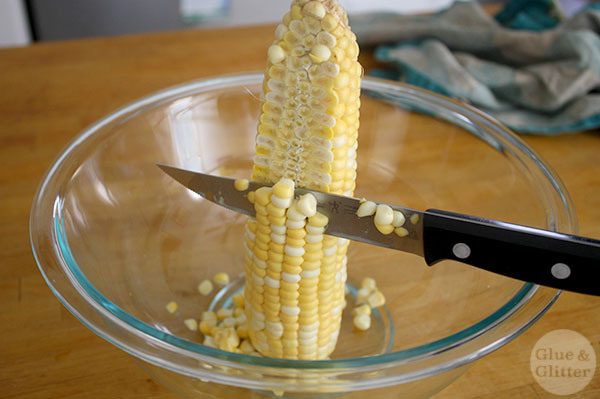 But enough about corn, you guys. Let's make some stuffed avocado!
Stuffed Avocado with Corn and Summer Squash
Yield: 4 servings as a main dish, 8 servings as an appetizer
Ingredients
1

yellow squash, diced into 1/2″ pieces

2 tablespoons

olive oil

2 ears

corn

1/2 cup sweet

onion, minced

1 tablespoon seasoned rice

 vinegar

2 tablespoons minced

basil

4 

Haas avocados, halved and pitted

juice of 1/2 a fresh

lime
Method
Heat the oil in a large skillet over medium high heat, and saute the squash until it's soft and a bit browned, about 7-8 minutes.
Cut the corn kernels off of the cob, then toss in a large, glass bowl with the cooked squash and the rest of the ingredients, except for the avocado and lime juice.
Stuff the mixture into the avocado halves, and squirt each half with lime juice. Serve.
Republished with permission from Glue and Glitter.