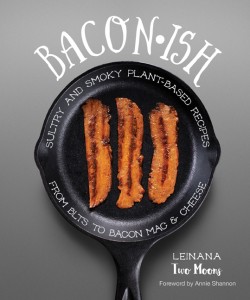 Baconish: Sultry and Smoky Plant-Based Recipes from BLTs to Bacon Mac & Cheese by Leinana Two Moons shows how you can eat a plant-based diet and have your bacon, too.
If you love bacon but want a better alternative for your health, the planet, and, of course, the pigs, this is the book for you!
Leinana shows how easy it is to make vegan bacon from ingredients such as tempeh, tofu, carrots, chickpeas, eggplant, texturized vegetable protein, seitan, coconut, and mushrooms.
One of the most versatile recipes is the Baconish Bits. 
You can use these to make recipes in the book including Loaded Potato Soup with Bacon, Wedge Salad with Vegan Blue Cheese, Spinach and Fresh Fig Salad, and Chocolate-Peanut Bacon Truffles, which Vegan Heritage Press has allowed me to share with you. Is your mouth watering yet?
You can also enter the giveaway below to win a copy of the book!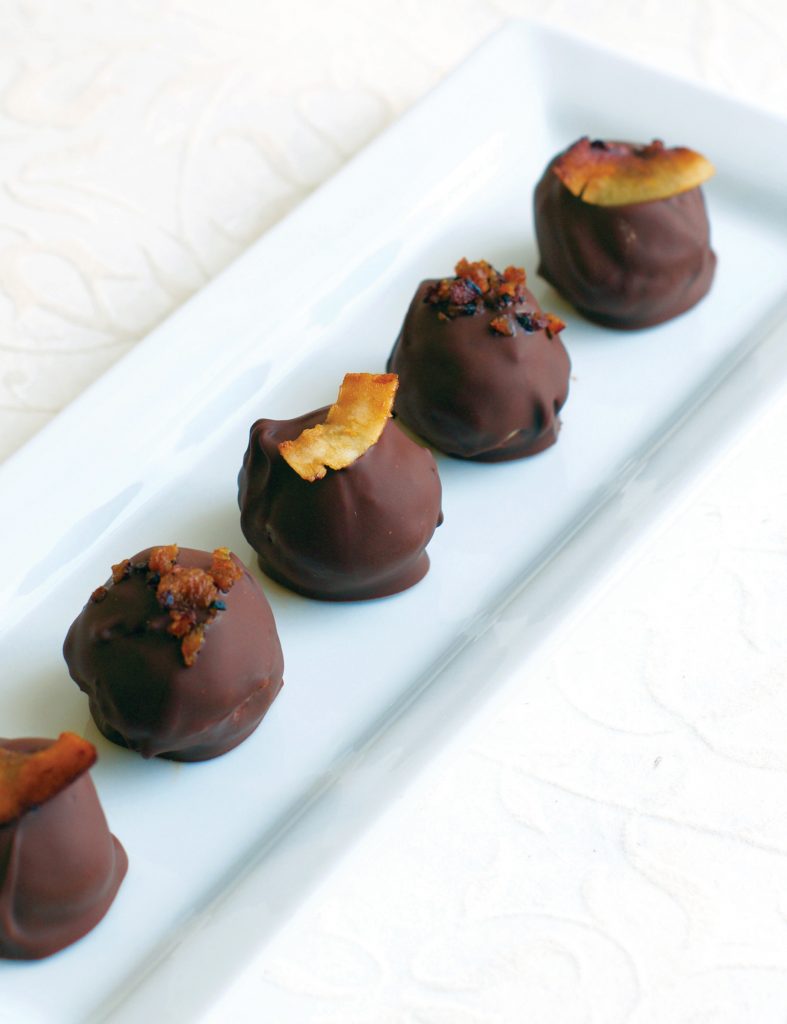 Chocolate-Peanut Bacon Truffles
Makes 28 truffles
Peanut butter. Chocolate. Baconish Bits. These are like a grownup version of peanut butter cups. They are surprisingly easy to make and super fun to box up and give as gifts.
Ingredients
1/2 cup smooth peanut butter
2 tablespoons vegan butter, melted
3/4 cup confectioners' sugar
2 tablespoons Baconish Bits (recipe follows)
2/3 cup vegan chocolate chips
Additional Baconish Bits and/or Coconut Bacon, for garnish
Preparation
Line a large baking sheet with parchment paper. Use an electric mixer to combine the peanut butter, melted butter, and confectioners' sugar. Fold in the Baconish Bits. Scoop out 1 teaspoon of the mixture, roll into a ball with your hands, and place the ball on the prepared baking sheet. Repeat this process with the remaining mixture. Chill in the refrigerator for 20 minutes.
Place the chocolate chips in a medium microwave-safe bowl and microwave in 30-second intervals, stirring between intervals, until melted, about 1 1/2 to 2 minutes.  Dip the peanut butter balls in the melted chocolate. I find it easiest to use 2 small dessert forks to roll the balls in the chocolate and then lift them out, letting the excess chocolate drip back into the bowl. Place the truffles back on the parchment sheet. Sprinkle a few Baconish Bits or place a flake of Coconut Bacon on top of each truffle while the chocolate is still warm.
Chill the truffles in the refrigerator another 20 minutes to set the chocolate. Keep refrigerated until ready to eat—the truffles will soften and melt if left out too long.
Baconish Bits
Makes about 1 cup
It's fairly easy to find accidentally vegan bacon bits at the grocery store, but they may contain preservatives and other questionable ingredients. These bits are easy to make yourself, healthier, and taste so much better than the store-bought kind.
Ingredients
1/4 cup boiling water
2 tablespoons tamari
1 tablespoon maple syrup
1 tablespoon liquid smoke
1 teaspoon ketchup
1/2 teaspoon garlic powder
1/2 teaspoon onion powder
1 cup texturized vegetable protein (TVP)
2 tablespoons safflower or other neutral-tasting vegetable oil
Preparation
In a medium bowl, whisk together the boiling water, tamari, maple syrup, liquid smoke, ketchup, garlic powder, and onion powder. Mix in the TVP and stir until it is evenly coated.
Heat the oil in a large skillet (preferably cast iron). Add the TVP and cook until it is dry, dark brown, and crispy, 8 to 10 minutes. Stir frequently to prevent burning. Remove the skillet from the heat and allow the TVP to cool. Store Baconish Bits in an airtight container about 1 week.
From Baconish © 2016 by Leinana Two Moons. Used with permission from Vegan Heritage Press.
Follow the instructions below for a chance to win a copy of Baconish. U.S. residents only, please. Contest ends at midnight eastern time on May 9th. Good luck!
a Rafflecopter giveaway

Portions reposted with permission from Veggies Save The Day.