If you've been vegan for a while, you probably have your own version of this recipe, but if you're a newbie or an omnivore, the idea of making a vegan "tuna" or "chicken" salad out of chickpeas might be new to you. This recipe is a quick and easy lunch to pack for work or school, and it's easy to hide veggies from picky-eating kids in the chickpea mix. I made this recipe at a (very omnivore) cooking demo at Williams Sonoma last year, and it was a big hit! I even overheard a man in the parking lot telling his wife that she should have tried it. You should try it too!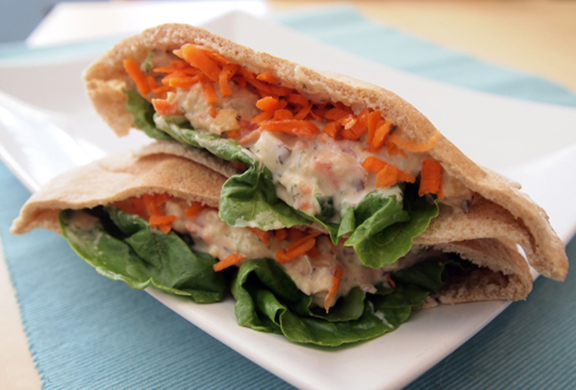 Chickpea Salad
Ingredients:
1-14 ounce can chickpeas, drained and rinsed
1/3 cup vegan mayonnaise
1 tablespoon lemon juice
1 tablespoon yellow mustard
1/4 teaspoon sea salt
2 celery stalks, diced
2 scallions, thinly sliced
1/4 cup red bell pepper, diced
1/4 cup shredded carrot
1 teaspoon kelp
1 teaspoon dried dill
Directions: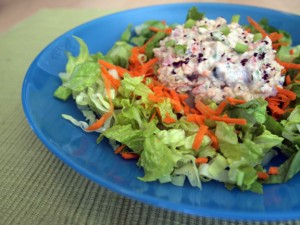 Coarsely mash chickpeas, either by hand with a potato masher or in a food processor.
Add remaining ingredients and mix. Chill for an hour or two so the flavors can commingle. Season to taste.
Serve on bread for sandwiches or in a salad.