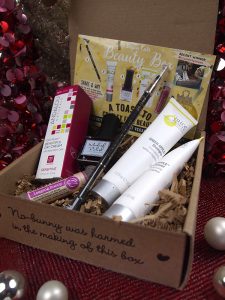 Christmas came early for me this month, because the December Vegan Cuts Beauty Box felt like a gift!
The Vegan Cuts Beauty Box is a subscription service that delivers a box of 4 to 7 sample size (or sometimes even full-sized!) beauty products to your door every month. It's a great way to try new-to-you cruelty free skincare products and cosmetics without spending a lot of money. It's also a great way for new chic vegans to discover the world of cruelty-free beauty.
My December Beauty Box arrived right before Christmas, and it really did feel like a gift, as I was thrilled with all of its contents! This box was co-curated by Vegan Cuts and Leaping Bunny, and it was full of fun products that are perfect for keeping in tip-top shape during the winter.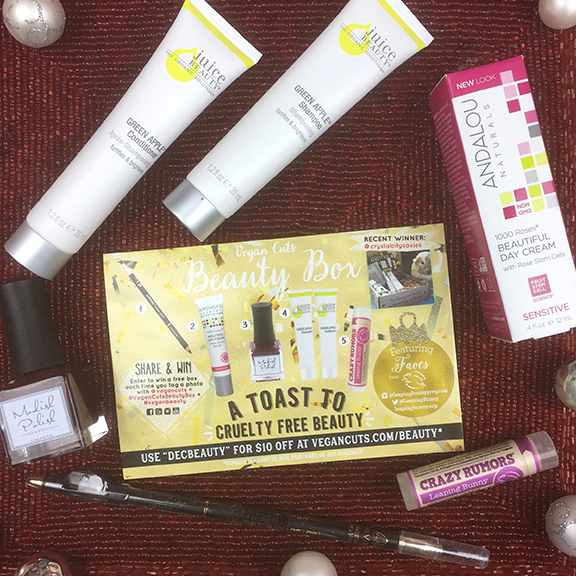 The December Vegan Cuts Vegan Beauty Box Contained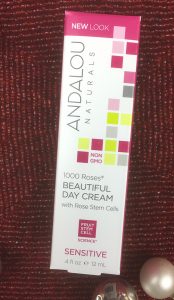 Andalou Naturals 1000 Roses Beautiful Day Cream – I'm always a little nervous about trying new moisturizers, because I have very sensitive skin, but I was happy to see that this day cream was formulated for sensitive skin. It's made with rose stem cells, pomegranate, and aloe vera to keep skin hydrated and glowing, which I definitely need in this cold winter air. It has a silky smooth texture and light floral fragrance, and it has left my skin feeling soft and hydrated.
Crazy Rumors Leaping Bunny Lip Balm – Crazy Rumors is my favorite lip balm brand, and I was running low on what I had on hand, so I was very happy to see this in the December Beauty Box. Crazy Rumors lip balms are made with moisturizing shea butter along with plant oils and waxes, and they always help protect my lips from the harsh winter air. The Leaping Bunny balm is Plum Apricot flavored, and a portion of the proceeds are donated to the Leaping Bunny Program.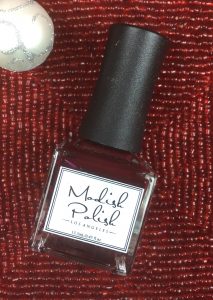 Modish Polish Nail Lacquer – I received the color "Control Freak." This dark red nail lacquer is the perfect polish to wear to New Year's Eve parties. It's 5-free, which means that it doesn't contain a lot of the harmful chemicals that a lot of other polishes do. It's high shine, and doesn't chip easily, which is a win-win in my book!
Devita Absolute Minerals Softlines Eyeliner Pencil – You can create a soft outline or dark, smoky eyes – or something in between – with this eyeliner, which is made with plant waxes and oils along with natural pigments. I love that it comes with a sharpener in the lid and a built in smudger! It glides on smoothly, and doesn't run.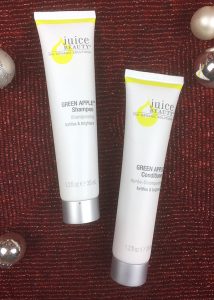 Juice Beauty Green Apple Shampoo and Conditioner – I've already tried Juice Beauty Green Apple Body Moisturizer, and I loved it, so I was excited to see these samples in the Beauty Box this month. Both the shampoo and conditioner are made with natural aloe fruit juices along with essential oil extracts and plant proteins, and are formulated to promote thicker, healthier, and brighter hair. They both have a fresh, fruity scent, and my hair has been more manageable and felt thicker since I've been using them.
The Vegan Beauty Box is available as a monthly subscription, which means that once you sign up, a box of new goodies gets delivered to your door every month. If you like the samples in your box, you can order their full-sized counterpart from the Vegan Cuts Marketplace.