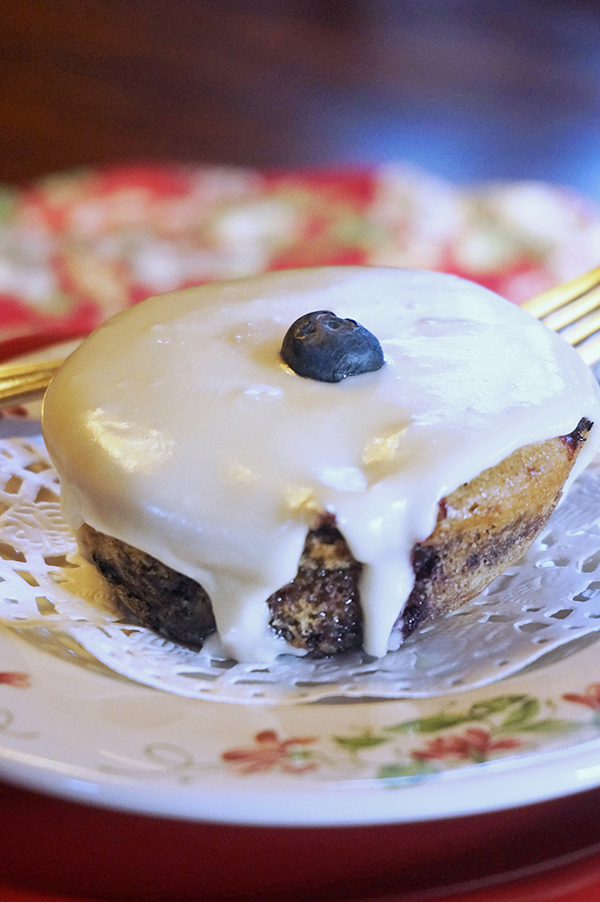 These delectable little Blueberry Tea Cakes make a fantastic finish to any spring or summer meal. Showcasing fresh plump blueberries, these delicate cakes are then drizzled with a luscious lemon glaze. These mini-cakes will really impress family and guests alike. Oh yes, did I mention? Sans the glaze, they make tasty breakfast muffins or a satisfying sweet snack.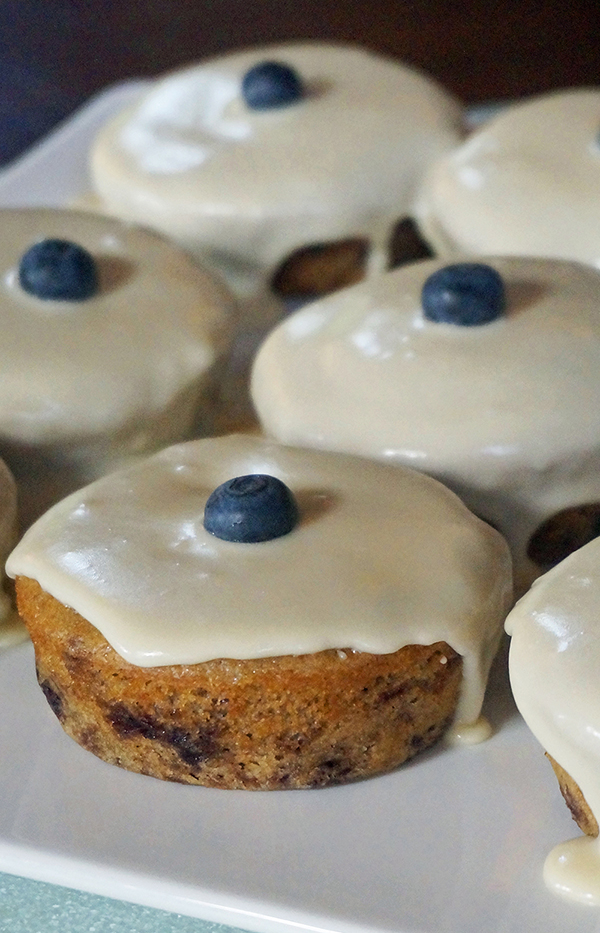 Blueberry Tea Cakes with Vegan Lemon "Buttercream" Glaze
These delectable little cakes make a fantastic finish to any spring or summer meal.
Ingredients
GLAZE
⅓ cup vegan margarine
11/2 tablespoons freshly squeezed lemon juice
2 cups vegan powdered sugar, divided, plus more if needed
2 tablespoons nondairy milk
CAKES
1 cup sweetened nondairy milk
2 tablespoons freshly squeezed lemon juice
11/4 cups whole wheat flour, plus more for coating pan
11/4 teaspoons baking powder
¼ teaspoon baking soda
1 teaspoon ground cinnamon
¾ cup vegan cane sugar
2 tablespoons extra-virgin olive oil
½ cup water
21/2 cups fresh blueberries
Instructions
To prepare the glaze, put the margarine and 11/2 tablespoons of lemon juice into a medium-sized bowl and stir vigorously with a fork to combine. Add 1 cup of the powdered sugar and briskly stir with the fork until all of the sugar is incorporated. Add the second cup of powdered sugar and 2 tablespoons nondairy milk and stir until the glaze is nice and smooth. Cover and refrigerate for about 2 hours to allow the glaze to thicken slightly.
To make the cakes, preheat the oven to 350 degrees F. Put the nondairy milk and lemon juice into a small bowl or pitcher and stir to combine. Let stand for 10 minutes while preparing the batter.
Generously coat two 6-cup jumbo muffin tins with vegan margarine. Sprinkle a bit of the flour into the bottom of each muffin cup and tilt the pan, tapping to move the flour evenly around the insides of the muffin cups, until each cup is coated with a very thin film of flour. Tap out any extra flour. Put 11/4 cups flour, baking powder, baking soda and cinnamon into a large bowl and stir with a dry whisk until combined. Add the sugar and stir with a whisk to combine.
Add the oil to the nondairy milk/lemon mixture, and stir vigorously with a whisk or fork to combine. Add the water and the nondairy milk/lemon mixture to the flour mixture and stir with a large spoon, until well moistened, to make a batter. Gently fold the blueberries into the batter and stir to combine.
Divide the batter among the muffin cups. Bake for 30 minutes, or until a toothpick inserted into the center of a tea cake comes out clean. Put the tins on a wire rack and loosen the edges of the cakes with a knife. Let cool for 5 to 7 minutes. Carefully invert the tins onto a wire rack and gently shake to loosen the cakes. Cakes will be very, very soft, so carefully arrange them on the wire rack to firm up a bit and thoroughly cool (about 2 hours).
Once the cakes have cooled, drizzle one-twelfth of the glaze over each cake. Refrigerate for at least 2 hours, or up to 6 hours before serving. Let the cakes stand at room temperature for about 20 minutes before serving. Tightly covered and stored in the refrigerator, the cakes will keep for about 2 days.