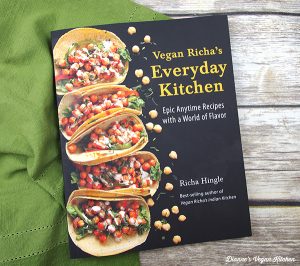 If you're a fan of Vegan Richa's Indian Kitchen, you're definitely going to want to get your hands on Richa's new cookbook Vegan Richa's Everyday Kitchen. In this book, Richa applies her culinary skins to international comfort food, and the recipes are absolutely incredible.
The secret to these mouthwatering recipes lies in Richa's "awesome sauces." These sauces can be made ahead of time and stored in the fridge until you're ready to make dinner. You'll find recipes for spicy sauces, such as Buffalo and firecracker, to Asian-inspired sauces, like hoisin and Manchurian. Rather than group recipes by type, the chapters in Vegan Richa's Everyday Kitchen are devoted to flavors, so you'll find peanut butter and coconut in one chapter, and sweet and sour in another.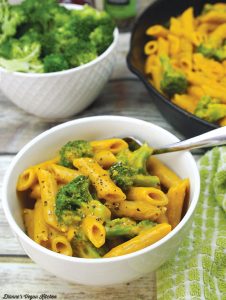 The chapters in Vegan Richa's Everyday Kitchen include:
Peanut Butter & Coconut
Sweet & Sour
Masala & Saag
Burgers & More
Bowls & Hands
Deep-Dishing
Breakfast for Lunch
On a Sweet Note
Everyday Basics
My Everyday Kitchen
Each recipe in Vegan Richa's Everyday Kitchen looks better than the last, and they range from stir-fries and curries to burgers and pizzas. You'll find such scrumptious dishes as Mushroom-Jalapeno White Pizza, Crispy Kung Pao Cauliflower, and Tiramisu Fudge Bars. The ingredient lists can be long, so on first glance it may seem that the recipes might take a while to make, but most of the ingredients are actually easy-to-find spices, and the dishes do come together pretty quickly. This is the perfect cookbook for everyday weeknight cooking. The recipes are easily customizable to suite your tastes, and Richa gives options for those who follow a gluten-free, soy-free, or oil-free diet.
There are so many amazing recipes in this book that I wasn't sure what to start with. I pretty much always gravitate to the mac and cheese recipes in a new cookbook, so I decided to go with the Black Pepper Cheesy Mac and Broccoli. The base of the "cheese" is potatoes and carrots, but you would never know it. The sauce cooks up rich and creamy, and I love the addition of the broccoli to this dish.
I'm a total sucker for spicy peanut sauce, so I made the Firecracker Chickpea Salad with Peanut Dressing next. I loved the combination of creamy peanut sauce with the spicy firecracker chickpeas. I cold eat this dish every day! The recipe says it serves 4, but Dennis and I devoured it all in one sitting.
Because of my love of tacos, I choose to make the Buffalo Chickpea Tacos next. In this recipe, spicy chickpeas are complimented with a cool and creamy ranch sauce. The tacos are also stuffed with spinach and peppers to make them a complete meal.
I have many more recipes bookmarked, such as the Buffalo Chickpea Pizza with White Garlic Sauce, One-Pot Peanut Butter Noodles, and Cauliflower Shawarma Wraps. I'm going to be cooking from Vegan Richa's Everyday Kitchen for a long time to come!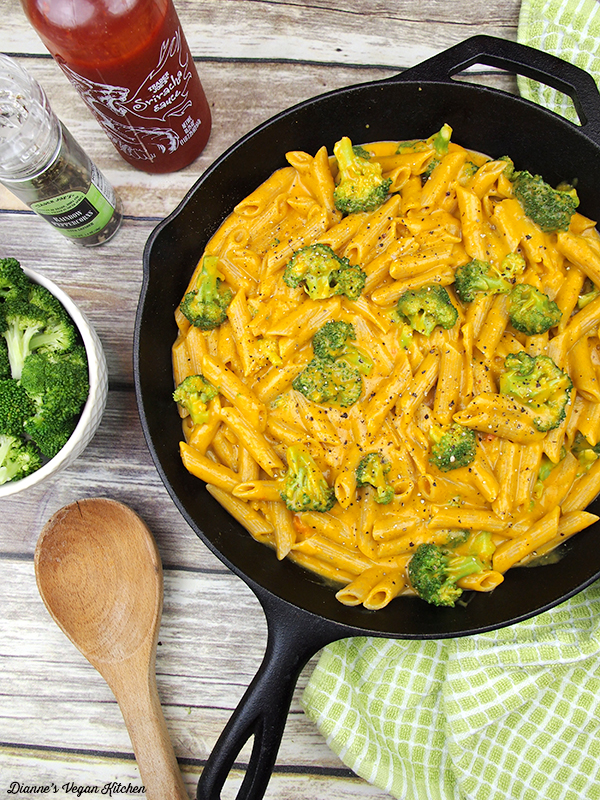 Black Pepper Cheesy Mac and Broccoli
Potato-carrot cheese sauce is the thing these days. My version of this sauce is creamy, filled with vegetables, and loaded with black pepper. What makes this sauce different is the black pepper: add black pepper and then, when you think that should be enough, add some more.
Ingredients
2½ cups (600ml) water
1 medium potato, peeled and cubed
⅓ cup (50g) chopped carrots
4 cloves garlic, chopped, or 1 teaspoon garlic powder
3 tablespoons chopped onion or ½ teaspoon onion powder
½ small green chile (optional)
1 small tomato, chopped
¼ cup (30g) raw cashews or macadamias (or ¼ cup pepitas to make nut-free)
2½ cups (225g) chopped broccoli
¾ teaspoon prepared mustard
2 teaspoons soy sauce or tamari (or coconut aminos to make soy-free)
4 tablespoons nutritional yeast
2 teaspoons fresh lemon juice
2 tablespoons extra-virgin olive oil (omit to make oil-free)
½ teaspoon paprika
½ teaspoon sriracha sauce (optional)
¾ teaspoon salt, or more to taste
¼ teaspoon white pepper
1½ teaspoons freshly ground black pepper, or to taste, divided
10 to 12 ounces cooked elbow pasta (gluten-free if necessary)
Instructions
In a medium skillet over medium-high heat, combine the water, potato, carrots, garlic, onion, chile (if using), tomato, and cashews. Cover the skillet and cook 18 to 20 minutes, or until the potato is very tender. Let the mixture cool slightly.
Meanwhile, bring a medium saucepan of water to a boil over high heat. Add the broccoli and cook for 2 minutes. Drain the broccoli and set aside. Alternatively, you can add the broccoli to the cooking pasta pot in the last two minutes.
Combine the potato mixture (along with its liquid), mustard, soy sauce, nutritional yeast, lemon juice, oil, paprika, and sriracha (if using) in a blender. Blend for 1 minute, let the mixture rest for 1 minute, and blend again until smooth.
Transfer the mixture to the saucepan over medium heat. Add the salt, white pepper, and ½ teaspoon of the black pepper, stirring to combine. Add some additional water to adjust the consistency if the sauce is too thick.
Bring the sauce almost to a boil. Taste and adjust the seasonings. Add the elbow pasta and broccoli. Stir to combine, cover the saucepan, and cook for 3 minutes. Let the mixture sit for 2 minutes. Add the remaining 1 teaspoon black pepper. Sprinkle some more pepper on each serving, if desired.
Review reprinted with permission from
Dianne's Vegan Kitchen
.
SaveSave
SaveSave