Lake Geneva, Wisconsin, has been a popular summer haven for rich Chicagoites. After the Great Chicago Fire of 1871 many moved here and starting to ring the 20.6 miles of shoreline with their swanky mansions. Nowadays, it's an all-season destination for summer boating, fall foliage, winter snow sports and spring relaxation. While Lake Geneva is not vegetarian central, vegetarians and vegans can eat well if they know where to go. Here are the places I discovered on a recent October visit.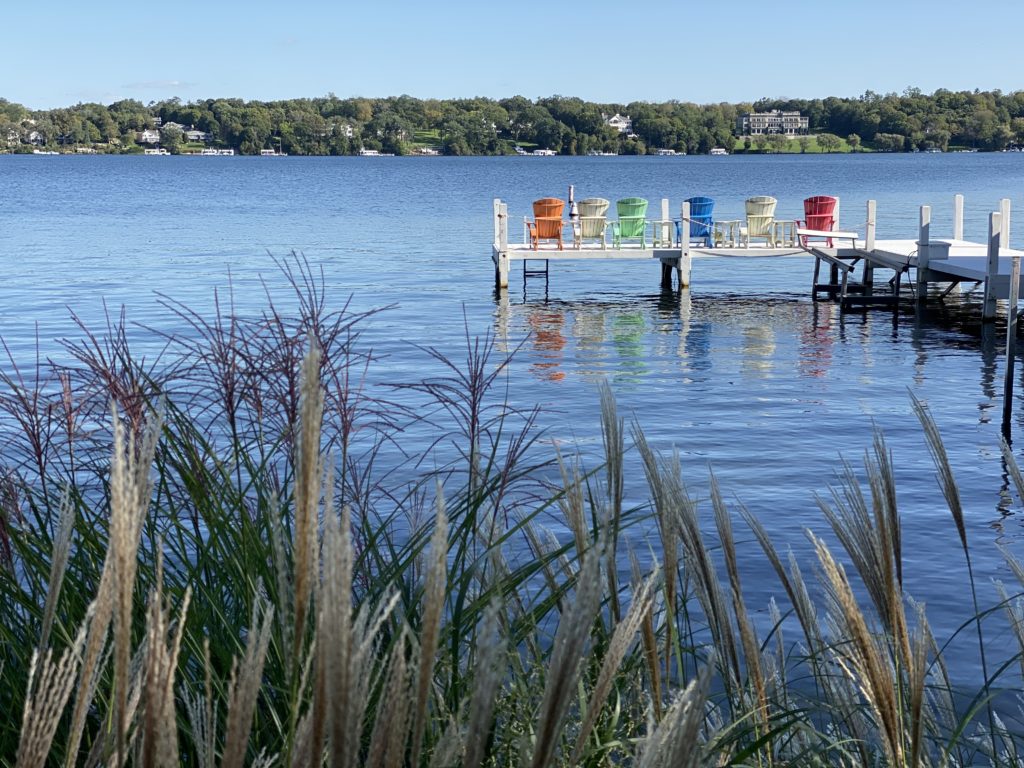 Tuscan Tavern and Grill
This lunch and dinner spot had pumpkin fever when I visited. Pumpkins festooned the entryway, making for a warm and festive autumnal look. As you'd guess from the name, Tuscan Tavern and Grill specializes in Italian food. As soon as I told the server I was vegan, she skillfully took over. I was the only vegan in a large group. But the server made sure the mozzarella was on the side, so I could eat the eggplant caprese appetizer.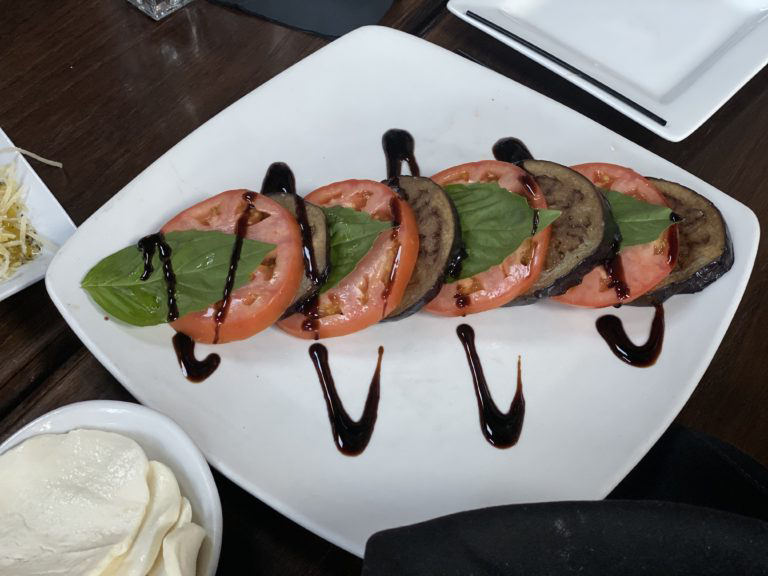 She directed me toward some vegan bread to pair with the bruschetta topping. I had the Mediterranean salad, minus the feta and pita chips. Vegans can also order dairy-free wood-fired pizzas. Highly recommended.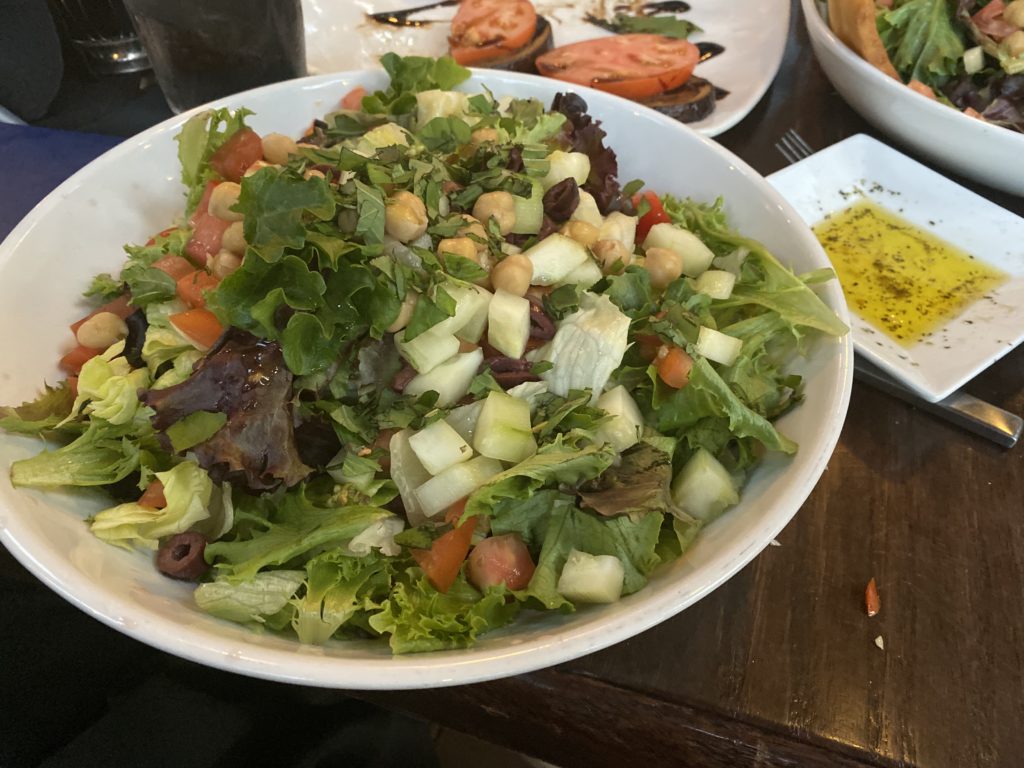 Oakfire
Owner David Scotney started making wood-fired pizzas in his Chicago backyard as a hobby. Then he'd deliver his practice pizzas free to his neighbors. But when a popular Lake Geneva diner went up for sale in 2015, he decided to go pro.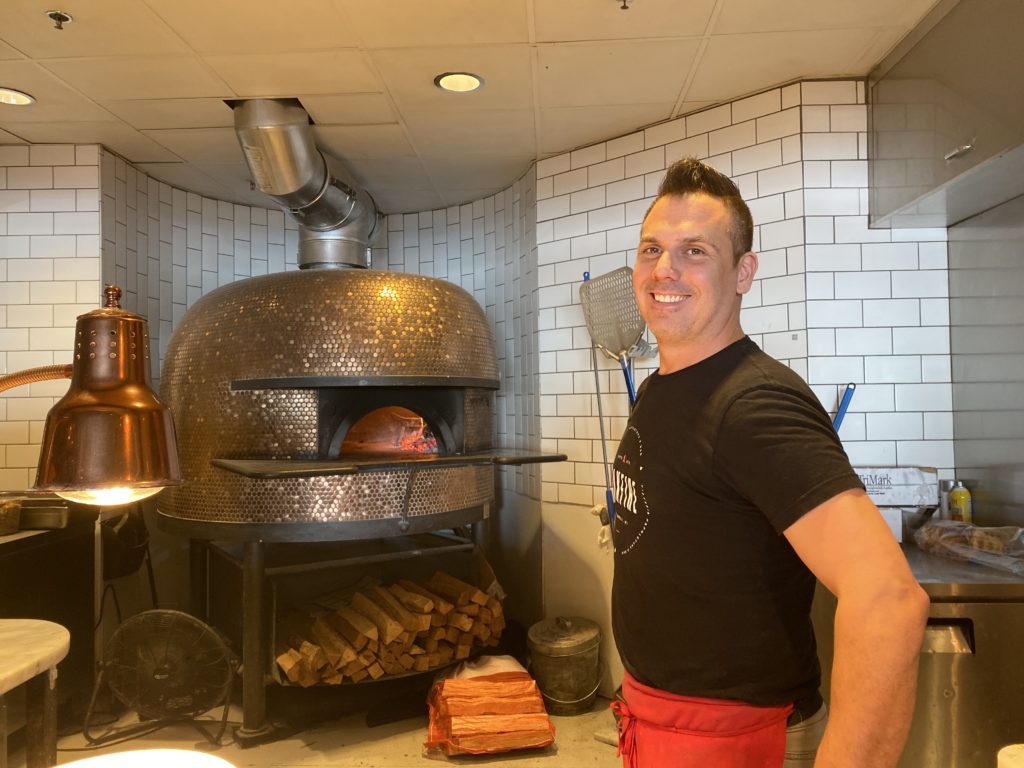 Oakfire is a top choice for vegans, and has a dazzling lake view. The original Native American name for the lake is Kishwauketoe, which I'm told means "the water has light." Indeed, you can watch it sparkle from Oakfire.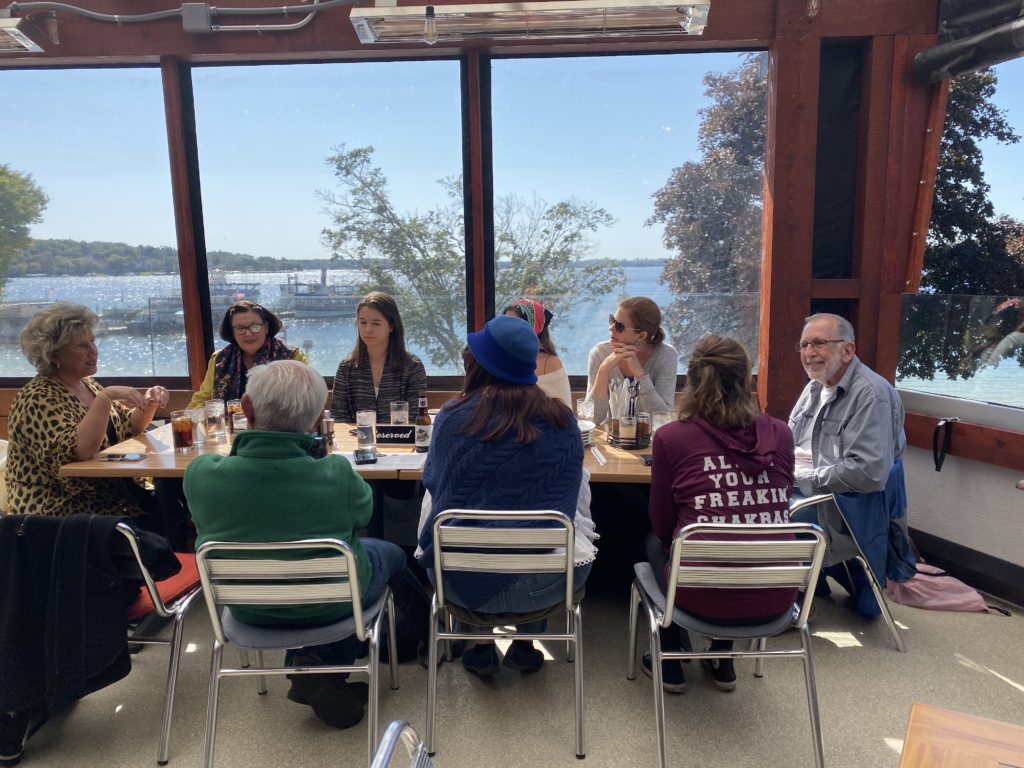 And there's vegan pizza right on the men. "That pizza came about because lots of vegans were requesting pizza," Scotney told me. He studied dough making under a master in Chicago. The trick is make the dough out of flour, salt, water and yeast, then let it sit for 24 hours. At 1200-1500 degrees, the Oakfire oven is so hot that pizzas cook in 90 seconds. And a good thing they do, because in summer Oakfire serves up to 1500 people a day. The kale salad minus cheese is another good vegan choice.
Grand Geneva Resort
I never thought I'd be sitting at the country's first Playboy Club Hotel eating a gourmet vegan meal. Nowadays, it's called the Grand Geneva Resort. There are no longer young women in bunny ears and rat pack artists performing in the lounge, but there's still a distinctive bunny head-shaped pond, and other souvenirs from the resort's past.
Executive chef and long-time Wisconsin resident Nelly Buleje oversees the enormous resort's multiple restaurants. I got to meet him and he was extremely kind and happy to prepare the most beautiful vegan delicacies for me, complete with edible flowers!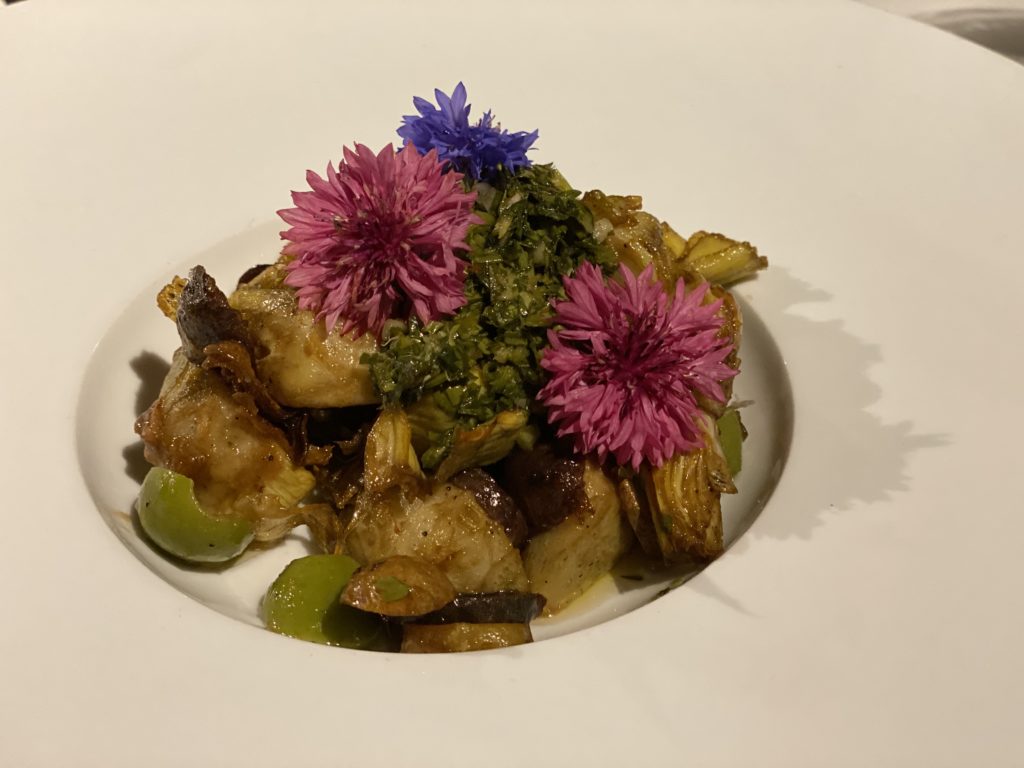 Also, I felt comfortable enough with him to ask him to throw in some chili peppers which made my risotto much more exciting.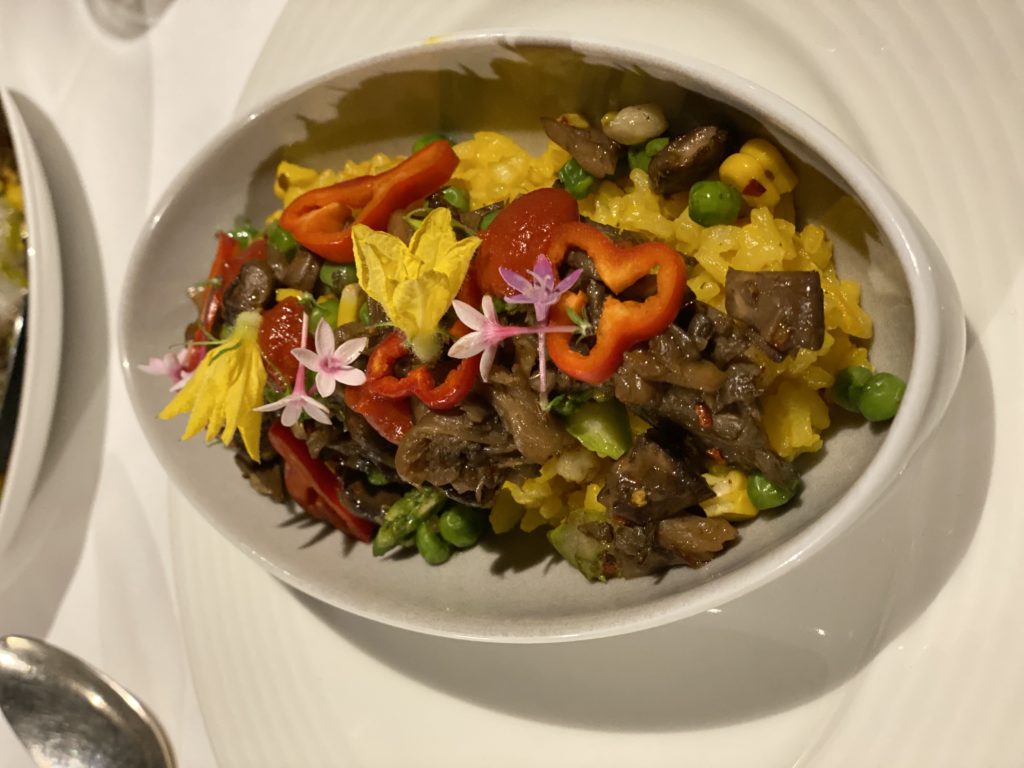 The resort's menus are not overtly veg-friendly. However, they are committed to accommodating many diets, so if you tell your server at the beginning of the meal, the Grand Geneva will whip up something veg-delicious.
Avant Café
If you like bikes and/or coffee, you'll want to stop by Avant Cycle Café while visiting Lake Geneva. This combination regional biking center and coffee shop fixes bikes, rents bikes, advises on local bike routes, and serves up coffee roasted in small batches. I appreciated the multiple nondairy options for my cappuccino. They even rent fat bike tires for snow rides, if you happen to visit Lake Geneva in winter.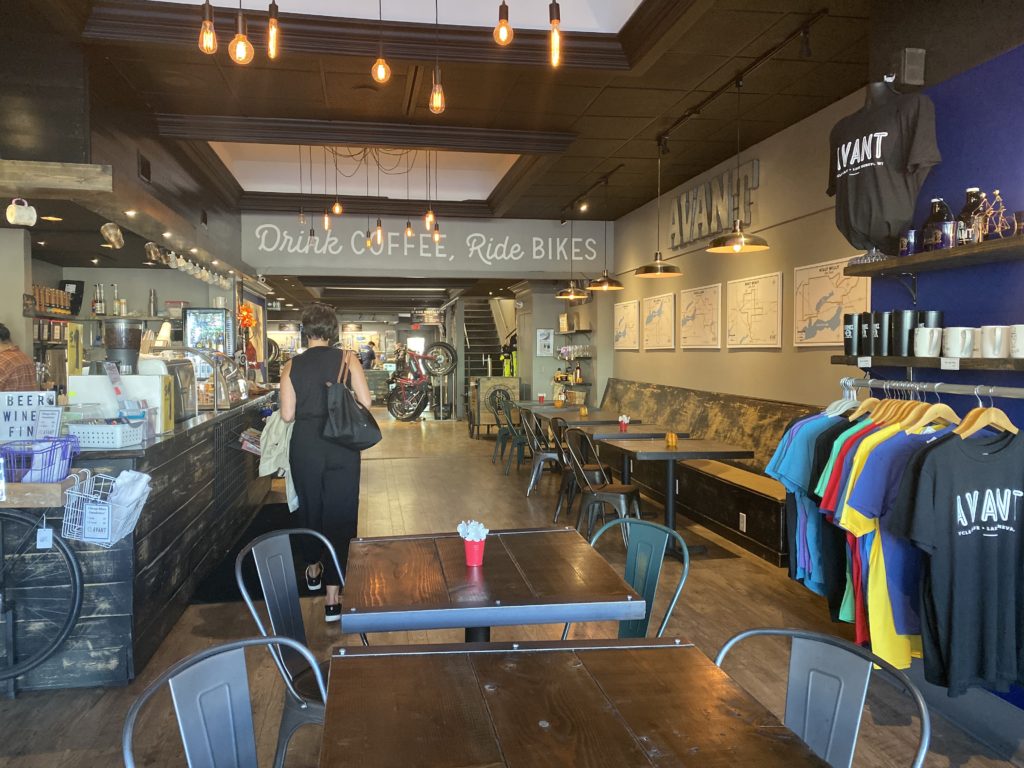 Sprecher's Restaurant & Pub
With a bit of creativity, you can get a good vegan meal at Sprecher's. The Southwest Salad is a huge, filling entrée. Just hold the cheese and switch out ranch dressing for balsamic and you have a vegan lunch. Or order the Asian chop chicken salad, hold the chicken, and you're left with an enormous plate of cabbage, veggies, peanuts, mandarin oranges and sesame seeds tossed in ginger-garlic sauce. They also offer vegan patties for their burgers. If you like sodas, don't miss their line of craft sodas brewed in a gas-fired kettle.