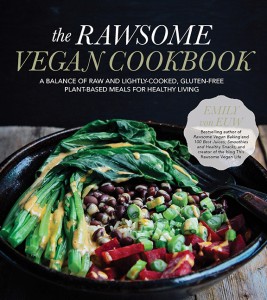 Many of you may already be familiar with Emily von Euw's incredibly delicious recipes ready. She shares many of them, along with her amazing lick-your-screen photography, on her popular blog This Rawsome Vegan Life. She's also written two cookbooks – Rawsome Vegan Baking and 100 Best Juices, Smoothies, and Healthy Snacks. Emily is back, and this time it's with The Rawsome Vegan Cookbook: A Balance of Raw and Lightly Cooked, Gluten-Free Plant-Based Meals for Healthy Living.
As the name suggests, The Rawsome Vegan Cookbook contains a mix of both raw and cooked recipes. Raw food may seem daunting to some, but Emily removes the scare-factor and shows how simple and easy preparing raw food really is. No fancy equipment is needed to make these recipes except for a blender and a mandolin slicer. Although she gives instructions for dehydrators, Emily admits that she herself uses the lowest temperature on her oven when preparing "dehydrated" foods. Recipes in the raw chapter range from salads and soups to noodle bowls and tacos, and they all look amazing. I really can't wait to sink my teeth into an Epic Portobello Yam Burger!
Even raw foodists can't deny that there's a certain type of comfort that comes with a cooked meal that raw food just can't recreate. The dishes in the The Rawsome Vegan Cookbook's cooked chapter are both comforting and healthy, and they're also made from foods that are more nutritious when lightly cooked. Most of the dishes are either baked, sautéed, or steamed, such as I Love You Choy, which is a mix of steamed Asian greens, brown rice, and black beans with ginger almond sauce. The chapter also contains some warm and cozy soup recipes, like Pumpkin Soup with Potatoes, Pumpkin Seeds, Leeks and Coconut Milk, and Warming Miso Soup with Leeks and Ginger. There are a few healthy versions of comfort food classics, too, such as Mac and Cheese The Healthy Way.
If you follow Emily on social media, you've probably noticed that she has infectious energy and a great sense of humor, and those both shine through in The Rawsome Vegan Cookbook. The book is also filled with Emily's gorgeous food photography. The book's dishes will please any palate, whether you're vegetarian, vegan, raw vegan, or just looking for new healthy and delicious meals to add to your recipe collection.

Beet Ravioli with Almond Thyme Pâté + Basil
One of my favorite recipes in here for REAL. These are decadent and beautiful, but secretly so easy to make. They're more of an appetizer than a main course, so I'd suggest serving them with a large salad (or whatever else you want—I'm not your boss).
Ingredients
1 cup (170 g) almonds, soaked for 8 hours
2 tbsp (30 ml) fresh lemon juice
⅛ tsp Himalayan salt
2 peeled garlic cloves
2 to 3 tsp (2 to 3 g) fresh thyme leaves (or more, as desired)
1 peeled beet
3 tbsp (8 g) chopped basil leaves
1 tsp fresh thyme leaves
Preparation
To make the pâté: blend everything together until smooth and thick. Adjust according to taste, adding more salt or thyme or whatever you desire. Scoop onto a cheesecloth (or parchment paper) and roll up into a cylinder shape. I like to add extra thyme leaves here to coat the outside of the pâté; it just looks pretty. Put in the fridge overnight, or if you REALLY want ravioli, for at least a couple hours.
Slice the beet as thin as possible on a mandolin slicer. Scoop 1 teaspoon or so of the pâté onto half of a beet slice and fold the other half over the pâté. It will hold itself in place. Taste this one and see if you want more or less pâté and assemble the rest of the raviolis accordingly. You should have leftover pâté, unless you want to make a ton of raviolis (by all means, go for it). Sprinkle with basil and thyme and enjoy!
Recipe reprinted with permission from The Rawsome Vegan Cookbook by Emily von Euw (19.99, Page Street Publishing, December 8, 2015). Photography by Emily von Euw.
We have a copy of The Rawsome Vegan Cookbook for one lucky reader! Follow the instructions below to enter. U.S. residents only, please. Contest ends at midnight eastern time on January 27, 2016. Good luck!