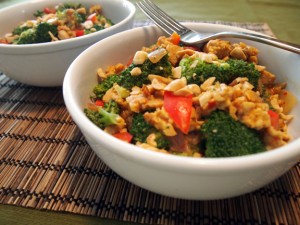 In my health coaching practice, I meet a lot of people have never tried tempeh before, or who have tried it and didn't like it. I've found that this dish is a good way to introduce people to it, as it shows tempeh's versatility. Often people who have previously said they don't like tempeh have ended up loving it after trying it cooked this way with broccoli and peanut sauce. The first step in this recipe is key, as it helps to get rid of the fermented taste some don't like, and it prepares the tempeh to absorb the flavors of the spicy sauce that's added later.
Indonesian Broccoli and Tempeh with Spicy Peanut Sauce
Ingredients
2 teaspoons peanut oil, divided
1/2 cup water or vegetable broth
8 ounce package tempeh, cut into cubes
3 tablespoons tamari or Bragg's Liquid Aminos
1 bunch broccoli, chopped into bite-sized pieces
1  bell pepper, cored and cut into 1 inch pieces
1 small onion, diced
2/3 cup coconut milk
2 tablespoons creamy peanut butter
3 cloves garlic, minced
1 tablespoon chili sauce
1/4 teaspoon ground ginger
2 tablespoons crushed peanuts
Directions
Heat 1 teaspoon oil in a wok or large skillet over medium heat. Add tempeh and sear for 3 minutes on each side. Add the water or broth and 1 1/2 tablespoons of tamari. Cook tempeh for 5 more minutes, until all of the liquid has been absorbed. Transfer to  a plate and let cool, until it's easy to handle. Crumble by hand until no large chunks remain.
Heat remaining oil in the same skillet over high heat. Add the onion and saute for several minutes, until it starts to become translucent. Add broccoli and pepper and stir-fry for a few minutes, until they begin to brown.
Mix together the coconut milk, peanut butter, garlic, ginger, chili sauce and remaining soy sauce. Add it to the skillet with the crumbled tempeh and stir-fry for about 2 minutes.
Serve with brown rice and garnish with crushed peanuts. Enjoy!
Makes 3-4 servings