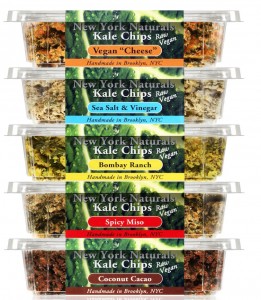 I have a confession. 
I never tried kale until a few years ago.  I wish I could say I have a good reason, but I honestly never thought to try it.  I grew up in the era of frozen mixed vegetables.  I moved on to more adventurous vegetables as an adult, but my greens consumption remained limited to spinach, romaine and leaf lettuce.  Then I started reading about kale.  So I tried it.  And I fell in love with it, along with collard greens, brussels sprouts and a bunch of other vegetables that now make up part of my standard shopping list.
I've made my own kale chips a few times.  I don't have a dehydrator, so I used my oven.  They turned out pretty good.  But I still can't quite get them to cook uniformly.  So, even though it costs a bit more, I buy them.  One of my favorite brands is New York Naturals, made by The Kale Factory.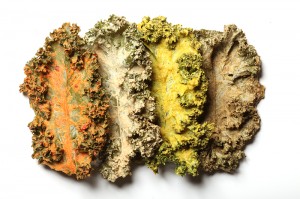 New York Naturals chips are handmade, raw, vegan, kosher and gluten-free (but not organic).  And they are satisfying.  These aren't the light, flaky kale chips that some companies make.  These guys are substantial.  And that's how I like them. 
The variety is impressive.  Let's start with their standard lineup of kale chips.  Flavors include Vegan Cheese, Sea Salt & Vinegar, Bombay Ranch, Coconut Cacao, and Spicy Miso.  The flavors are bold.  And if it says spicy, the chips are spicy. 
Then there's the GreenolaTM.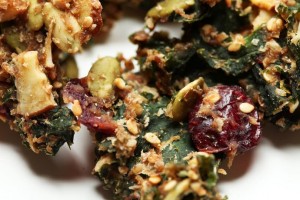 As they say on their website, GreenolaTM is like granola, but with kale in place of the grains.  Flavors include Raisin Coconut, Cranberry Nut Crunch, Cherry Chia and Spirulina Crunch.  I admit that the idea of fruity kale chips didn't appeal to me at first, but after I told myself that you can add fruit and coconut to kale salad sometimes, I took the plunge.  Yum!  This stuff really is like granola, right down to the nuggets (which are made of fruit and veggies instead of oats).  But it's rich.  I can happily munch on savory kale chips, but I find the sweet variety is better sprinkled on a smoothie or a sandwich.  Still good.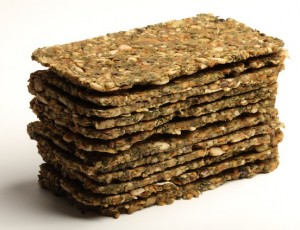 The company also makes kale powder and kale flakes that you can add to smoothies or use in cooking.  And the latest addition to the family – kale crackers!  These were actually my favorite of the bunch.  They are light and crispy and they remind me of another brand that I can't seem to find anymore.  They are great plain, but I also enjoyed them with hummus.
Overall, this is a good product line that offers some new options in the ever-expanding world of kale.  Visit their website to learn more and order some for yourself.