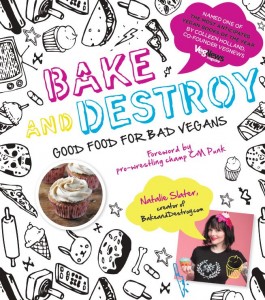 If there was ever the perfect cookbook for Halloween, it's Natalie Slater's new book Bake and Destroy. Influenced by slasher films, pro-wrestling, punk rock and heavy metal, Natalie's quirky-yet-delicious comfort foods are a refreshing take on vegan eating.
Bake and Destroy is full of creative and quirky recipes, such as Bike Messenger Brownies, Crouching Cornbread, Hidden Broccoli, and Banana Bread French Toast Cupcakes. There are savory dishes too, such as the Grilled Mac 'n' Cheez Sandwich, Taco Lasagna, Chick-O Cheesecake, and her Shepherd's Pie Pizza. Natalie's personality and sense of humor shine through in recipe.
Chic Vegan is happy to be hosting a stop on Natalie's blog tour today, with her recipe for Permafrost Pumpkin Pie. We also have a chance for you to win a copy of her book Bake and Destroy at the end of the post. 
Permafrost Pumpkin Pie
If you only make one ice cream pie recipe inspired by German black metal band Permafrost this Halloween season, let it be this one. It's a snap to make, you just need a bit of patience to allow time to drain the pumpkin puree and let the pie set up. But once you use your battle axe to cut yourself a slice of this sweetly-spiced, frosty pie you'll be glad you took your time.
Ingredients
For the crust*:
1 & ½ cups finely ground vegan graham cracker crumbs
⅓ cup sugar
⅓ cup vegan margarine, melted
+ ½ cup chopped vegan chocolate (or chocolate chips)
*If you can find pre-made vegan graham cracker pie crusts in a store near you, feel free to use one of those!
For the ice cream:
2 (13.3 oz) cans full-fat coconut milk
1 (15 oz) can pumpkin puree
½ cup agave nectar
1 tsp ground cinnamon
½ tsp salt
¼ tsp ground ginger
¼ tsp ground nutmeg
¼ tsp ground clove
+ a long piece of cheesecloth
Instructions
Pre-heat your oven to 375 F. In a large bowl, mix together the graham cracker crumbs, sugar and melted margarine until well combined. Press into a 9" pie pan and bake for 7 minutes. Cool completely.
Set up a DIY double boiler and melt the chocolate. Spread the melted chocolate in the bottom of the cooled pie crust and place in the freezer to set up.
Place a piece of cheesecloth in a strainer and move the whole contraption to the skink. Scoop the pumpkin puree into the cloth and allow it to drain for 15 minutes. When the time is up, wrap the puree in the cheesecloth and gently squeeze out the extra liquid.
In a large bowl, use a whisk to combine the coconut milk, pumpkin puree, agave nectar, cinnamon, salt, ginger, nutmeg and clove.
Pour the mixture into your ice cream maker and follow the manufacturer's instructions to freeze. Scoop the soft ice cream into the prepared pie shell, cover with plastic wrap and freeze for at least 4 hours. Then slice and serve.
Enter to win a copy of Natalie Slater's new book Bake and Destroy. US residents only. Contest ends at midnight EST  on October 31st.