I tried for years to create a tasty vegan omelet, so I was super excited when I came up with this oven-baked version. Because a tofu-based omelet is more delicate than the classic egg version, I have developed a jazzy method for helping it to stay together when serving. It takes a little bit of extra fuss, but is well worth the effort.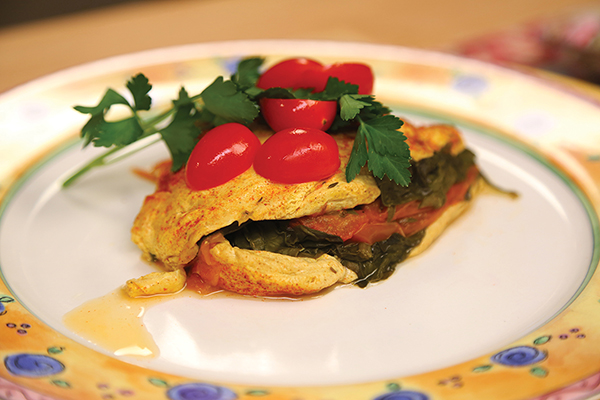 Spinach-Tomato Vegan Omelet
Author:
Ingredients
TOMATO LAYER
2 medium tomatoes, cut into ¼-inch thick slices
½ teaspoon dried thyme
¼ teaspoon sea salt
Several grinds of freshly ground pepper
SPINACH LAYER
5 to 6 cups very lightly packed baby spinach, washed and dried
TOFU "EGG" LAYER
1 block (14 to 16 ounces) firm regular tofu
½ teaspoon dried marjoram
¼ teaspoon ground turmeric
1⁄8 teaspoon smoked paprika
1⁄8 teaspoon cayenne pepper
ADDITIONAL INGREDIENTS
¼ teaspoon smoked paprika (for dusting top)
¼ cup shredded vegan cheese (optional)
Sea salt, to taste
Freshly ground pepper, to taste
Instructions
Preheat the oven to 400 degrees F. Lightly coat with vegan margarine a heavy, ovenproof 10-inch round sauté pan or skillet with tight fitting lid.
Arrange the tomatoes in the prepared skillet by overlapping them slightly. Sprinkle the thyme, 1⁄4 teaspoon salt and several grinds of black pepper evenly over the top of the tomatoes. Top the tomato layer with all of the baby spinach, pressing it down slightly.
Put all of the tofu "egg" layer ingredients in a blender and process until smooth. Spread the tofu mixture evenly over the spinach, smoothing the top as you go.
Dust the top of the tofu layer with the additional 1⁄4 teaspoon smoked paprika. Cover tightly and bake for 45 minutes. Put the pan on a wire rack and let cool for 5 minutes.
Carefully cut the omelet into two servings, by slicing down the middle. Gently lift one-half of the omelet out of the pan, using two very large, flat spatulas. Place it tomato side down onto a rimmed dinner plate. Place a second rimmed dinner plate of the same size firmly over top of the omelet and quickly flip it over to invert the omelet so the tomatoes will now be facing upward. Sprinkle the tomatoes with 2 tablespoons of the vegan cheese, if desired. Then, use the spatula to gently fold the omelet over. Proceed plating up the second half of the omelet in the same manner.
Spoon the sauce that remains in the bottom of the pan over each omelet. Season with sea salt and freshly ground pepper, to taste. Serve warm.
Notes
Recipe from [i][url href="http://amzn.to/2gKd6ml" target="_blank" rel="nofollow"]Laura Theodore's Vegan-Ease: An Easy Guide to Enjoying a Plant-Based Diet[[/url]/i] © Laura Theodore (Jazzy Vegetarian, LLC 2015), reprinted by permission. Photo by David Kaplan.