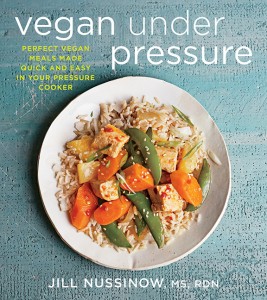 For the growing number of people who eat vegan, a pressure cooker is a blessing when it comes to saving time and enjoying a wider variety of foods on a regular basis. The pressure cooker drastically shortens the cooking times of healthful vegan staples such as dried beans and ancient grains: suddenly hummus from scratch and braised artichokes become weeknight fare. In Vegan Under Pressure: Perfect Vegan Meals Made Quick and Easy in Your Pressure Cooker, Jill Nussinow shows how to use the appliance safely and effectively, and reveals the breadth of vegan fare that can be made using a pressure cooker, including Roasted Pepper and White Bean Dip, Harissa-Glazed Carrots with Green Olives, Pozole Chili, Farro Salad with Tomatoes and Arugula, Thai Summer Vegetable Curry, a chapter of veggie burgers, Cornbread, Pear-Almond Upside Down Cake, as well as DIY soy milk and seitan.

Sassy Sesame Tofu with Sweet Potato, Carrots, and Sugar Snap Peas
Serves 4
This crowd-pleasing recipe is a simple and delicious way to prepare tofu, which gets firmer under pressure and absorbs the flavors of the cooking liquid. It cooks very quickly. It's best to cook the sugar snap peas on low pressure for just a minute so they don't become mushy. The sweet and spicy sauce at the end makes it even more special. Serve this over any type of rice or other grain.
Ingredients
2 teaspoons toasted sesame oil
1 medium yellow, white, or sweet onion, sliced from top to bottom to equal about 2 cups
1 carrot, peeled and cut on the diagonal into ½-inch pieces
1 cup diced peeled sweet potato
3 cloves garlic, minced
2 tablespoons sesame seeds
1 pound extra firm tofu, cut into 1-inch cubes
1 to 2 tablespoons tamari
1 tablespoon rice vinegar
⅓ cup vegetable stock
2 cups sugar snap or snow peas, cut in half
2 tablespoons Sweet and Spicy Red Pepper Sauce or sriracha
2 tablespoons tahini, optional, for a richer dish
2 tablespoons chopped scallion, for garnish
Preparation
Heat a stovetop pressure cooker over medium heat or set an electric cooker to sauté; add the sesame oil. Add the onion, carrot, and sweet potato and sauté for 2 minutes. Add the garlic and 1 tablespoon of the sesame seeds and sauté another minute. Add the tofu, tamari, vinegar, and stock.
Lock the lid on the cooker. Bring to high pressure; cook for 3 minutes. Quick release the pressure. Carefully remove the lid, tilting it away from you.
Add the peas and lock the lid back on. Bring to low pressure; cook for 1 minute. (If you do not have a low pressure option, lock the lid on and let sit for 2 to 3 minutes.) Quick release the pressure. Remove the lid, carefully tilting it away from you.
Stir in the pepper sauce and tahini, if using. Garnish with the remaining 1 tablespoon sesame seeds and the chopped scallion and serve.
Variations: Use broccoli florets or 1-inch pieces of green or wax beans instead of the peas. Cook at low pressure for 2 minutes with a quick release.
Text excerpted from Vegan Under Pressure, © 2015 by Jill Nussinow. Reproduced by permission of Houghton Mifflin Harcourt. All rights reserved. Photo © Lauren Volo.