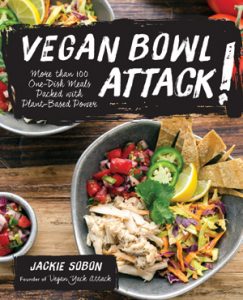 Bowl food. It's a hash tag. It's a buffet for one. It's a way of life.
Simple and nourishing, vegan bowls are where it's at. Perfect for workday lunches, simple dinners, and even breakfast, these are meals so good you'll soon forget plates even exist.
Inside Vegan Bowl Attack, you'll find more than 100 one-dish, plant-based bowls that feed every whim and fancy, created for you by author and vegan blogger extraordinaire Jackie Sobon. You don't have to be vegan to enjoy these recipes – you just need to love food! They're hearty and delicious, and sure to please any appetite. Grab your bowl, your appetite, and this book, and get ready to dig in!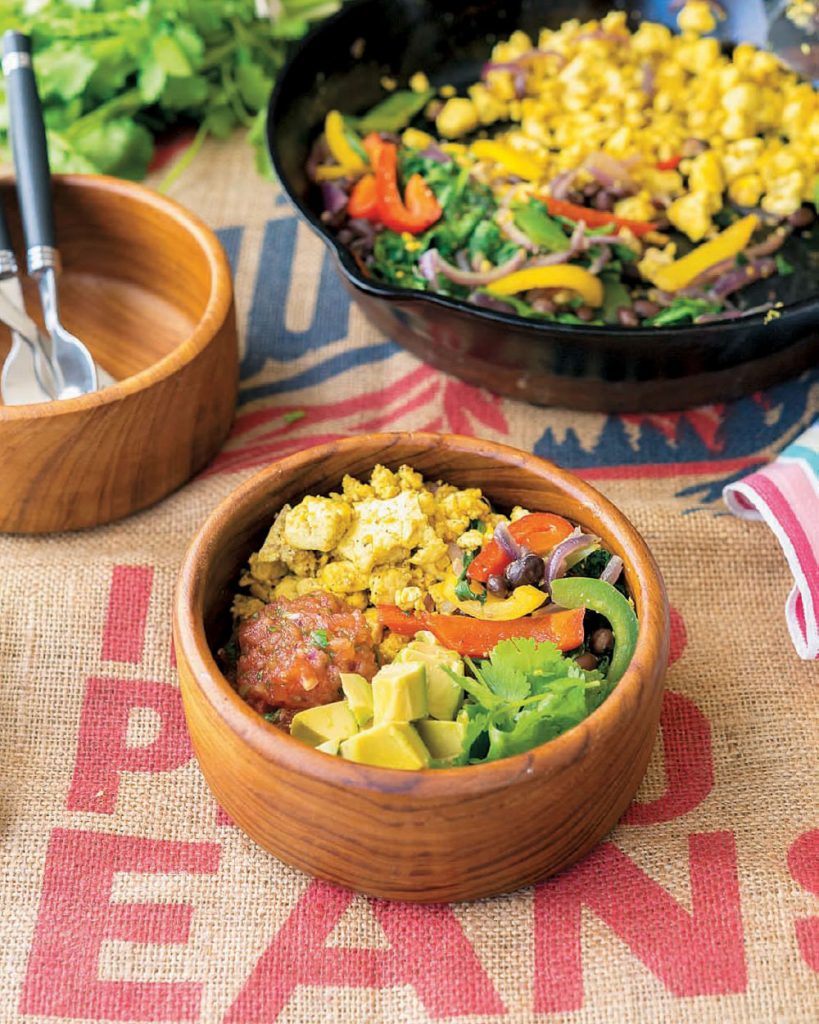 Scramble Burrito Bowl
My high school had a surf team as part of its sports roster, and I was on it. After a good season, the coaches would take us out for breakfast burritos. This bowl has everything that a great breakfast burrito would have, just without the massive tortilla that could blow apart at any moment.
Ingredients
For the Tofu Scramble:
2 tablespoons (28 ml) mildflavored cooking oil
1 package (12 ounces, or 340 g) extra-firm tofu, drained
2 tablespoons (6 g) nutritional yeast
Pinch of ground turmeric
½ teaspoon Indian black salt (kala namak)
Salt and freshly ground black pepper, to taste
For the Fajita Veggies:
¾ cup (120 g) half-moon slices of red onion
1 cup (150 g) bell pepper strips (any color)
½ cup (120 g) cooked black beans
2 cups (60 g) packed baby spinach
Salt and freshly ground black pepper, to taste
For the Assembly:
¼ cup (65 g) your favorite salsa
¼ cup (37 g) peeled, pitted, and diced avocado
2 tablespoons (2 g) fresh cilantro
To make the tofu scramble and fajita veggies: In a large, cast-iron skillet, warm the oil over medium heat. Once hot, use your hands to break the tofu apart into large crumbles into the skillet. Brown the tofu for 2 to 3 minutes and then stir it around to brown the other sides. You want it to have a light
brown crust on a couple of sides. Next, adjust the heat to medium-low and stir in the nutritional yeast,
turmeric, and Indian black salt until the scramble is evenly coated. Season with salt and pepper, and push the scramble to one side of the skillet. Place the red onion and bell peppers into the other half of the skillet and sauté until the onions become translucent. Add the black beans and spinach, cook until the spinach has wilted, and season with salt and pepper.
To assemble: Divide the scramble and fajita veggies between 2 bowls. Top with the salsa, avocado, and cilantro and serve.
Yields 2 servings
Reprinted from Vegan Bowl Attack!: More than 100 One-Dish Meals Packed with Plant-Based Power By Jackie Sobon, published by Fair Winds Press