It's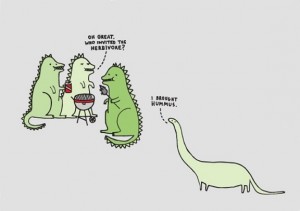 summertime and everyone is firing up their grills.  Warm weather means BBQ's and pool parties and all the great things about this season.  Sadly many vegans can feel left out of these festivities because the grill has become synonymous with mounds of meat.  If we're lucky our host might throw a veggie burger or tofu dog on the grill for us, but usually we're relegated to filling our plate with all the fruit and vegetables set out for the pre-meal snack.
Now, I love carrot sticks and hummus just as much as the next vegan and I can eat my weight in watermelon, but I also love the smokey flavor that a good BBQ gives food.  Luckily just because you don't eat meat doesn't mean you have to miss out on this American pastime.  Here are 3 vegan-friendly additions to your bbq that don't include veggie burgers or tofu dogs.
1. Potatoes
Potatoes do wonderfully on the grill.  They are versatile, can be seasoned however you would like, and hold up well over the high heat.  You can choose whatever kind of potato you like, even sweet potatoes, and add them to your next BBQ.  Slice them into thick rounds, brush with a little oil, and cook them just like burgers, cut them into bite size chunks and put them on skewers for tasty kabobs, or dice them up, drizzle olive oil and seasonings over them, wrap them in foil packets, and place them right on the grill.  The flavor options are endless.  You can try good old salt and pepper, go spicy with red pepper flakes or cayenne pepper, or try lime juice and fresh cilantro for a tropical twist.  However you make them, they are sure to be a big hit!
2. Salad
No, I don't mean you should throw a package of salad onto your grill.  That would just be a mess.  But you can grill lettuce and it adds a great new dimension of flavor to your salads.  Romaine does really well because you can place the whole head on the grill, but you could also try endive or other sturdy heads of lettuce.  Try this recipe from Kim's Healthy Eats for Grilled Romaine with Avocado Lime Dressing.  You can impress all of your friends AND eat a delicious healthy salad.  That's a win-win!
3. Fruit
Don't forget about the sweet stuff!  A lot of fruit does really well on the grill and because the heat helps caramelize the sugars it makes it even sweeter.  Plus you get that rich smokey taste that ups the ante of any meal.  You can go with solid standbys like grilled pineapple or peaches but try something new and make grilled watermelon.  Or throw some grapes onto the grill for a roasted addition to pasta or fruit salads.
Turning on the grill doesn't have to mean automatically piling on the meat.  There are plenty of delicious, and healthy, plant-based options to make any vegan happy.  Pretty much anything can go on the grill, so get creative and see what tasty summer treats you can come up with!  Happy BBQing!