I'd heard that UnCruise Adventures was tops in small ship cruising. But I still wasn't prepared for how well they'd treat a vegan. On my seven-day journey down the Columbia and Snake rivers, Chef Ian Charles and the whole dining staff made sure that every vegan meal was beautiful and delicious, not just an afterthought.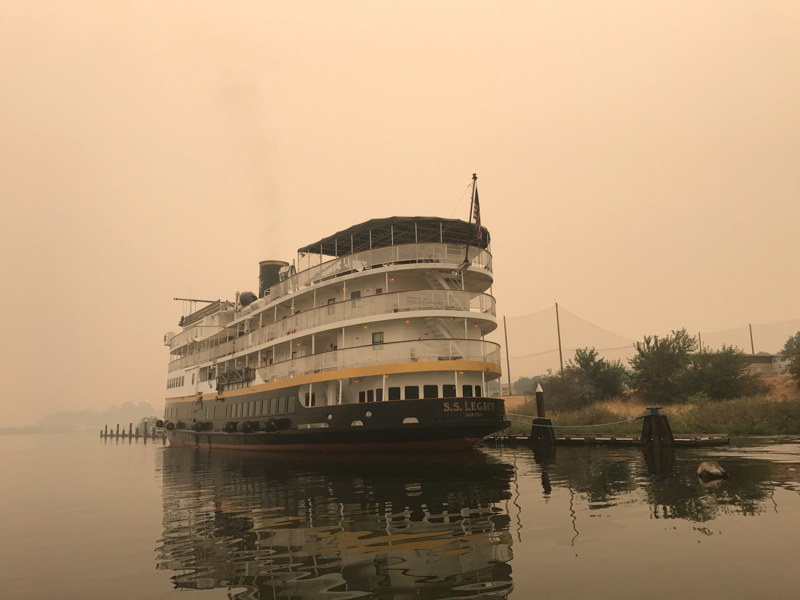 We were aboard the 88-passenger SS Legacy, a 192-foot ship built to resemble an 1898 coastal Gold Rush steamer. While it's perfectly up to date with all the mod cons, the décor is Victorian, with dark wood paneling and shiny brass fixtures.
Special Needs
UnCruise is no stranger to special requests. Hardworking chief steward Julio Valle Puerto works on the following week's manifest, even as the current passengers have him hopping 24/7. He studies up on special diet requests to make sure they'll have the right meals, snacks, drinks, etcetera, for each customer. When passengers have allergies, he puts a little card that says, "This dish contains onions," or whatever the offending ingredient is, beside any help-yourself happy hour snacks.
I talked to Chef Ian Charles, hoping to tap into how he got so good at vegan cuisine. But he was modest. Apparently he'd rather say it with cooking than words. I did glean that he completed a four-year program at Johnson & Wales University in Denver, where he specialized in sport cuisine. He worked with Olympic athletes. He enjoys the strange full-throttle pace of cruise ship life. "I really like the schedule," he said. "I don't mind working all the time while I'm working." This winter he'll be cooking on UnCruise's Sea of Cortez itinerary, which I heard is an absolutely awesome cruise. With Chef Ian aboard, that's one more reason to head to Mexico this winter.
The Vegan Dishes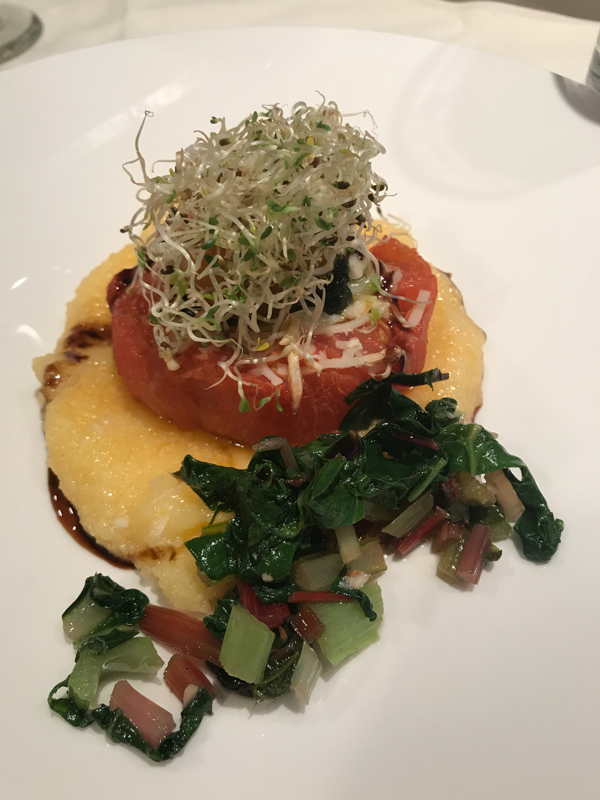 UnCruise has three meal seatings daily, at approximately 7:30, 12:30 and 6:30. If you're antisocial like me in the morning, you can opt for help-yourself continental breakfast in the lounge with foods like fruit, Kind bars, toast and oatmeal. The dining room meals are full-service, with excellent, friendly servers. I seemed to sit in Jerid and Emma's section a lot, and they were flawless in delivering vegan delights. They were always saying, "The pastry chef made a special dessert for you." Just what my waistband needs. But how could I say no when the staff was so thoughtful and the desserts so delicious?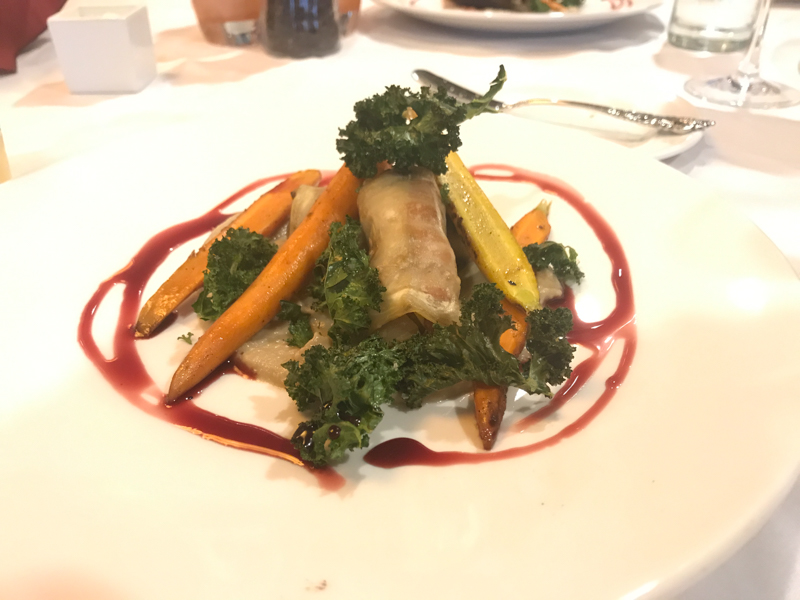 For lunch and dinner, guests get three standard options: eat a land animal, a sea critter, or vegetarian dish. I usually got a veganized version of the veg dish. I had eggplant roll-ups, stuffed zucchini, potato gnocchi and tofu tacos, depending on the day. Desserts were way more impressive than that vegan default, sorbet. The pastry chef made me olive oil cake, apple cake, chocolate avocado mousse, berry crisp, and I hardly left a crumb of anything.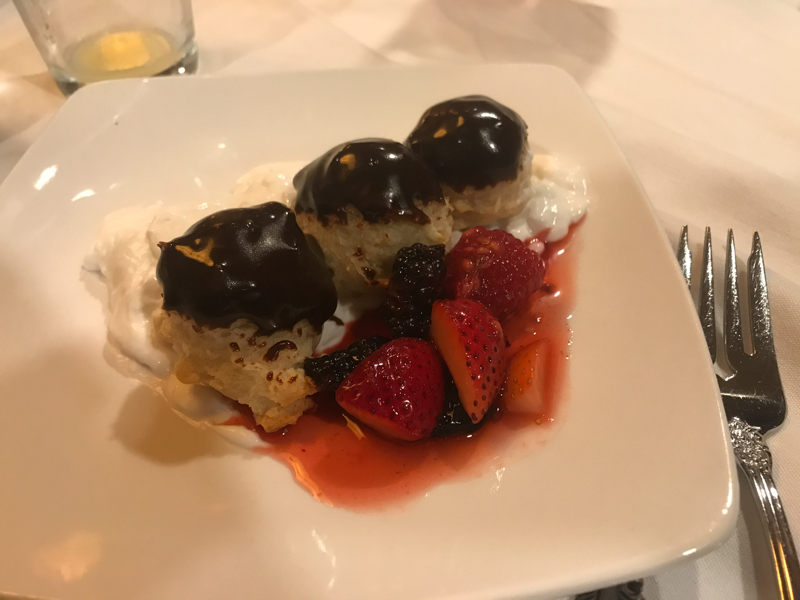 Activities
In case you're wondering, we did things besides eat. This was an uncharacteristically sedate itinerary for UnCruise, focusing more on history and culture than physical activity. We stopped at several museums along the Columbia River to learn about geology and history. We visited Fort Clatsop, where Lewis and Clark and their gang spent a sopping and dreary winter. Best of all, we took jet boats down the Snake River between Washington and Oregon and saw tons of wildlife, including mule deer, wild turkeys, Rocky Mountain bighorn sheep and herons.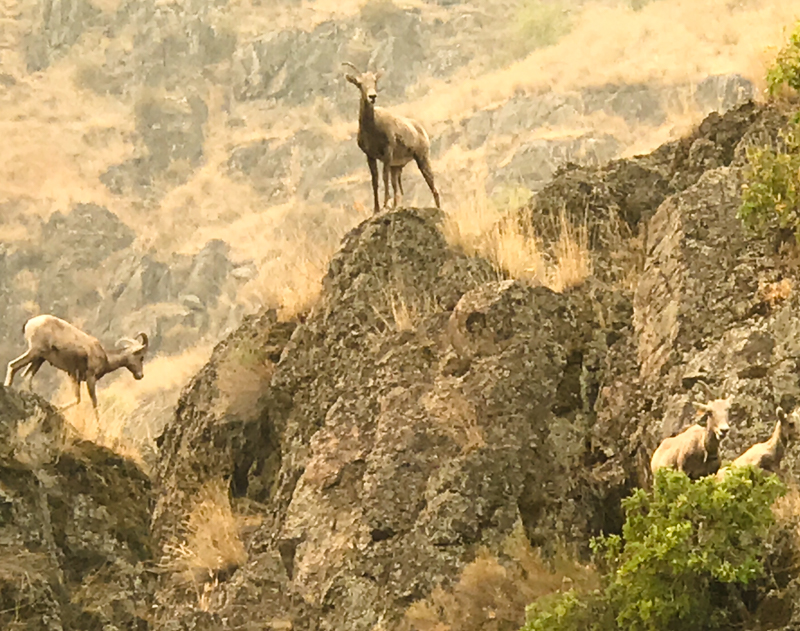 If You Go
Vegans who like cruising should absolutely look into UnCruise Adventures. If you enjoy history, I recommend this journey through the Columbia River Gorge, which I think is one of the most beautiful places in the world.