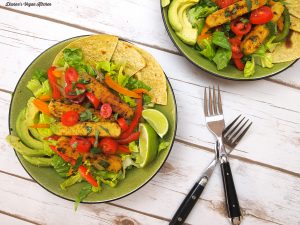 Fajitas have always been a favorite of mine. This dish has everything I like about them, in the form of a salad, making it a great meal for hot summer evenings.
Several years ago, I had just started a new job as an art director for a paper company, and I was invited to a manager's meeting at a Tex-Mex restaurant. There were a few vegan friendly items on the menu, and I choose the vegetarian fajitas, hold the cheese and sour cream. I ordered first, and I noticed that everyone else ordered salads, but I didn't think too much of it. Until the food arrived. While everyone else was delivered a bowl full of salad, I was brought do-it-yourself meal consisting of a sizzling platter full of vegetables, a tortilla warmer full of hot tortillas, a plate with guacamole and lettuce, bowls full of rice and beans, and a little dish of salsa. Talk about drawing attention to myself! My order took was spread out over about half of the table. I'm pretty sure I enjoyed my meal more than everyone else did theirs, and I'm guessing by the end of lunch, they were wishing they had ordered fajitas, too.
With that lunch meeting in mind, I've combined fajitas and a salad to create a Tempeh Fajita Salad. It has spicy tempeh, cooked veggies, avocado, and tortillas, but it's served in a bowl along with lettuce and tomato. If you like your fajitas on the spicy side, serve your salads with salsa or hot sauce.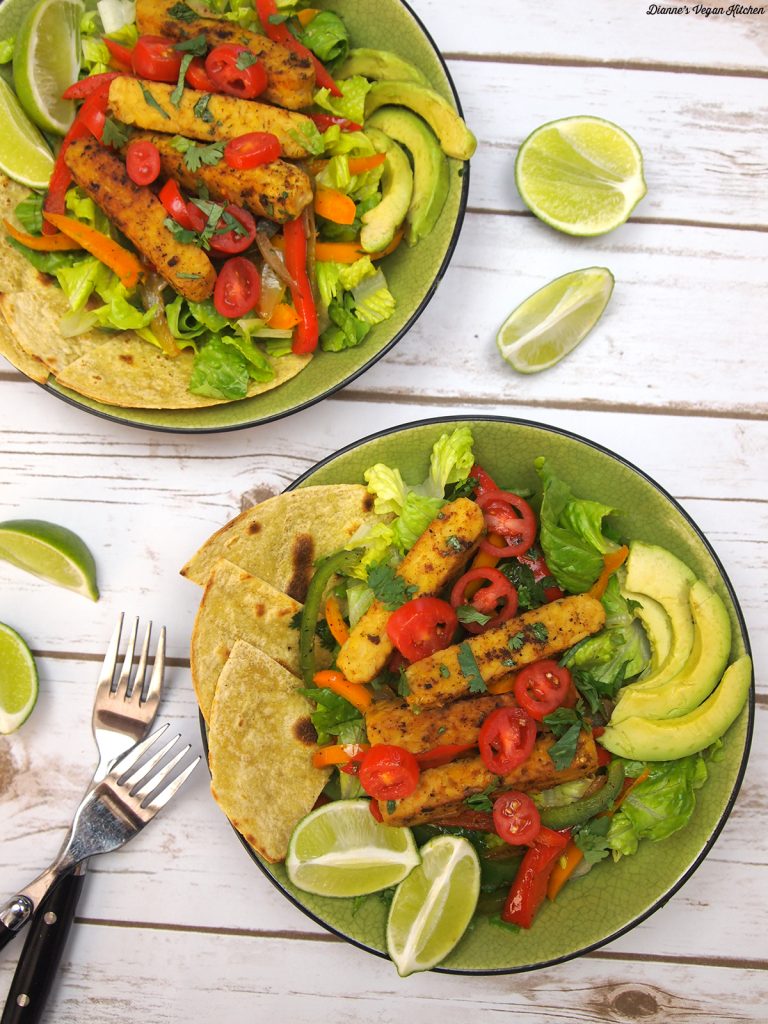 Tempeh Fajita Salad
Ingredients
¼ cup vegetable stock
¼ teaspoon chili powder
¼ teaspoon onion powder
¼ teaspoon garlic powder
¼ teaspoon cumin
¼ teaspoon sea salt
pinch cayenne pepper, optional
1 8-ounce package tempeh, sliced into thin strips
3 teaspoons olive oil, divided
1 large onion, halved and thinly sliced
3 bell peppers, seeds removed and thinly sliced
2 tablespoons lime juice
1 teaspoon agave
½ cup cilantro, chopped
1 head of romaine, shredded or thinly sliced, about 6 cups
1 cup cherry or grape tomatoes, sliced
4 corn tortillas, warmed
1 medium-sized avocado, sliced
Hot sauce, optional, for serving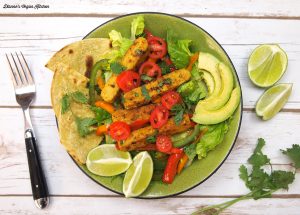 Preparation
In a small bowl, mix the spices in with the vegetable stock. Place the tempeh in a shallow baking dish or pan, and pour the mixture over it. Gently toss to coat. Let marinate for two hours or so.
Heat 1 teaspoon of olive oil in a pan over medium high heat. Add the tempeh strips and any remaining marinade and for about 10 minutes, flipping the pieces occasionally to brown each side. If the tempeh sticks, add a little more stock or a bit of water. When the tempeh had browned a little on each side, remove from the heat and place in a large bowl. Set aside.
Add the onion pan. Cook for about five minutes, until fragrant and translucent.
Add the peppers and cook until slightly softened, about another five minutes. If they stick, add a little stock or water.
Remove the vegetables from heat and add them to the bowl with the tempeh.
In a small bowl, whisk together the remaining olive oil with the agave, lime juice, and cilantro. Pour the mixture over the tempeh and vegetable mixture, gently tossing to coat.
To serve, place the lettuce in a bowl with the tempeh vegetable mixture. Top with the tomatoes. Serve with tortillas, avocado, and hot sauce, if using.
Makes 2 large salads or 4 side salads
Recipe reprinted with permission from Dianne's Vegan Kitchen.