Memorial Day is a time to celebrate with good friends and delicious food. If you are hosting a get-together today, or any day throughout the summer season, this tasty menu will delight vegan and omnivores alike. Based on a classic American meal with a jazzylicious twist, these easy, plant-based recipes are sure to impress your most discerning party guests. Have a happy, healthy holiday!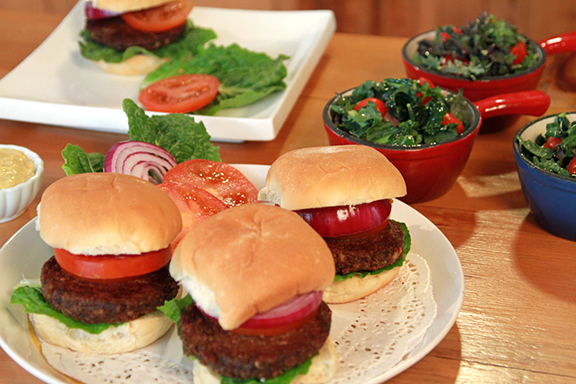 Mushroom-Nut Burgers
Makes 4 servings
Ingredients
1 1/2 cups lightly packed fresh, soft whole-grain breadcrumbs (see note)
1 teaspoon Italian seasoning or all-purpose seasoning
1/2 teaspoon chili powder
1/2 teaspoon garlic powder
1/8 teaspoon sea salt
1/2 cup chopped walnuts
2 cups chopped mushrooms
1/3 cup diced onion
1 teaspoon reduced-sodium tamari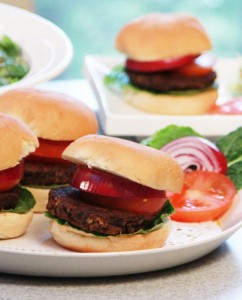 Preparation
Preheat the oven to 375 degrees F. Line a medium baking pan with unbleached parchment paper.
Put the breadcrumbs, Italian seasoning, chili powder, garlic powder, and salt in a large bowl. Put the walnuts in a blender and process in pulses until they resemble coarsely ground flour. Add the walnuts to the breadcrumbs and stir gently to incorporate. Put the mushrooms, onion, and tamari in a blender and process to a chunky purée. Add the mushroom mixture to the walnut/bread crumb mixture and stir to incorporate.
Place a 3-inch to 3½- inch cookie cutter ring on the parchment. Pack one-quarter of the mushroom/bread crumb mixture into the ring and press it firmly and evenly into the ring to form a "burger." Gently remove the ring. Repeat with the remaining mushroom/bread crumb mixture. (Alternately, you may simply form the burgers with your hands).
Flatten each burger slightly with the back of a flat spatula. Bake for 18 minutes. Flip each burger, and bake for an additional 15 to 25 minutes or until the burgers are slightly crisp and golden.
Serve on toasted vegan buns, topped with lettuce, tomato, sweet onion, mustard, and catsup.
NOTE: To make fresh breadcrumbs, put 3 to 4 large slices of whole-grain bread in a blender or food processor and process into coarse crumbs.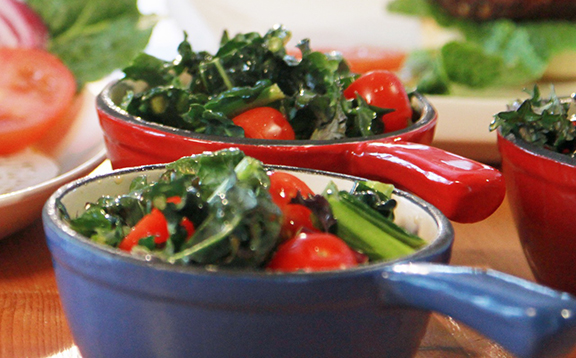 Kale and Tomato Salad
Makes 2 to 3 servings
Dressing
1 tablespoon Dijon mustard
1 tablespoon maple syrup (plus more as needed)
1 teaspoon balsamic vinegar
1 clove garlic, minced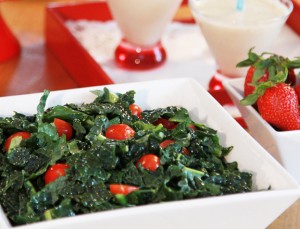 Salad
3 cups very thinly sliced, well packed kale, washed and dried
10 grape tomatoes, halved
1/4 teaspoon sea salt
Freshly ground pepper
Preparation
Put the mustard, maple syrup, and balsamic vinegar in a blender, and process until thick and smooth. Pour the mustard mixture into a small bowl. Add the garlic, and whisk until well-combined. Taste and add mote maple syrup, if desired.
Put the kale in a large mixing bowl. Pour the dressing over the kale and toss to coat. Leave the kale and dressing to stand at room temperature for 20 to 30 minutes. Right before serving, add the tomatoes, sea salt, and pepper. Toss the salad and serve.
Banana Milk-less Shake
Makes 2 to 4 servings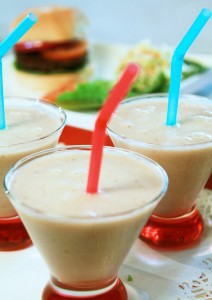 Ingredients
3 very large (or 4 small) frozen bananas (see note)
1 1/2 cups chilled vanilla-flavored nondairy milk, plus more as needed
2 tablespoons maple syrup, plus more as needed
1 teaspoon vanilla extract
Preparation
Put all of the ingredients in a blender and process until smooth and creamy. Taste and add more nondairy milk or maple syrup, if desired. Pour the mixture into pretty glasses.
NOTE: To freeze a banana, peel and cut into 3 or 4 pieces, and put them in a re-sealable freezer bag. Seal and freeze for at least 12 hours before using.