The fast-growing city of Columbus, Ohio, is clean, friendly, historic, and has lots of wonderful places for vegans to eat. I visited in early May, when the weather was warming up, and found the town easy to navigate via walking, buses, Uber and bike share. Columbus has an impressive number of entirely vegetarian restaurants, and a pretty high veg IQ even at the non-veg places. Here are a few places I recommend if you visit Columbus.
Little Eater
Cara Mangini, author of The Vegetable Butcher, is the chef and founder of Little Eater. This vegetarian responsible has two locations: one in the Clintonville neighborhood north of downtown, the other in the North Market, which is a lively food hall.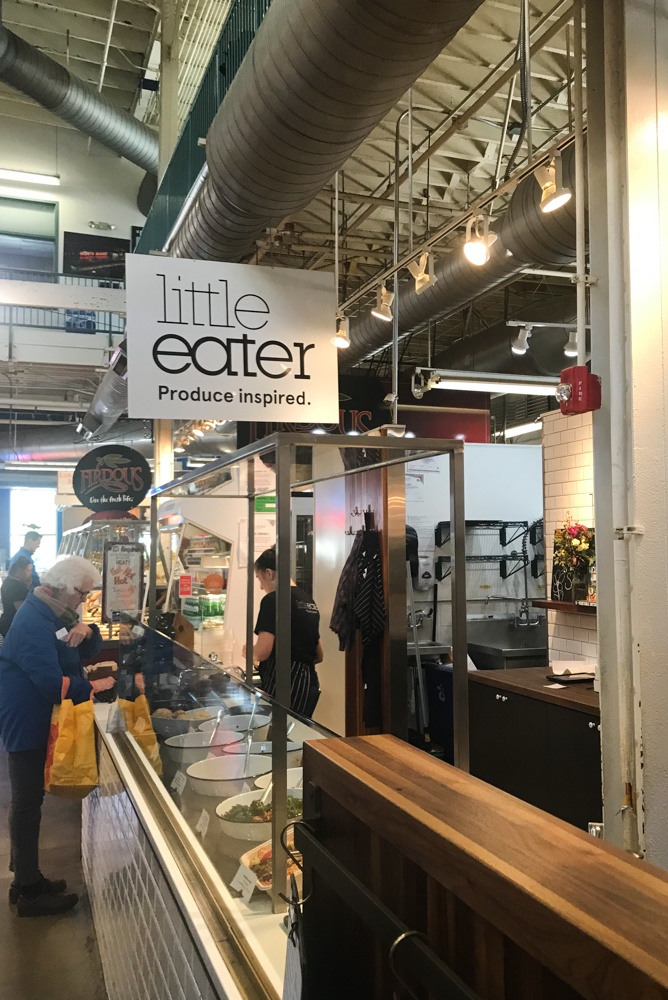 Mangini specializes in making complicated vegetable combinations, and never shying away from the unusual. For example, when I visited, I tried the cauliflower and quinoa, made with pomegranate, pine nut, pistachio, lemon, mint, dill, parsley, za'tar and citrus sumac vinaigrette. The best plan for vegans is to buy three or four scoops of different salads for a filling and interesting meal.
Comune
When co-owner Joe Galati opened Comune, he aimed to give Columbus an upscale vegetarian dining experience. But was Columbus ready? "It's terrifying but I feel like the neighborhood and the city has been so receptive," he told me as we sat in his packed restaurant on a rainy Thursday night. It's a stylish young crowd in the modern, industrial-chic restaurant. "We started Comune because nothing like it existed in Columbus," Galati said. The menu is organized around sharable plates, most of which can be made vegan. For dinner, you might try a cassoulet made with mixed legumes, sour hearty greens, horseradish, crispy cornbread and a Moroccan herb sauce called chermoula, or stir-fried spaghetti squash with garlic, seaweed, peanut, chiles and lime.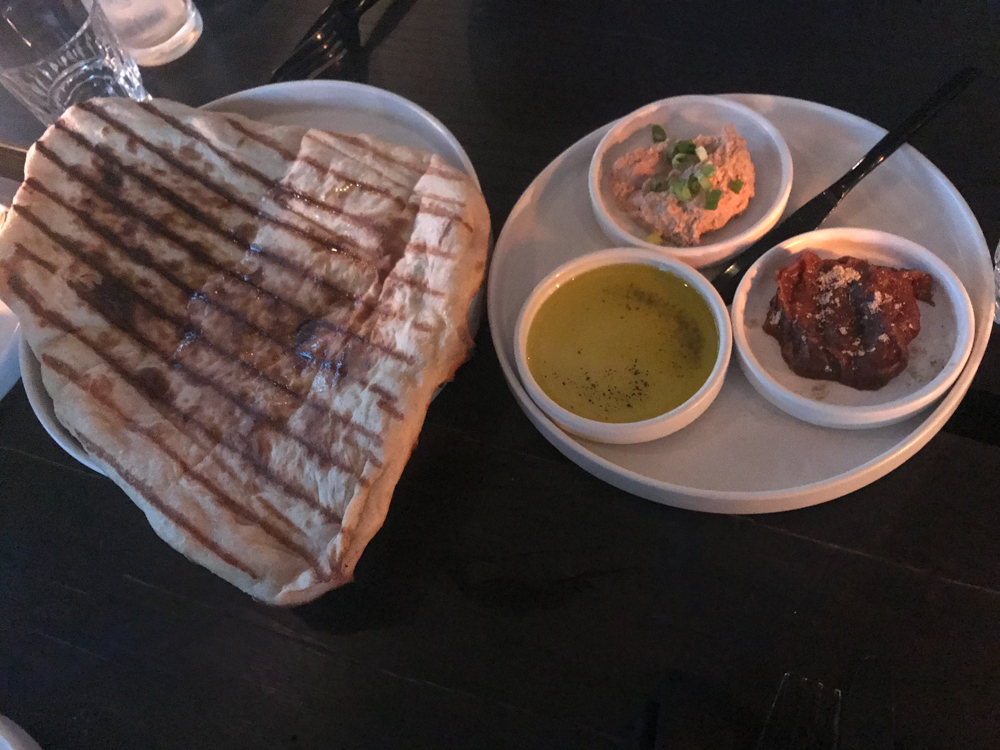 According to the menu, the dishes were "inspired by a three-day peyote trip in the woods and the recipes that came with my toaster." In addition to creative dishes and cool minimalist décor, Comune's owners tout reusable straws and other ways to cut waste streams. "We try to do as much as we can to reduce our footprint," Galati said.
Eden Burger
Then again, sometimes you'd rather have a good old veg burger and fries than navigate through unfamiliar ingredients and chic millennials. Several local vegans recommended I check out Eden Burger, which is close to the Ohio State University campus. It's a small, light-filled place with about eight tables and lots of indoor plants. I'd only read online about ten times that Eden Burger was vegan, but as usual my paranoia crept in so I reconfirmed with the counterperson. "So, the menu's all vegan?" I asked. "Yep, and so are we," she said, indicating the folks making the food. The menu sticks close to its burgers-and-fries mission, with four standard burgers, a monthly special, and two tempeh sandwiches, plus a fried section.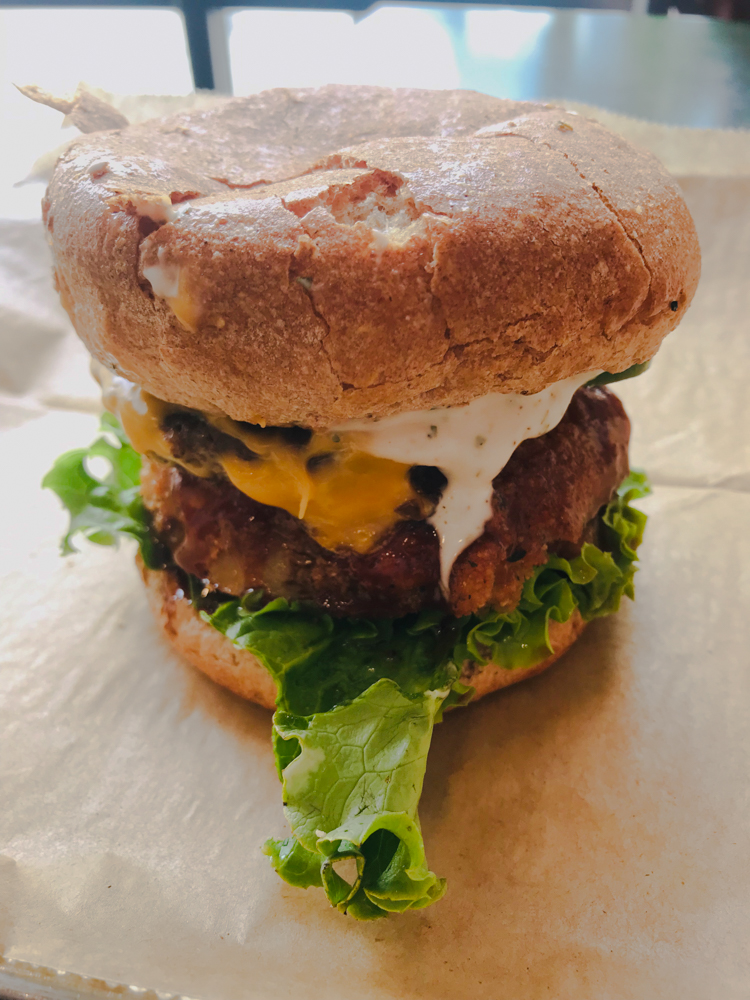 The burgers are made in house from lentils, sunflower seeds, rice, mushrooms, gluten free oats, beets, coconut aminos, and spices. Fry choices include onion rings, pickle chips, mozzarella sticks, tempeh nuggets and, of course, potatoes. I tried the BBQ Western, a tall burger that included fried onion petals, fresh jalapeño and ranch dressing.
Brassica
This Mediterranean restaurant isn't a veg place, but is excellent for vegans. Started by a two brothers with a Lebanese grandfather who came to the US in 1920, Brassica has four locations in Columbus. The small menu has a couple of veg-appropriate dishes, a falafel or vegetable bowl or pita, or a hummus plate. The thing that makes Brassica so good is that the workers assemble the food in front of you so you can ask for more vegetables, and more. I got a falafel in a pita with about ten additional veggies on top. Think roasted cauliflower, marinated eggplant, pickled vegetables.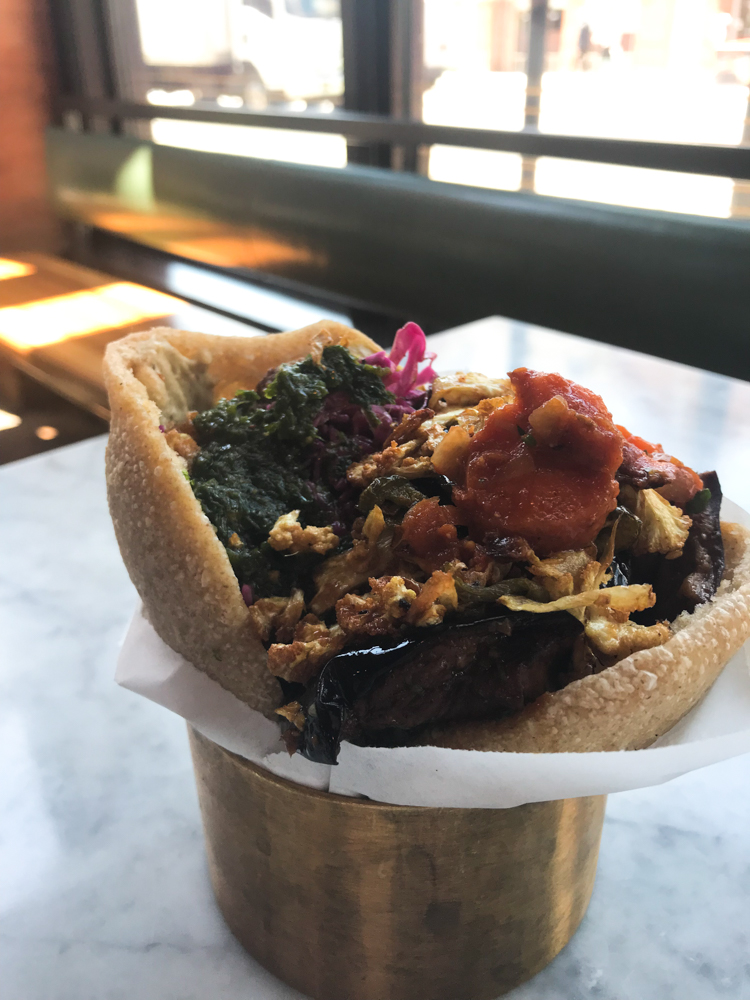 Bareburger
This New York- based omnivorous burger joint has a Columbus outlet that serves vegetarians well. It has four different vegan burgers, including a Beyond Burger. I ordered the Thai Chia, which came with vegan American cheese, caramelized onions, mushrooms, spinach and Thai ketchup on a sprout bun.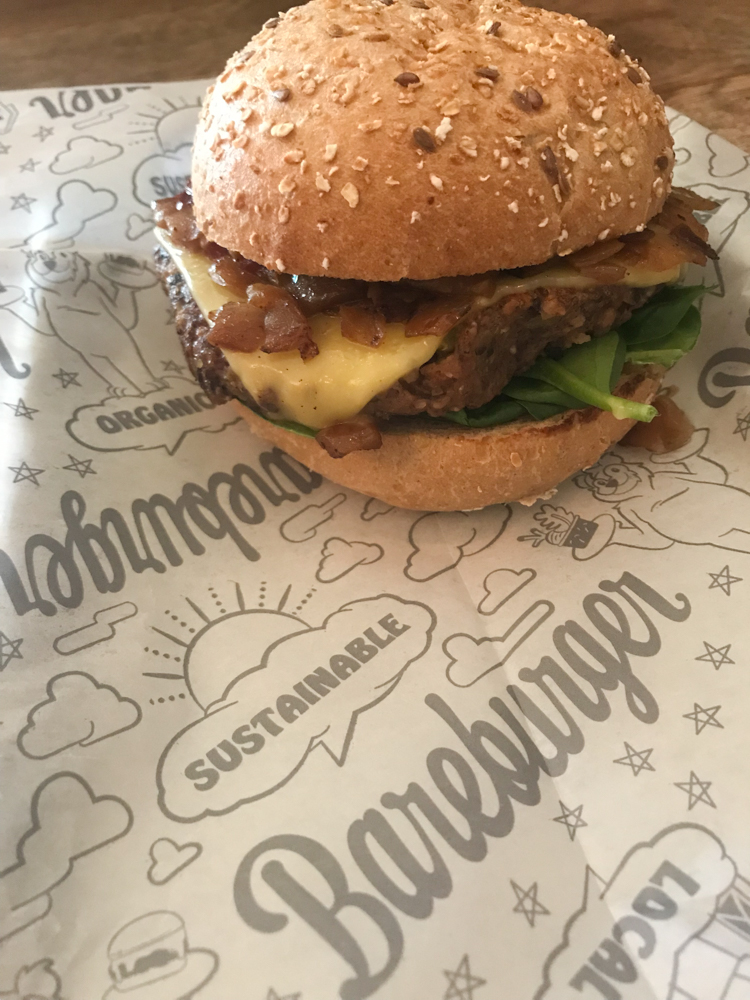 Bareburger also makes vegan shakes from coconut ice cream, including the Velvis, a concoction of banana, peanut butter, chocolate and hemp milk, and the cococado, made with coconut, avocado and lime. And there's vegan carrot cake.
Momo Ghar
If you sit at the counter of this stall in the North Market, you'll see industrious people rolling out and stuffing momos, or Himalayan dumplings. They make thousands a day, using a bread machine to mix the dough and doing the rest by hand. Momo Ghar's serving size is a plate of eight momos in sauce topped with cilantro. They have two kinds of vegan momos, so order four of each.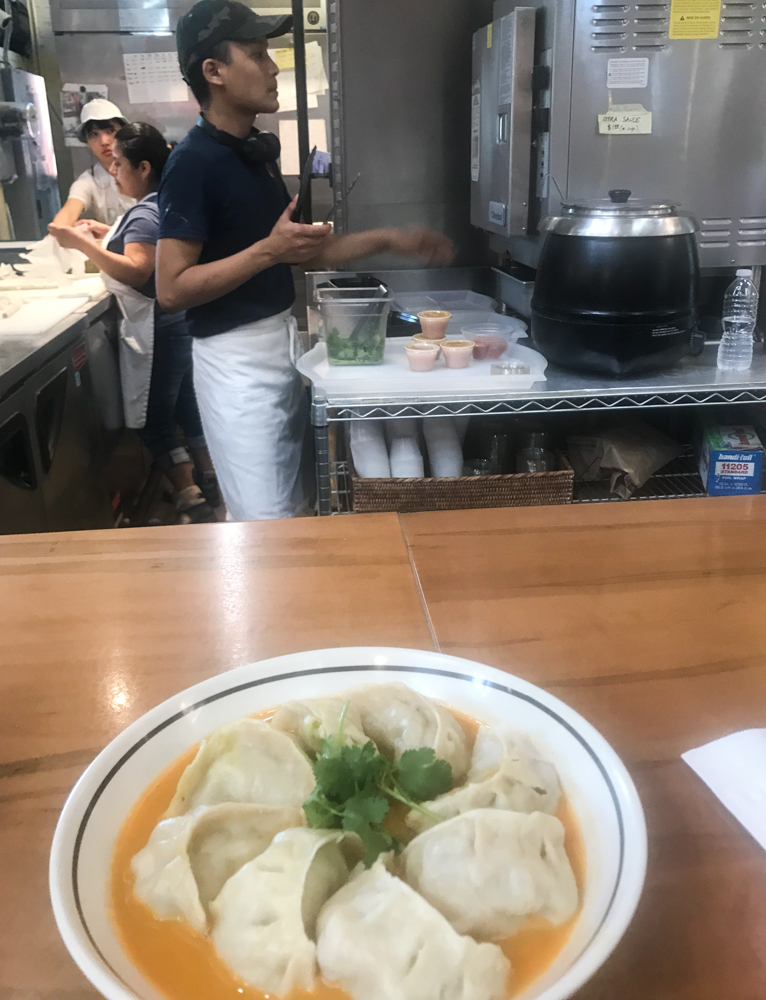 Jeni's Splendid Ice Creams
Jeni's Splendid Ice Creams is a super popular Columbus artisan treat shop. Since 2002, Jeni Britton Bauer has been blending her renowned ice creams. So many people recommended Jeni's that I had to visit twice, just to feel like I fit in. I tried all four offerings in her dairy-free line: cold brew with coconut cream, dark chocolate truffle, roasted peanut butter and strawberry jam, and Texas sheet cake. Which is the best? Oh, no, I better try them all again to be sure.
Eat Purr Love
This café has minimal food offerings—vegan baked goods by Pattycake—but plenty of cats. Owned by Columbus Humane, Eat Purr Love had adopted out 429 cats at the time of my visit in May. Pretty good for two and a half years.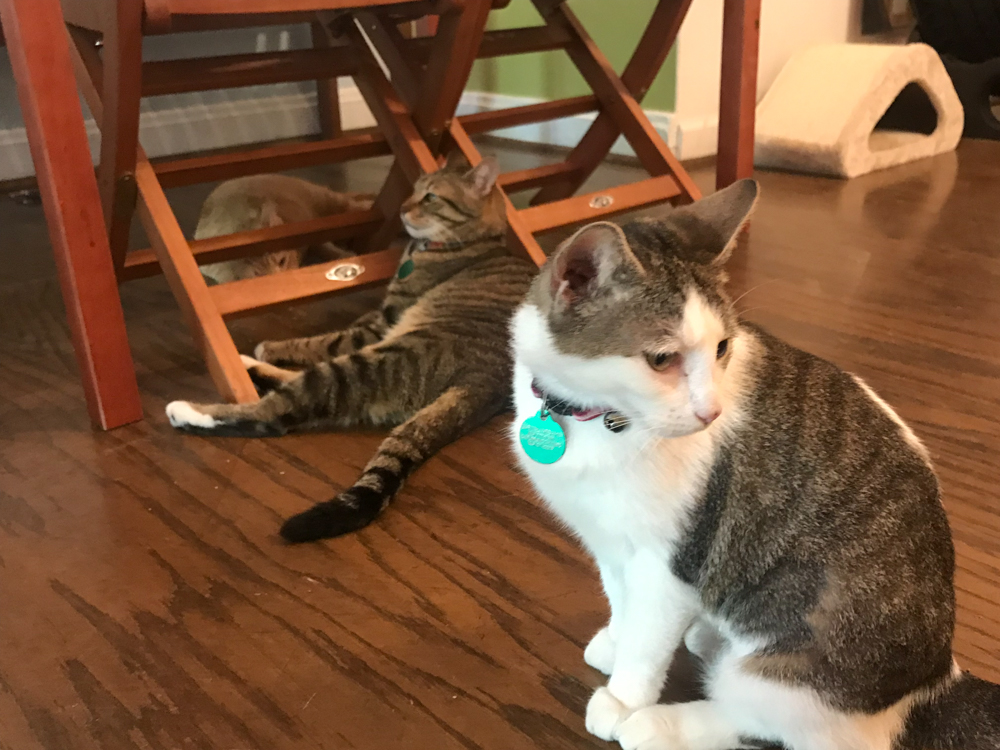 While I was there, a couple of young women were visiting a lovely black cat named Midnight whom they were planning to take home as soon as their security paperwork went through. They'd come to spend an hour with Midnight, and, like loyal suitors, they spent the whole time on the couch with him, only politely greeting the other felines. Brought tears to my eyes! Meanwhile, I curled up on the window ledge with a russet-nosed tabby named Jimmy-Steve. The cats have plenty of high structures to climb on and private areas in the back room when they've had enough human contact.
Cayden Cuva, the café host, told me they try to keep 12-15 cats in residence, so there are plenty of cats but they don't overwhelmed. "Our goal is never to have more people in the café than cats," Cuva said. Everything is as local as possible, from artwork to treats from the neighborhood vegan bakery. Of their decision to go vegan with the baked goods, Cuva said,"It seemed like a really good fit for a place that is all about animal humanity."