Ooey, gooey delicious! These dangerously delectable vegan Gooey Lemon Bars from The Essential Vegan Air Fryer Cookbook by Tess Challis come together quickly to create a lemon lover's dream dessert.
The Essential Vegan Air Fryer Cookbook
I have several of Tess Challis's cookbooks and love them all. I love the way Tess makes cooking healthy simple yet incredibly flavorful and delicious. In her new cookbook, The Essential Vegan Air Fryer Cookbook, Tess shows us how fun and easy it is to work with an air fryer. The Essential Vegan Air Fryer Cookbook serves up the most comprehensive collection of good-for-you vegan recipes that pack deep-fried taste―without all the guilt. This air fryer cookbook book doesn't just give you 80 healthy recipes―you'll also learn the ins and outs of air frying with expert advice and a handy troubleshooting guide.
Tess Challis
A little about Tess–she is the author of 6 cookbooks. She is a plant based chef, cooking instructor, recipe developer, a health coach plus more and has worked with many people helping them get on the path to great health. If you don't already know about Tess, you can find more on her website.
Vegan Air Fryer Recipes
Tess has several classic recipes including Crispy Tofu with an Asian Spicy Sweet Sauce that I've made before and just had to make it again. It is perfection! So simple and the flavor combination with the sauce is just perfect. This is the way you cook tofu friends – spread the word!!
I am amazed with all of the recipes in this cookbook and am so very excited to try them all, but for this review, I just had to make the few pictured here and especially the Sweet Spicy Tempeh Cubes along with the Tamari Roasted Eggplant. Both were wonderful and so easy to make.
Other very intriguing recipes in this cookbook include:
Air Fried Spring Rolls
Asian Buffet Bowl with Crisp Tofu
Banana Churro Oatmeal
Blueberry Breakfast Cobbler
Low Fat, High Flavor Buffalo Cauliflower
Eggplant Parmigiana
Gooey Lemon Bars
Gorgeous Granola
Immune Boosting Grilled Cheese Sandwich
Indian Spiced Okra
Mexican Stuffed Potatoes
Raspberry Lemon Streusel Cake.
Easy to Use
I also love that Tess is a mom and her recipes are great for kid's as well. They are also great for people that may be new to a plant based diet or perhaps you're are sharing them with people you're trying to get to eat more healthy. The Essential Vegan Air Fryer Cookbook also helps demystify cooking in an air fryer. It provides a good guide for people who might be a little anxious to start using one.
I started simple by making the crispy tofu and some french fries but am really excited to tackle a few more complex recipes now that I see how easy to work with. The thing I love about an air fryer is that cooking with it is so quick, and it doesn't heat the whole house up as drastically as an oven or stove does. It is also a great way to keep things a bit more healthy but still get that crispyness we all love. I am very interested in making up some of my favorite recipes in it, too. I definitely recommend investing in one if you've been thinking about it!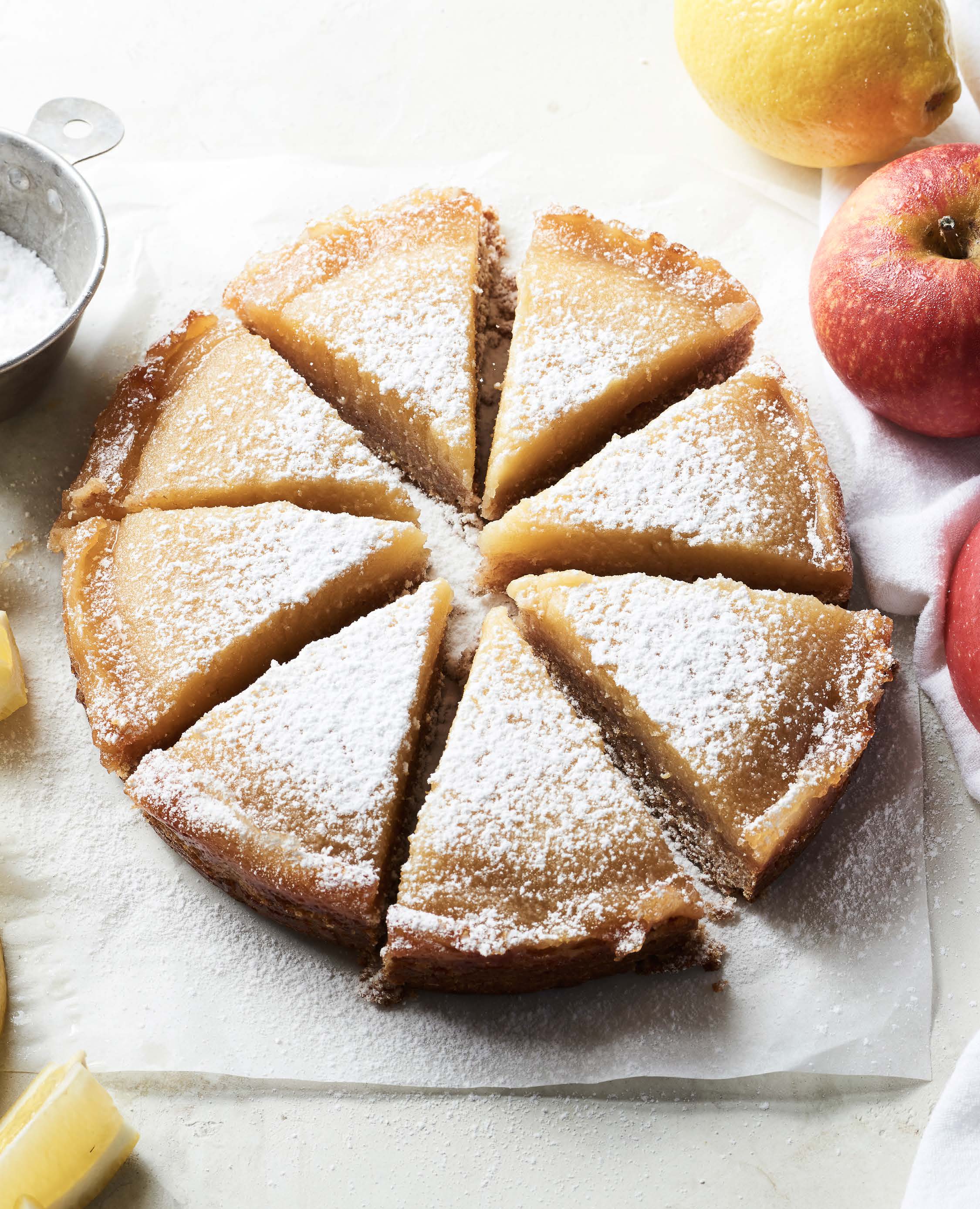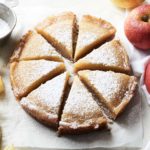 Gooey Lemon Bars
Ooey, gooey delicious! These dangerously delectable treats come together quickly to create a lemon lover's dream dessert. If you don't love lemon, this probably isn't the dish for you – I purposely created these with a serious kick because I can't be bothered with a paltry "hint of lemon" when it comes to lemony desserts. Incidentally, these are one of my daughter's all-time favorite treats. She's requested them over cake for quite a few birthday parties over the years! There's something unbeatable about the combination of lemony tartness with just the right amount of sweetness.
Ingredients
For the crust
¾

cup

whole wheat pastry flour

2

tablespoons

powdered sugar

¼

cup

refined coconut oil

melted
For the filling
½

cup

organic sugar

1

packed tablespoon lemon zest

¼

cup

fresh lemon juice

¼

teaspoon

sea salt

½

cup

unsweetened, plain applesauce

1 ¾

teaspoons

arrowroot

(or cornstarch)

¾

teaspoon

baking powder

Cooking oil spray

(sunflower, safflower, or refined coconut)
Instructions
To make the crust
In a small bowl, stir the flour, powdered sugar, and oil together just until well combined. Place in the fridge.
To make the filling
In a medium bowl, add the sugar, lemon zest and juice, salt, applesauce, arrowroot, and baking powder. Stir well.
To assemble the bars
Spray a 6-inch round, 2-inch deep baking pan lightly with oil. Remove the crust mixture from the fridge and gently press it into the bottom of the pan to from a crust. Place in the air fryer and bake at 347⁰F for 5 minutes, or until it become slightly firm to touch.

Remove and spread the lemon filling over the crust. Bake at 347⁰F for about 18 to 20 minutes, or until the top is nicely browned. Remove and allow to cool for an hour or more in the fridge. Once firm and cooled, cut into pieces and serve. You might use a fork to get each piece out, as the pan is a little small for traditional spatulas.
Recipe Notes
Excerpt from The Essential Vegan Air Fryer Cookbook, by Tess Challis, published by Rockridge Press. Copyright © 2019 by Callisto Media, Inc. All rights reserved.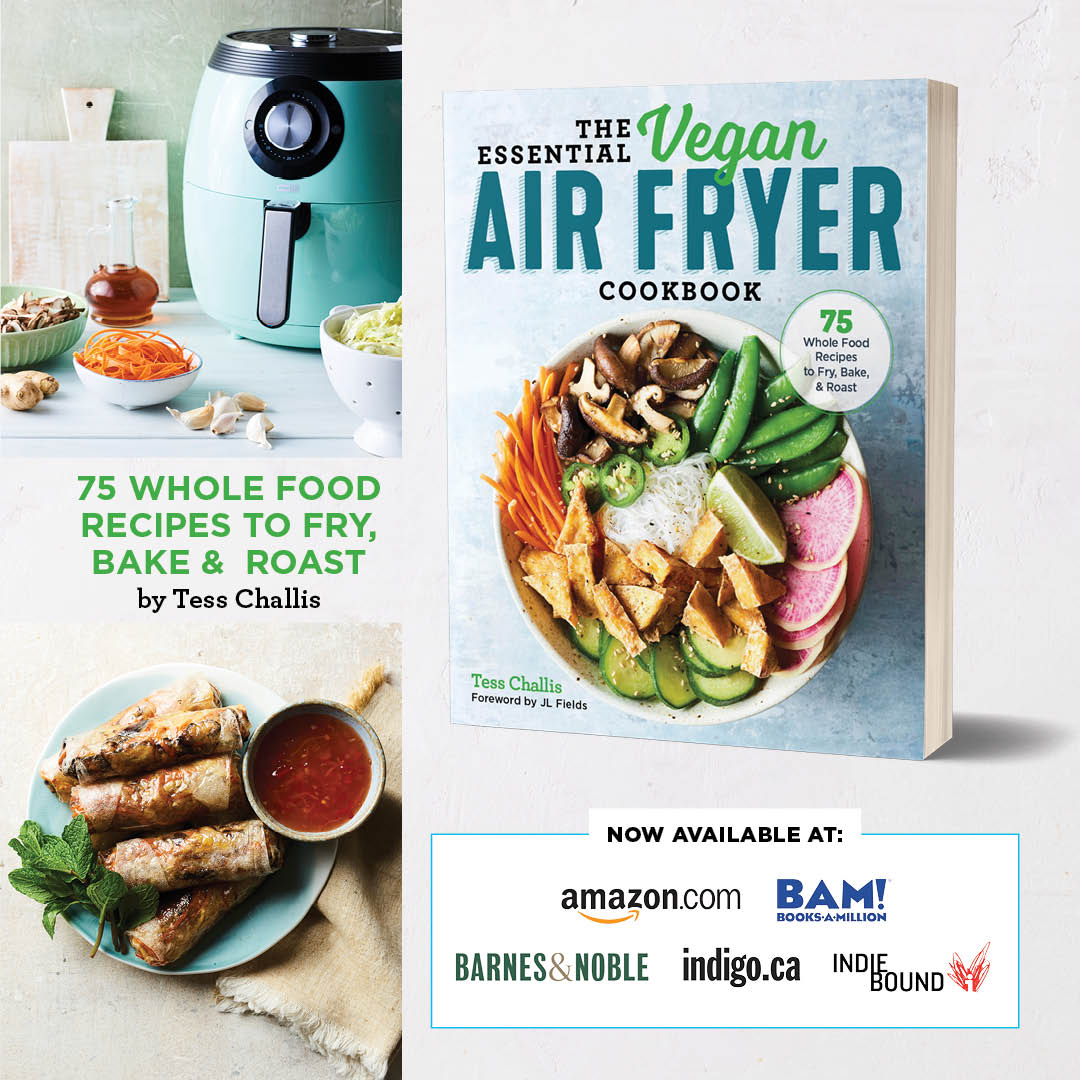 And now for the giveaway! One lucky winner will win a copy of the great cookbook! Contest ends at midnight Eastern Time on June 25th. U.S. residents only, please. Good luck!