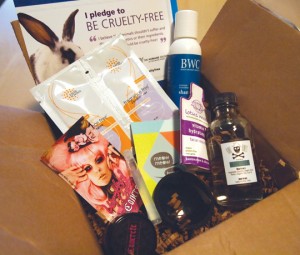 I will admit that when I first heard about the Vegan Cuts Beauty Box I wasn't very interested. I have extremely sensitive skin, and it's difficult for me to find products that I don't have weird reactions to or contain fragrances that trigger nasty headaches. There are so many jars of cream and bottles of lotion stashed away in my bathroom cabinet and I didn't want to add any more to the collection. But after Vegan Cuts sent me their October box for review, I realized that the Beauty Box was perfect for me! I can try samples of cosmetics and skin care items to see if I like them before buying the full-sized version. If I don't like a product, it's not a big deal. Because most of the products are sample-sized, my collection of unwanted beauty products won't grow. How perfect is that?
I really liked everything in the October Beauty Box, and I didn't have any weird reactions to any of the products. I liked that everything was natural and I didn't have to worry about toxic ingredients. (For the record, I sometimes have reactions to natural products too, so I have to be really careful what I put on my skin.) The October Beauty Box contained:
Meow Meow Tweet Body Tonic This goes on the skin after washing and has a light and refreshing feel.
Concrete Minerals Eyeshadow This is actually a full-sized eye shadow – not a sample. It's shimmery and glamorous and perfect for evenings out and holiday parties. 
Bare Bones Cleanser I was skeptical about cleaning my face with a clear, thin, liquid. After the first wash I was instantly hooked though! It left my skin feeling squeaky clean and refreshed. I'm still using my sample and will probably order a full-sized bottle when I'm done.
Lotus Moon Vitamin-B Hydrating Gel from SMB Essentials I have a hard time finding a moisturizer that actually moisturizes my skin without leaving it feeling greasy – especially in winter. This really fit my needs and I loved the way my skin felt after applying it. This is another one I will be ordering a full size of. 
Beauty Without Cruelty Aromatherapy Shampoo I loved the fresh scent of this shampoo – it's perfect for groggy mornings!
The All Natural Face Cream Lip/Cheek Color in Dusky Rose This product can be used both a lip color and blush. I loved the color!
Earth Science Naturals Shampoo and Conditioner These are both gentle and fragrance-free and gave my hair volume and shine.
The Vegan Cuts Beauty Box is curated by vegan cosmetics guru Melisser Elliot. Melisser wrote the Vegan Girls Guide to Life and she knows just about everything there is to know about cruelty-free beauty.  Each box contains 4 to 7 products, all of which are 100% cruelty-free which means they contain no animal ingredients and aren't tested on animals. Most of the products are organic and contain natural ingredients. The Beauty Box is available as a monthly subscription, which means that a box of new goodies gets delivered to your door every month without an effort from you. If you like the samples in your box, you can order their full-sized counterpart from the Vegan Cuts Marketplace. A Vegan Cuts Beauty Box gift subscription makes a great holiday gift for the vegan girl in your life!