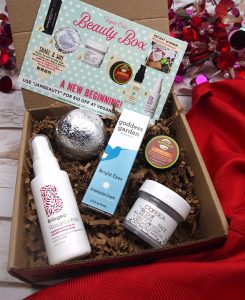 The beginning of a new year is always a good time for a new beginning. Many people decide to go vegan in January, while others resolve to eat healthier, and reduce stress. If you've decided to try new things this year, the Vegan Cuts Vegan Beauty Box is for you!
The Vegan Cuts Vegan Beauty Box is a subscription service that delivers a box of cruelty-free cosmetics and skin care times to your door every month. It's a great way to find new products that you might not of heard of and to support new vegan brands. It's also a perfect way for new vegans to get started in the world of cruelty-free beauty.
The Beauty Box is stocked with 4-6 cruelty-free beauty, hair-care, and cosmetic samples (and sometimes full-sized products!). I've discovered some new favorites with the Beauty Box, and I've saved money, because I don't need to plunk down a fortune to try something new that I may not like.
The January Beauty Box was full of items to get you started on your cruelty-free skin care journey.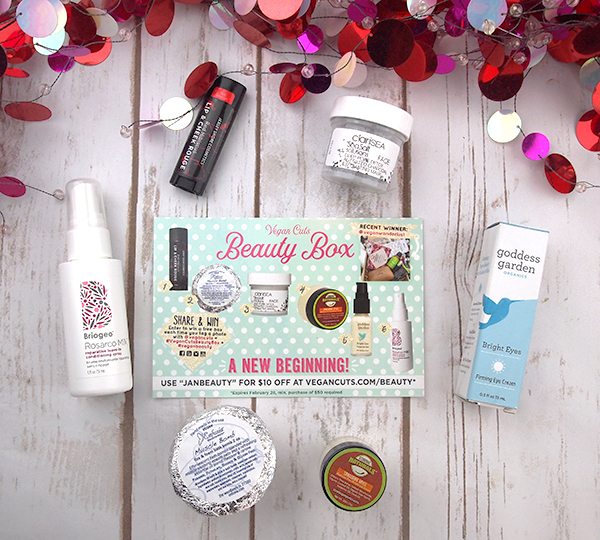 The January Beauty Box contained: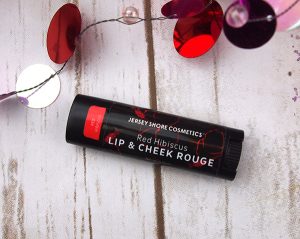 Jersey Shore Cosmetics Lip & Cheek Rouge – This shimmery Red Hibiscus cream can be used as either lip color or cheek color. It's formulated with natural plant oils, minerals, and flowers, and it's made in m home state of New Jersey.
Enfusia Muscle Bomb – Sadly, I can't take baths in my bathtub at the moment (my bathroom needs some updating), so I'll be giving this bath bomb to a friend. If I could, I'd be all over this fizzy bath bomb, which is infused with muscle-soothing epsom salts and invigorating essential oils. It smells minty and refreshing.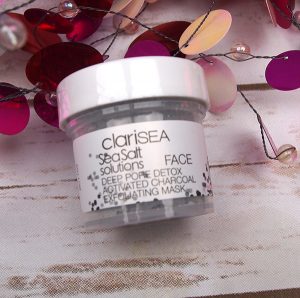 Clarisea Sea Salt Solutions Face Mask – This powder is made with natural salts, sweet almond nut powder, and activated bamboo charcoal powder, and removed impurities to leave skin leaving clean and refreshed. Simply mix a little with your favorite cleanser and gently scrub into your skin.
Stinkbug Naturals Deodorant – Tangerine and clove oils are combined with shea butter, coconut oil, sodium bicarbonate, and corn starch to get rid of odor in this deodorant cream. I'm a sweater, but this cream kept me dry all day.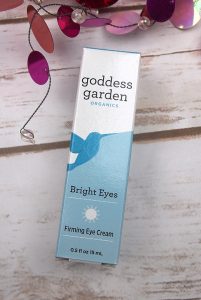 Goddess Garden Firming Eye Cream – This cream is made with seaweed extract, black elder, and red tea extract, and it's formulated to wake up tired eyes, reduce puffiness, and smooth the appearance of fine lines. It doesn't contain any harsh chemicals, and is great for sensitive skin.
Briogeo Rosarco Milk Leave-In Conditioning Spray – The name of this conditioning spray comes from the blend of rosehip, argan, and coconut oils it's made with. It's lightweight, and doesn't leave hair feeling heavy or greasy. It's great for fighting the dry, split ends that cold wintertime air can cause.
The Vegan Beauty Box is available as a monthly subscription, which means that once you sign up, a box of new goodies gets delivered to your door every month. If you like the samples in your box, you can order their full-sized counterpart from the Vegan Cuts Marketplace.