It's January and it is cold here in Philadelphia.  We just had our first snow storm of the season and now we have lots of sloppy slush to contend with.  Yuck.  There are many strategies for keeping comfortable during the winter months, and for me one of the most important things is warm and dry feet!  Warm feet, warm heart…right?
Surprisingly, vegan winter boots are kind of difficult to find.  Manufacturers always seem to ruin a perfectly good boot by adding leather, suede, wool or fur.  I've found great boots that I thought were completely vegan, only to be disappointed because the laces were leather!  Argh!!
Well I am happy to report that I have found several very cute, stylish and warm vegan winter boots that I am here to share with you today!
This first boot is a variation on the traditional duck boot. The Nature Breeze Duck Boot is available at Walmart and comes in several color combinations.  With it's faux shearling lining and rubber sole, this boot is great for both rain and snow.  One of my favorite features about this boot is the side zip, so you still get the look of the lace up with the ease of a zipper.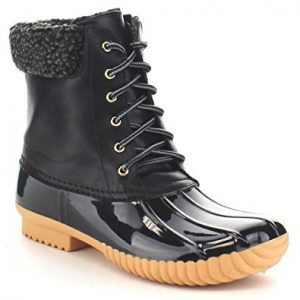 Image Source and Credit: Walmart
A bit more heavy duty is the J-Sport by Jambu Medocino Boot available from KMart.  Available in both black (shown below) and tan, the Medocino boot combines vegan suede and leather with a fluffy faux fur lining to make a durable, good looking boot.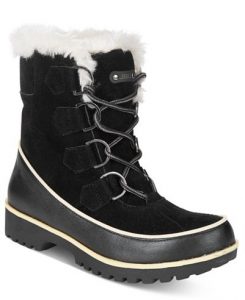 Image Source and Credit: KMart
I stumbled across these beauties on the Macy's site and I just had to share them.  The Danela boot from Rock and Candy and is as much of a cold weather boot as it is a fashion statement.  It is available in a few color combinations but the black/brown one pictured below is my fav.  It has a cool English countryside look that would be great with jeans or a skirt with thick tights or socks.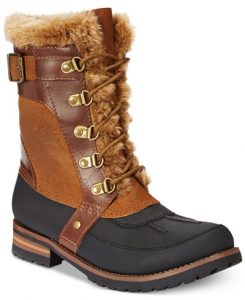 Image Source and Credit: Macy's
Now maybe you live in an area where you get snow that measures in feet rather than inches, so you need something more than an ankle boot.  Well check out this beauty from Kohls.  The Superfit Naley Waterproof Winter Boot is ready for battle as they are made to withstand -20 degree Celsius weather.  Fully waterproof with a removable EVA foot bed with fleece lining cover for best cushioning, these boots are the real deal.  Available in black and my favorite, olive, pictured below.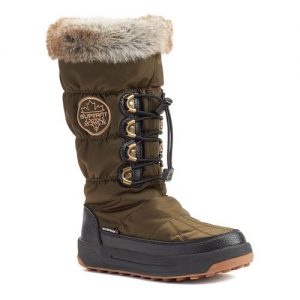 Image Source and Credit: Kohls
The Cougar Chateau Snow Boot is another cold weather knockout.  Available at DSW in both black and beige, the Chateau has a 12″ lace up shaft that is sure to keep the snow out.  A sturdy anti-slip rubber sole will keep you on your feet through whatever winter throws your way.
Image Source and Credit: DSW
When the shorter days and lack of sunshine gets you down, why not create your own shine with the Cougar Bistro Snow Boot in metallic bronze.  Also available from DSW, the Bistro is super snug with a quilted exterior and faux fur lining and the side zip makes these boots easy to slip on and off.  This boot is also available in black and white, but they are not nearly as much fun as the bronze in my opinion!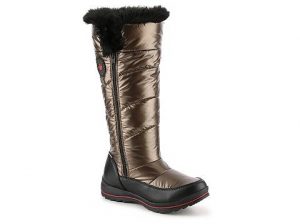 Image Source and Credit: DSW
So whether you are a fan of the winter or not, everyone likes to stay warm and dry.  These vegan winter boot picks can help you do just that in the most fashionable way possible!