Those who have never heard of Chloe Coscarelli might very well do a double take if they stumble upon her latest book, Chloe's Vegan Desserts, while browsing the desserts section of their local bookstore. Upon closer look, a slew of thoughts run through their minds: "Who is this beautiful lady who looks like she is positively radiating with happiness? Are those mint leaves and flowers on those delectable-looking cupcakes? These are all vegan? I want them (all 16 mouth-watering photographs on the back cover alone) in my mouth right now!"
Those who have heard of or seen Chloe speak already know she has the charm and enthusiasm to match that big glowing smile, as well as the kitchen saavy and creativity to win all three rounds and the grand prize on Cupcake Wars back in 2010, making her the first vegan chef to ever win a Food Network Challenge. She won over many viewers and food lovers alike with this and subsequent TV appearances, sharing her genuine passion for making accessible, animal product-free versions of comfort foods without ever compromising texture or taste.  Indeed, her debut cookbook, Chloe's Kitchen: 125 Easy, Delicious Recipes for Making the Food You Love the Vegan Way, earned VegNews' 2012 Cookbook of the Year Award.
Her latest book, Chloe's Vegan Desserts, continues to reinforce why this young Californian chef has found so much success. Not only is the book filled with gorgeous photographs of moist, decadent desserts, it includes everything from classic birthday cupcakes to mud pies, cobblers, mojito cookies, chocolate babka, and everything in between (more than 100 recipes total)—all "veganized." There is also a section dedicated to baking basics, including recipes for coconut whipped cream, pie crust, pastry crème, and more.
The recipes are all, frankly, quite ridiculously easy to follow, making this cookbook awesome for beginners and efficient veteran bakers alike. Besides the fact that one is spared from the messiness of baking with eggs and dealing with dairy and other potential allergens, Chloe's desserts do not contain many of the vegan baking substitutes—applesauce, egg replacer powder, tofu, etc.—that many people assume are necessary for creating vegan desserts that rival their non-vegan counterparts. To accommodate readers who are gluten intolerant or want to cut back on wheat products, Chloe also includes special ingredient notes on how to substitute wheat flours for gluten-free flours and xanthan gum in her creations.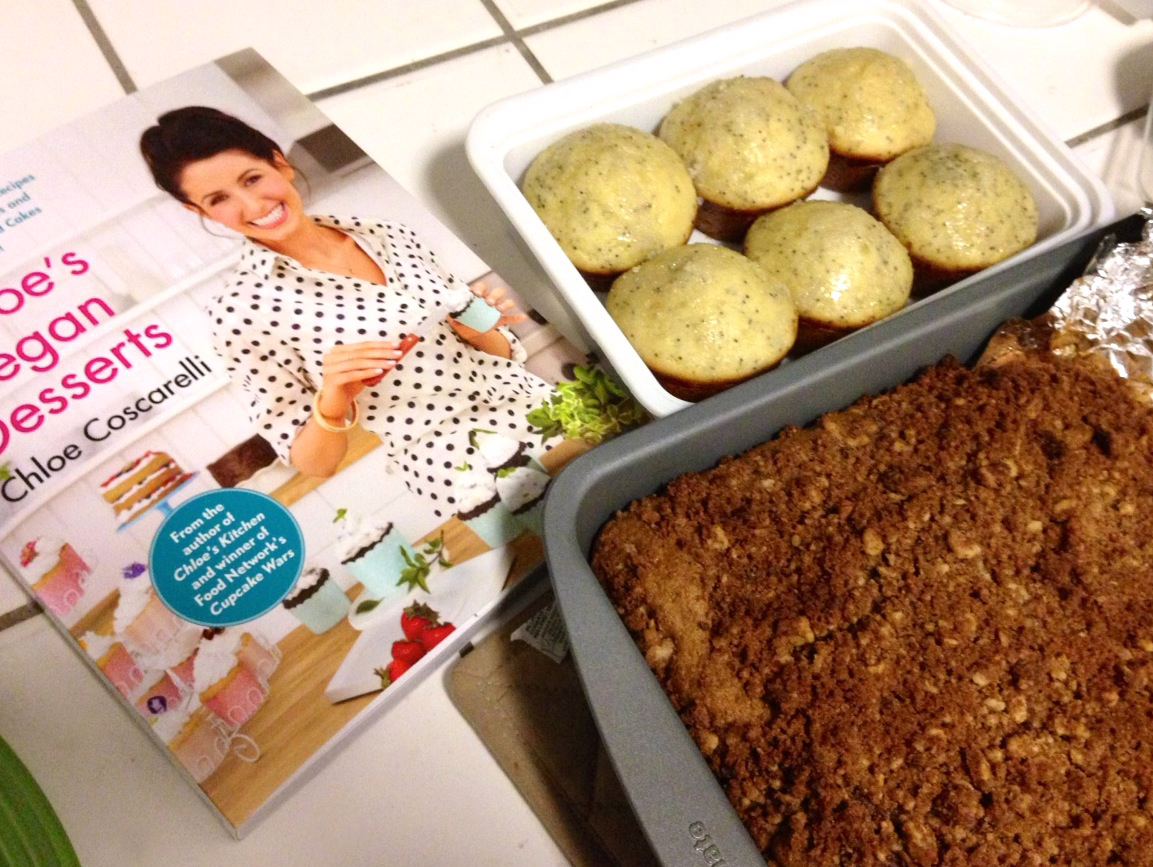 I've been fortunate enough to try out many of the recipes in the cookbook already, and they are a hit. Every single person has raved about the cupcakes, muffins, cookies, cobblers, and cakes that I've created thanks to Chloe! That's a pretty impressive feat, seeing as my taste-testers hail from different nationalities and included quite a few picky non-vegans. Based on my experience with the book's directions, the baking times listed can vary quite a bit, so set the timer for less than what is called for and check on your recipe every few minutes thereafter until you find the best configuration for your oven.
I also noticed that her recipes are easy to tweak if one is short on ingredients (type or portion), and when ready, are still promptly devoured by anyone within smelling range. So if you only have olive oil instead of canola, or decide to substitute whole-wheat pastry flour for unbleached all-purpose flour, things will more than likely be deliciously a-okay!
It is important to note that Chloe's Vegan Desserts is NOT a health book. Chloe does incorporate a few predominately fruit-based desserts, as well as some treats containing natural sweeteners like dates and agave. But for the most part, those looking to cut back on sugar and oil will not necessarily find their match here; these desserts are meant to, after all, taste indistinguishable if not better than classic cream and butter-laden pies, cupcakes, and donuts (it's still a wonder to me how Chloe stays so slim despite spending her days concocting these!). However, the sheer fact that Chloe keeps her ingredient lists short and free of any animal products automatically does make it a more healthful option than choosing the aforementioned cream and butter-reliant desserts, and trust me—you will not miss those ingredients one bit! But don't take my word for it…try one of Chloe's recipes for yourself! Below, with permission from her publisher, is her breakfast and dessert-friendly Tiramisu Pancakes (which also happens to be Chloe's favorite recipe from the book).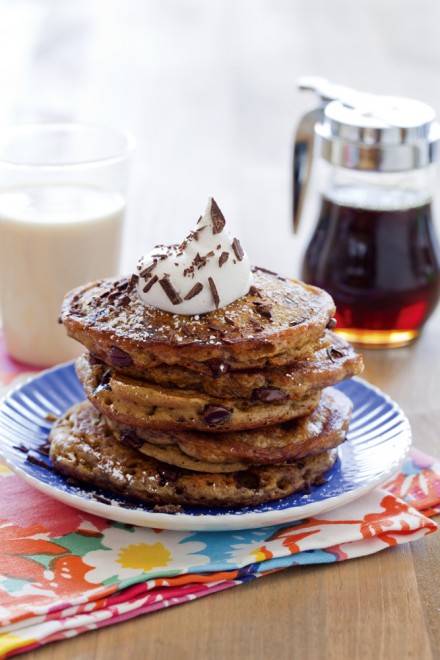 Chloe's Tiramisu Pancakes
Serves 2 to 3
Ingredients:
1 cup all-purpose flour
1 Tbs baking powder
1 Tbs instant espresso powder
½ tsp salt
¾ cup water
¼ cup maple syrup
1 Tbs dark rum
1 cup semisweet chocolate chips (dairy-free)
Canola oil, for greasing
Powdered sugar, for serving
Coconut whipped cream, optional
Directions:
1. In a large bowl, whisk together the flour, baking powder, espresso powder, and salt.
2. In a separate small bowl, whisk together the water, maple syrup, and rum.
3. Add the liquid to the flour mixture and whisk until just combined. Do not overmix; the batter should have some lumps in it.
4. Gently fold in the chocolate chips.
5. Lightly oil a large nonstick skillet or griddle and heat over medium-high heat.
6. Pour ¼ cup batter onto the skillet. When bubbles appear in the center of the pancake, flip it.
7. Let cook on the other side until lightly browned and cooked through, about 1 minute more.
8. Repeat with the remaining batter, adding more oil to the skillet as needed. If the batter becomes too thick, add a little more water, 1 tablespoonful at a time.
9. To serve, dust the pancakes with powdered sugar and top with a dollop of coconut whipped cream if desired.
Copyright © 2013 by Chloe Coscarelli from CHLOE'S VEGAN DESSERTS published by Atria Books, a Division of Simon & Schuster, Inc.
To purchase the book and see a list of Chloe's other publications (as well as other great recipes), please check out her website.