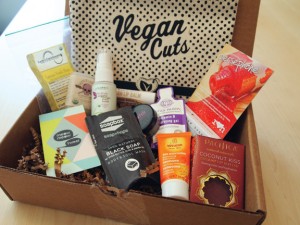 If you follow my personal blog, you may know that a month ago I had surgery to remove a watermelon-sized cyst from my right ovary. I was in the hospital for 5 long days, and my recovery regimen since then has consisted of lying around the house with my cats, watching copious amounts of television, and pampering myself with lotions and potions. I was super thrilled to find the Vegan Cuts Vegan Beauty Essentials Kit waiting for me when I returned home from the hospital, and I've been putting the products to good use for the past few weeks. 
The nice people at Vegan cuts put together the Vegan Beauty Essentials Kit to help chic vegans like me and you stock up on cruelty-free skin care items and become acquainted with awesome new products. Each kit comes packed with a mix of 10-15 surprise products valued at about $50 and includes a limited-edition Vegan Cuts cosmetic bag. I've been quite pleased with my kit, which contained: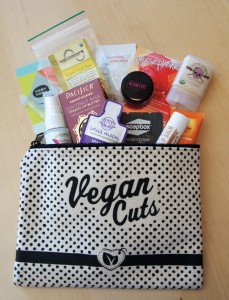 North Coast Organics Death by Lavender Deodorant – This aluminum-free deodorant  is formulated to neutralize odor and absorb wetness with organic ingredients and essential oils. I'm always on the hunt for a natural deodorant, and I love lavender, so this product was a total win for me. 
Concrete Minerals Eyeshadow –  This shimmery, ultra glamorous eyeshadow is made without nasty parabens and fillers. I'm looking forward to leaving the house to go someplace other than a doctor's office so I can use this pretty powder and glam myself up!
Rainbow Honey Nail Lacquer –  Since I haven't done anything for a month, my nails have grown quite long and I've become a nail polish junky. I'm really happy with this glittery, long-lasting polish, and according to the package, it's made just a few towns away from me in NJ!
Weleda Sea Buckthorn Replenishing Body Lotion – Lotions have become another one of my weaknesses over the course of the past month. This moisturizing body lotion is formulated to stimulate the senses and hydrate the skin – and it has a nice, fresh scent to boot.
Pacifica Coconut Kiss Creamy Lip Butter – This silky smooth tinted lip gloss is made with all natural oils and butters, and the coloring comes from plant extracts. Since women end up consuming most of the the lipsticks and glosses they wear, I'd much rather wear this creamy lip butter than a stick made with tons of chemicals.
Meow Meow Tweet Body Tonic – Meow Meow Tweet has become one of my favorite skin care companies! Their lightly-scented body tonic is to be applied to the body and face after washing, and contains essential oils that refresh, hydrate, and awaken, as well as repair and protect skin. 
Soapbox Black Soap Body Wash – Black soap always makes me think of Annie Hall, and using it makes me feel like I'm suddenly super cool.  This body wash is made with charcoal and sea salt that exfoliates and brings toxins out of your skin.
Earth's Enrichments Lemon Fresh Shea Soap – This little body bar soap combines organic coconut oil and aloe vera to soothe and heal dry skin – and it smells great too!
Lotus Moon Vitamin B Hydrating Gel –  I have a hard time finding a moisturizer that actually moisturizes my skin without leaving it feeling greasy. This really fit my needs and I loved the way my skin felt after applying it. It's designed to moisturize your face without clogging pores.
 Sunology Natural Sunscreen SPF 50 – I am pale. Very pale. My skin burns after just a few minutes in the sun, and although I usually apply sunscreen before I go outside in the summer, I sometimes forget to take it with me. This little package is going in my purse for one of those occasions.
The Fanciful Fox Peanut Butter Lip Balm – The Fanciful Fox is another favorite of mine, and I was lucky enough to meet the company's co-ower Amanda Fox through Victoria Moran's Main Street Vegan Academy last year. This lip balm glides on smoothly and is made with all natural ingredients that are good enough to eat. (And you just might want to!)
Aubrey Organics NuStyle Organic Detangler – I've been in desperate need of a hair cut for the past few weeks, and this spray has been keeping my out-of-control mane at bay. It's made with organic quinoa protein to smooth hair, reduce frizzing, and repair damaged ends, as well as herbal humectants to replenish hair and the scalp.
You can find the Vegan Beauty Essentials Kit and more great vegan products in the Vegan Cuts Marketplace.