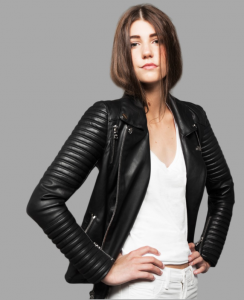 Whether you're in the southern or northern hemisphere, autumn or spring, the biker-style (aka moto-style) jacket is a popular item by which to add edgy attitude into your arsenal of wardrobe 'essentials'.
This cross-seasonal piece of outerwear is often deemed a 'closet essential'. Yet I urge you to take a hard look to see if it really fits your needs and desires!
Here are a couple of style pointers for weighing up:
Is this cropped style actually a jacket length you'd get the most wear from?
Does this edgy style and aesthetic complement your current clothing style and personality?
Does this cropped style flatter your body's shape?
Do you feel confidant pulling off the 'toughened up' attitude of the biker's traditional zip hardware detailing?
Is vegan leather really your preferred material both aesthetically and comfort-wise?
Or maybe you'd prefer the style in organic cotton, vegan suede, faux fur or thrifted silk?
Does black work best in your closet or would you get better use from a lighter colour?
Once you've assessed whether or not the biker jacket is going to give you great wearable mileage, then it's time to abstain or shop.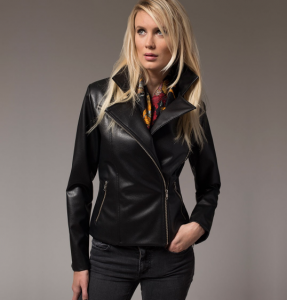 Of course nowadays there's no shortage of man-made vegan leather jackets to choose from. It could be as simple as picking one up from just about any retailer, including H&M, Mango, Forever 21, Zara, or Asos.
Yet I encourage you not to support these fast-fashion retailers, as there is so much more to consider when selecting this long-standing piece; buying the biker jacket based on vegan materials is only one of the steps in making an intentional and responsible choice.
Selecting a vegan friendly material aside, another big consideration is whether this item was made under fair labour practices? Not something you'll get easily from fast-fashion retailers.
Then there are the various man-made leather fabric composition choices. Selecting one that has caused the least environmental harm during the manufacturing process is far more easily sourced through the ethically made companies listed below.
In my experience, growing an intentional wardrobe, entails looking into developing a strong sense of your personal style aesthetic, lots of research, tons of restraint, loads of patience and heaps of confidence in making a personal choice that best fits your lifestyle needs.
I've got your back covered on this list!