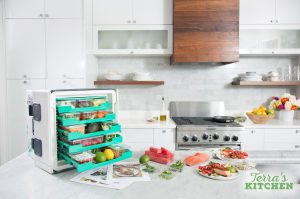 We were recently asked to try out Terra's Kitchen, another option in the ever-growing market of food delivery services.  Terra's Kitchen delivers fresh, mostly organic ingredients and instructions to help you pull together a great meal in a flash.
Ordering was easy.  There wasn't a specific vegan dietary preference option when I ordered, but there are a lot of vegan meals, and they are clearly labeled.  I selected the vegetarian option and narrowed it down from there.  No problem.  I was also given the choice of a two-serving or a four-serving menu.
I then filled my "vessel."  I chose three meals and also added some of the extras (some cold-brew coffee and different sides).  I'll talk about the vessel more in a bit, but I really did like the additional ordering options.  There are beverages, sides, salads and snacks that can round out a meal or even make an extra meal.
I was able to choose a Saturday delivery date, which was a huge plus for me.  That gave me the opportunity to make more than one dish and save the meals for the week ahead.  Weekend meal prep is great when you actually do it.
My order arrived as schedule in the Vessel.  Wondering what that is?  It looks like a mini refrigerator and it is packed full of goodies (your order).  To be honest, it was too heavy for me to lift, so I pulled out the ingredients, removed the shipping label to reveal the return label, closed the box and left it outside.  It was picked up the next day.  So cool.  No other boxes to break down, no dry ice or freezer packs to deal with, and minimal packaging on the actual ingredients.
I'll focus on my favorite dish, the Terra Buddha Bowl.  Who doesn't love bowls?  They are so versatile, pretty to look at, and fun to eat.  This bowl contained rice, arugula, sugar snap peas, spicy chickpeas and avocado dressing.  It was super easy to make.  I followed the directions to the letter and made myself two bowls, one for dinner and one for lunch the next day.  It was a filling and tasty dish and very fresh.  It really did only take 30 minutes and cleanup was easy.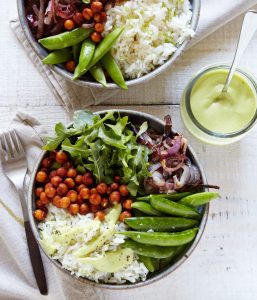 Chic Vegan readers might be turned off by a delivery service that doesn't serve only vegans.  That's okay.  You can find another service for that.  Personally, as the only vegan in my house, I can see the benefit to using Terra's Kitchen.  If my husband and son want a vegetarian or meat-based meal, they can choose that (and they can cook it themselves, thank you), and I can stick with my preference.  We can share.  Not that I won't continue trying to gently nudge them over to my side…
I think I'm a pretty good cook.  When I made these meals, I felt like I was a really good cook.  Yes, I could certainly buy the ingredients and make these dishes on my own.  I could also make my own toothpaste and deoderant.  But I don't.  And there are times when it's just easier to let someone else do the prepping.  That's what Terra's Kitchen can do for you.  Sometimes you deserve that.