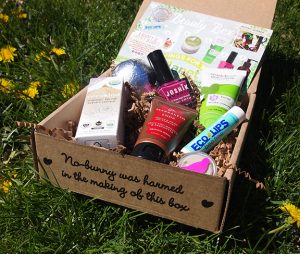 Spring is here! Flowers and blooming, birds and chirping, and the April Vegan Cuts Beauty Box has arrived!
I love the Vegan Cuts Beauty Box because it allows me to try different cruelty-free beauty products without spending a lot of money. I have sensitive skin, and I tend to get headaches from certain scents. I have a bathroom cabinet full of beauty products purchased with the hopes that they would be the one, only to find that I had a bad reaction. With the Beauty Box, I get to sample products before I shell out a lot of cash.
The Beauty Box is a monthly subscription service, and each box is filled with 4 to 7 new products. If I like something I've tried, I can purchase a full-sized version from the Vegan Cuts Marketplace. The Beauty Box is perfect for new vegans who are just getting started with cruelty-free beauty, as well as seasoned vegans who want to discover new brands and try different products.
The April Beauty Box was perfectly curated to help chic vegans prepare for spring weather! I've been slathering myself with the wonderful products it contained all week.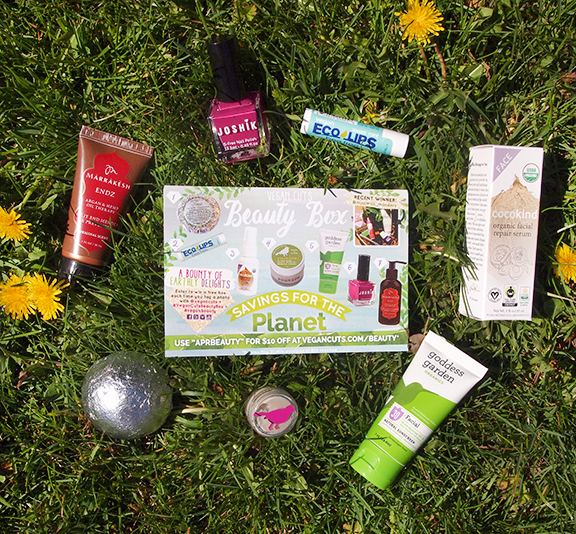 The April Vegan Cuts Beauty Box Contained: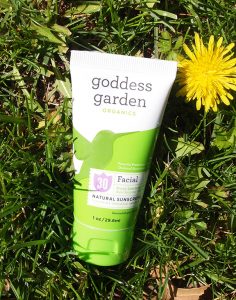 Goddess Garden SPF 30 Facial Sunscreen – My moisturizer and foundation both contain sunscreen, but it's just not enough to keep my face from burning – my pale skin turns pink very quickly! I'm saving this cream for the summer, but I'm looking forward to using it. It's made with zinc oxide, shea butter, coconut oil, green tea, and plant extracts and oils, and it's make-up friendly.
Enfusia Fizz and Foam Bath Bomb – Sadly, I can't take baths in my bathtub at the moment (my bathroom needs some updating), so I'll be giving this bath bomb to a friend. I'm hoping she'll enjoy its calming coriander and rosewood scent. This little beauty is made with natural oils and fragrances to create a relaxing bath experience.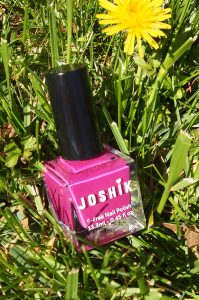 Joshik Polish – I've been wanting to try Joshik polish since Adrienne reviewed it for us in March, so I was happy to find a bottle in my beauty box. Bright pink isn't a color I would normally choose for myself, but this high gloss polish looks great on my toenails with springy sandals, and it hasn't chipped at all. Joshik Polish is 7 and 5 Free, which means it's from of formaldehyde, dibutyl phthalate, toluene, formaldehyde resin, camphor, parabens, xylene, and triphenyl phosphate.
Eco Lips Bee Free Lip Balm – This Sweet Mint flavored lip balm glided on smoothly and tastes great! It's made with natural plant oils and waxes to keep lips moisturized.
Routine Do-Order Cream – I'm one of those people who is always hot and sweaty. I just can't help it. I'm always trying new deodorants in hopes that they'll work for me. (They usually don't.) I'm pleased to report that Routine kept my me dry and fresh throughout the day. Sadly, however, the Sexy Sadie scent was a little too overpowering for me, and I developed a little bit of a headache. (Like I said, I'm very sensitive to smells.) I'd love to try another scent, or better yet, an unscented version.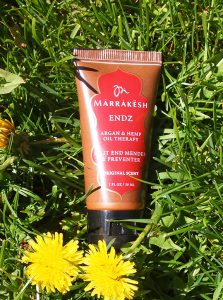 Cocokind Facial Repair Serum – Despite using moisturizer, the cold winter air dried my skin out, so I was excited to receive this repair serum. It's made with organic coconut oil, avocado oil, and organic rosehip seed oil, and it almost seems good enough to eat! This serum moisturizes while providing antioxidants and fatty acids to revitalize the skin. A little goes a long way, so a small bottle will last a while.
Marrakesh Enz – This cream is made with argan and hemp oils to help mend and repair split ends. It also helps to fortify and thicken hair while keeping it frizz-free. I bet this will work wonders during the humid summer months!
The Beauty Box is available as a monthly subscription, which means that once you sign up, a new box of products gets delivered to your door every month. If you like the samples in your box, you can order their full-sized counterpart from the Vegan Cuts Marketplace.