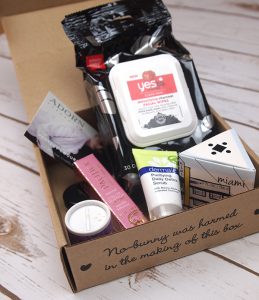 It's hard to believe that summer is almost over. I can always tell when another month is coming to an end when I find the Vegan Cuts Beauty Box waiting for me in my mailbox.
The Vegan Cuts Beauty Box is a subscription beauty box service. Each box is full of 4 to 7 cruelty-free cosmetics and skin care samples, and is sent to your door every month. Of course, all of the products are free of animal ingredients and are never tested on animals. Most of them are all natural and organic as well. It's a great way for chic vegans to try new products, discover new brands, and sample new-to-you items.
I'm like a kid at Christmas when Vegan Cuts Beauty Box. I never know what types of lotions, potions, and powders I'll find inside. The August Beauty Box was full of wonderful products to help keep my hair and skin clean and glowing.

The August Beauty Box Contained:
Yes To Tomatoes Clear Skin Detoxifiying Charcoal Facial Wipes – Pulling the first wipe out of the package was a little bit of a surprise, as they're black, but that's because they contain charcoal, which detoxifies and deep cleans. They also contain tomato fruit extract and aloe leaf juice, among other ingredients. They have a fresh, clean scent, and they left my face feeling soft and squeaky clean. This little package of wipes would probably come in handy when traveling, since it's easier to throw into a bag than a bunch of bottles, but I haven't gone away this summer, so I used them at home. I will definitely be picking more up in the future.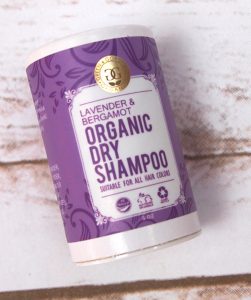 Green and Gorgeous Organics Dry Shampoo – We've been doing renovations on our house this summer, which has thrown my daily shower schedule out of whack. Instead of showering in the mornings like I usually do, I've been bathing at night after spending a few sweaty hours painting walls or laying down flooring. My hair hasn't really liked this new routine, and it's been a little weird after each night's sleep. So, I was happy to find this dry shampoo in this month's beauty box. I was also happy to see (or smell, rather) that it's lavender and bergamot scented, as those are my two favorite fragrances. Luckily, it did the trick with my hair, absorbing oils that built up overnight and avoiding the need to wash my hair with water again. I like the fact that it's talc-free, and made with organic powders and essential oils.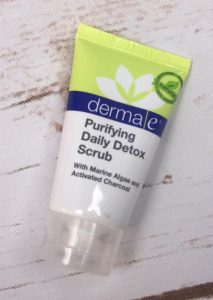 Derma E Purifying Daily Detox Scrub – Like the Yes To wipes, this scrub is made with charcoal to help detox the skin. It also contains marine algae to nourish and apricot seed powder to exfoliate. I was a little surprised when I first tried this too, as it's a shimmer silver color. The creamy cleanser feels luxurious on the skin, and the scrubbing powder that it contains is gentle enough for every day use. I really enjoyed this scrub, and my skin felt refreshed after its use. It definitely helped with the sweat and oils that built up on my skin after working on the house.

Deco Miami Nail Lacquer – I adore the little triangle shaped box that this polish was packaged in! This lacquer is 8-Free, which means that it's free of the really harmful ingredients that a lot of nail polishes contain. It doesn't contain any formaldehyde, camphor, DBP, or other nasty ingredients. I received a clear dual top and base coat, which has helped my home-done pedicure survive many bumps and scrapes.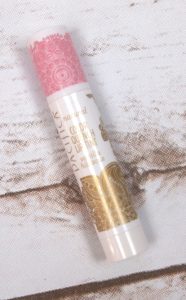 Pacifica Color Quench Lip Tint – My lips have been super dry this summer for some reason. Luckily this coconut oil based lip tint has been able to provide them with moisture. I received vanilla hibiscus colored tint, which is a shear and simmer pink that's perfect for summer. It doesn't contain any nasty ingredients like parabens and mineral oil, because no one wants to put toxins nears their mouths.
Adorn Cosmetics Light Reflecting Mineral Powder – This pale, shimmery pink illuminiser does multiple duties as a highlighter and eye shadow. I've been using it both on my cheeks and eyelids for a summery glow. It's made from premium grade pure minerals and is free talc, parabens, sodium lauryl sulfate, and other harmful chemicals that can sometimes be found in cosmetics.
The Beauty Box is available as a monthly subscription, which means that a new box of products gets delivered to your door every. If you like the samples in your box, you can order their full-sized counterpart from the Vegan Cuts Marketplace or from the companies' websites. Many of the products in the Beauty Box come with coupons for future purchases.