Did you know that July marks "National Ice Cream Month?" Me neither, but what a great reason to partake in some ice cream! Our family has been a huge fan of So Delicious products since we went vegan, but after being able to sample some of their new line of ice cream treats, we are in love!
If you aren't familiar with So Delicious, they corner the market in dairy-free frozen desserts. So much so that they have recently added new lines that include soy-free, almond and coconut based products. And if that wasn't enough, they also are a fantastic company that is invested in helping others. A percentage of their proceeds from ALL of their frozen dessert sales in July and August will be donated to the Brees' Dream Foundation (record breaking NFL Quarterback Drew Brees' foundation that supports children with cancer) as well as helping rebuild communities in need. Now that is a company that I can support!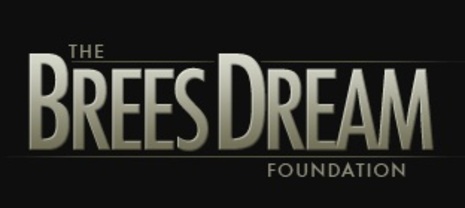 When the package from So Delicious arrived last week we all stood around like little kids on Christmas morning waiting to open that dry iced box of goodies. Supplied with a pair of So Delicious gloves, each carton of ice cream discovered was full of new flavors to delight even the pickiest of eaters. My sweet boys were so excited when they saw the Chocolate Fudge Bars and mommy was even more impressed when she read the bars had "no sugar added".

Our first try was the Cookie Dough, made from a coconut milk base. Yummy chunks of ooey gooey cookie dough in a smooth vanilla ice cream was a huge hit with all of us. I especially was thankful it was gluten free cookie dough…what a treat for a gluten free mom!
Next we dove into the Mocha Almond Fudge, made from, no surprise, an almond base. I didn't think I liked coffee flavored ice cream…I stand corrected. Delish! Creamy mild coffee flavor with diced almonds melted in our mouths. My hubby doesn't typically enjoy ice cream with nuts in it, but he took it down. Even my little ones loved this one!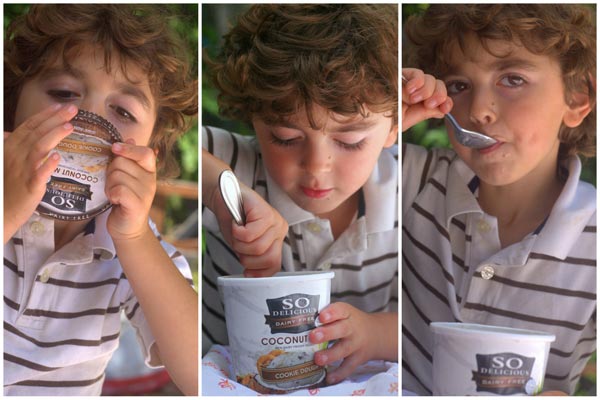 Moving on, we enjoyed the Cherry Amaretto, also made from an almond base. Bold flavors mixed in with delicate tart cherries perfect for those warm summer nights.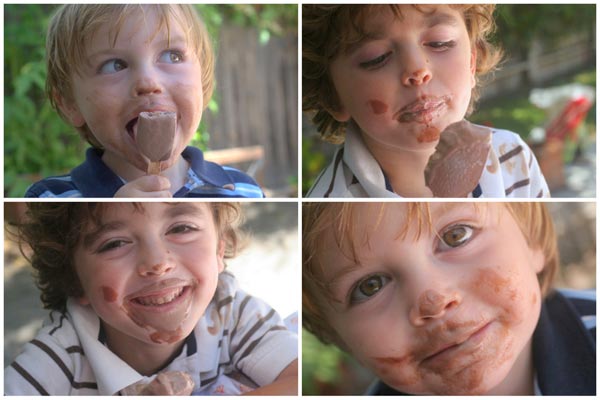 Next was Passionate Mango, sweet, creamy and refreshing. This coconut based ice cream would make a perfect addition to any fruit based smoothie.

Last, but not least, was the Fudge Bar Minis. As a mommy who limits her kids' sugar intake, this treat really blew me away! The ingredients alone impressed me, but then we all took that first bite…oh my, delicious! And the perfect size, little minis hit the spot for sure!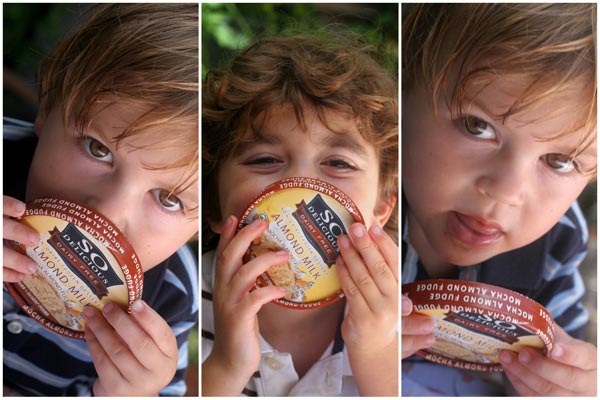 As you can see from the pictures, my boys (even my big boy, yes that's you hubby!) enjoyed all the treats So Delicious shared with us. So the next time you are craving some creamy ice cream, look no further, So Delicious has something for everyone. And be sure to try those Fudge Bar Minis, they were our family's favorite…or was it the Cookie Dough or the Mocha Almond Fudge? Well, be sure to try all of their new flavors and have your family find their favorite, too!