Have you tried Shanti Bar energy and protein bars?
Developed by chefs and athletes Lauren Feingold and Ashanty Williams, these bars are loaded with raw, vegan, gluten-free, and organic superfoods. It's no wonder they are endorsed by two-time Olympic Gold Medalist Hope Solo.
Shanti Bar is perfect as a post-workout or mid-afternoon snack. Containing between 7 and 17 grams of protein, they come in eight different flavors.
Turmeric is anti-inflammatory and calming, containing mango, cardam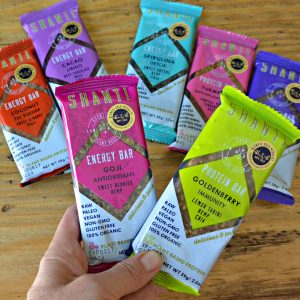 om, goji, and 17 grams of protein. Mulberry is great for endurance and vitality, containing cacao, maca, and cayenne pepper. Acai, Coconut, Cacao, Goji, Spirulina, and Goldenberry round out the list of other flavors.
I'm very selective when it comes to energy bars, and I appreciate that these bars are all raw, organic, and naturally sweetened with fruit or juice. The protein comes from nuts and seeds, plus rice protein in the bars with a higher protein content. Some protein bars make me very thirsty or leave an unpleasant aftertaste, but I didn't notice either after eating these bars.
I like keeping some in my desk at work in case I get hungry before or after lunch. They are also great before a workout.
I tried all the flavors, and Goji and Goldenberry are my favorites. You can buy Shanti Bar energy and protein bars online individually, in boxes of your favorite flavor, or in variety packs. Which flavor are you most excited to try?
Shanti Bar was currently picked up by Whole Foods, and is currently being sold at all South Florida locations. It will be available nation-wide in Whole Foods stores soon.