I was at a friends' house the first time I tried jackfruit. My friends are the type of people who not only know good vegan food, they know how to cook good vegan food. So when they asked me to take a taste test of dinner while it was still cooking, I didn't hesitate to agree. Because they are vegan themselves I knew I didn't need to ask if what I was about to eat was vegan. My only concern were the sly glances and secret smiles they kept passing between them as I chewed and asked: "What is this?" It was chewy, like pulled meat, but unlike any soy protein, textured vegetable protein, or any other plant protein I had ever tried. What I was eating was jackfruit, and it was delicious.
That was a few years ago now and since then jackfruit has been popping up all over Instagram and Twitter feeds everywhere. I've even seen a few fully prepared versions at my local health food store. Which is awesome because jackfruit is amazing. It's shreddy, chewy, and has this incredible ability to really soak up major flavor. I've seen it used in all sort of delicious recipes- tacos, burritos, sliders, and curry just to name a few. I use it in black bean soup, my Vegan Black Jack Soup is perfect for those cold winter days. One place I never thought to use it was chili…until now.
Before I tell you about this amazing roasted tomato chili- if you are a novice at working with jackfruit don't worry! I put together a little tutorial to help get you started. I cover things like where you can find jackfruit, and which type you'll need because yes, there's more than one type. So, if you need a crash course in all things jackfruit just head over here and check out Jackfruit 101. Now, onto this lovely spicy chili!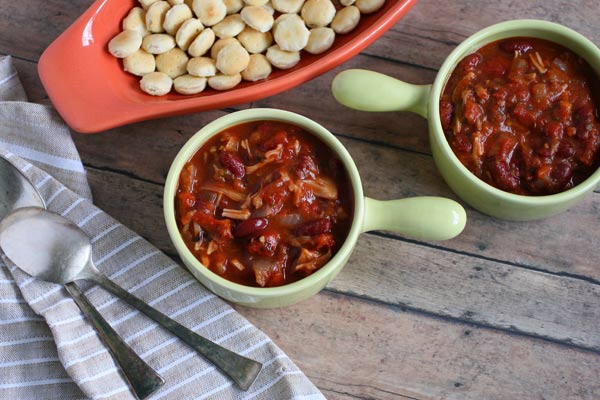 Roasted Tomato & Jackfruit Chili
Ingredients
3 –  14 ounce cans diced fire-roasted tomatoes
1 – 20 ounce can of young green jackfruit in brine
2 – 15 ounce can of dark red kidney beans
1 – 14 ounce can of tomato sauce
1 poblano pepper, diced with seeds removed
1 jalapeno pepper, diced with seeds removed
1/2 purple onion, diced
1/2 cup "no-chicken" vegan broth or other vegetable stock
2 teaspoons ground cumin
1 teaspoon dried oregano
1/2 teaspoon smoked paprika
1/4 teaspoon cayenne pepper
Salt and pepper to taste
Preparation
This recipe couldn't come together any easier, honestly. It really is just dump everything into a slow cooker and set to medium and let simmer away for a few hours to let the jackfruit break down and the flavors to marry. Generally speaking, I simmer my chili for a minimum of 2 hours but you can easily and without worry simmer it for much longer.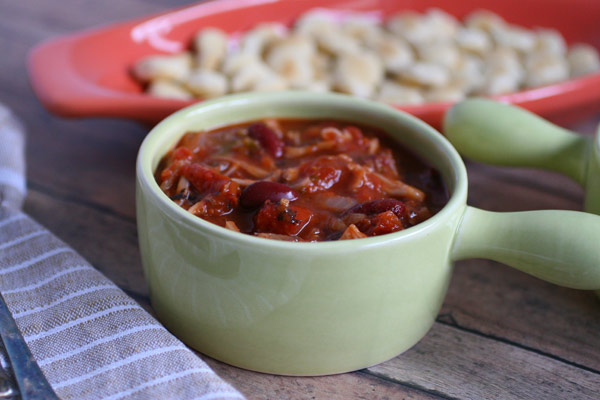 The longer you cook jackfruit, the more like "pulled" meat it becomes. I have found that cooking for at least an hour or two is best. If you are pressed for time you can help speed the process along by using a fork to shred the jackfruit while it's cooking. You won't have as much soaked in flavor, but you'll be able to get dinner to the table in an hour. Either way I think you'll enjoy this chili as much as my family did. Let me know how it goes in the comments or find me on Twitter!