Schmidt's Deodorant is a natural, cream-based deodorant that is available in five scent varieties: Cedarwood+Juniper, Ylang-Ylang+Calendula, Bergamot+Lime, Lavender+Sage, and Fragrance-Free.
I switched to natural deodorant about two years ago when I first became aware of the dangers posed by parabens and other such chemicals that are typically added to preserve the shelf-life of beauty and hygiene products.
Since then, I have tried several brands of natural deodorant with varying levels of success.  Many of them are quite sticky, and while most seem to offer decent odor protection, I have found the majority to be lacking in how well they keep me dry.
However, I may have finally found my solution, because Schmidt's is a really terrific deodorant.
First and foremost, Schmidt's is completely free of parabens, and additionally contains no aluminum, propylene glycol, phthalates, or any of the other nasty chemicals found in conventional deodorants.  In fact, all of the ingredients are completely familiar and recognizable, which is something I haven't always encountered, even with other natural deodorants.
Second, I found that this deodorant offers great wetness and odor protection (which is, after all, what we're all looking for with a deodorant, right?!).  It goes on very smoothly (more about application below), doesn't rub off on clothing at all, and lasts all day.  It also has the added bonus of moisturizing the skin under your arms, thanks to the inclusion of shea butter.
Finally, I loved the smells!  The Bergamot+Lime was my favorite (it smells like a margarita!), and I think the Cedarwood+Juniper would be a really great choice for gentlemen.  Each variety (except Fragrance-Free, of course) has a scent that is pleasant without being overwhelming upon opening the jar, and I found that the smell actually fades fairly quickly after application.  I would also note that the Fragrance-Free one is just as good as the others in blocking odor!
The one thing that I would say takes a little getting used to is the application.  You apply the deodorant by removing a "pea-sized" amount, using either the little scoop/spatula thingy it comes with, or your fingers.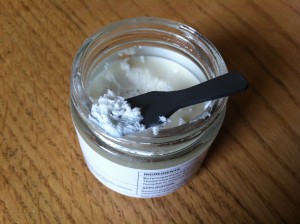 Then, you roll the product between your fingers until it sort of "melts," and then use your fingers to apply it to your underarms.   [And then, obviously, you wash your hands.]
As you may be able to tell from the photo, the stuff in the jar is pretty solid and definitely flakes a bit when you scoop it out, so it doesn't quite come out "pea-sized."  However, once it's on your fingers it starts to soften almost instantaneously.
When you're rubbing it between your fingers it actually feels a little grainy, but then, like magic, as soon as you go to rub it onto your armpit, it goes on silky smooth with no flakes whatsoever, and it instantly feels dried.  No creaminess or wetness that you have to allow to dry before you put your shirt on.
So yes, the application is a little different than what you may be used to.  It certainly was for me.  But I figured it out pretty quickly and have been loving using Schmidt's as my go-to deodorant!
I highly recommend Schmidt's Deodorant to anyone who wants to stop applying toxic chemicals to an area of skin as sensitive as the underarms!  Even if you have had mixed results with natural deodorants in the past, I believe this one might change your mind.