Now that the Retro Style Series has come to and end, I have realized that I didn't do much in the way of outfit recreation for the eras we covered in the Retro Style Series. I really enjoyed doing the series, and learned a lot about the history of fashion (I hope you did too!), but what is the use of knowledge if you're not going to apply it?  You guys deserve the very best, so I have spent some time recreating each era with modern (ok, sometimes maybe not so modern) pieces.
So here we have modernized looks for each era, and where you can buy them! Hooray!
1920's
The Roaring 20's!
The 20's were all about pin curls, cloche hats, and dropped hemlines. It was a time to celebrate fashion and being a women.. without corsets!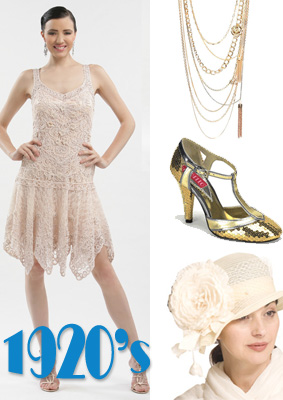 Short White Lace Dress, Unique Vintage
Gossamer Braid Cloche, Hats on The Belfry
Bordello Shoes, Babygirl Boutique
You've Really Got a Gold On Me Necklace, ModCloth
The 1930's
The Glam 30's!
The pinnacle of glam style was in the 30's.  Break out the sequined gowns and husky voices.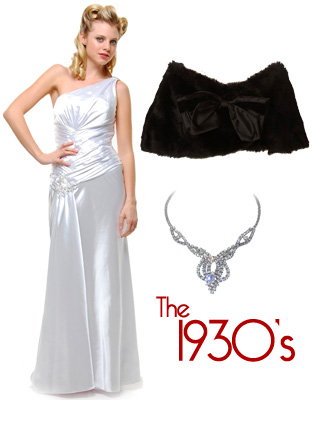 Glamour Gown, Unique Vintage
Stole The Shoe, Mod Cloth
Vintage Rhinestone Necklace, Etsy
The 1940's
The Swinging 40's!
Women briefly left their "place" in the kitchen to go to work while their husbands were off at war. These working women also knew how to unwind, spending nights swing dancing with sailors in dark secret nightclubs. (That is how I picture it!.. don't ruin my dream!)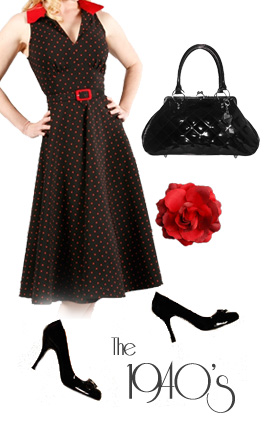 Norma Jean Swing Dress, Stop Staring Clothing
Buckle Patent Shoe, Pin Up Girl Clothing
Sin City Motor Bag, Pin Up Girl Clothing
Retro Glittery Hair Flower, Pin Up Girl Clothing
The 1950's
The Nifty 50's!
Circle and pencil skirts, bouffants and cardigans – all were donned by the preppy school girl and pin-up goddess.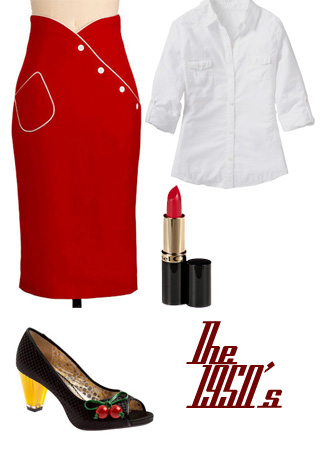 Dial M For Marvelous Skirt, Mod Cloth
Women's Rib Trim Camp Shirt, Old Navy
Cheery Cherry Heel, Mod Cloth
Matte Rose Lipstick, Gabriel Cosmetics
The 1960's
The Mod 60's!
Staples of the 60's included mini skirts, geometric shapes and bright colors. Artistic expression was shown clearly in fashion.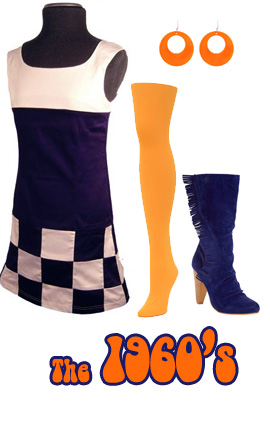 "The Cavern" Mod Dress, Atom Retro
Neon GoGo Earrings, My Diva's Closet
Neon Orange stockings, We Love Colors
Best Fringe Forever Boot, Mod Cloth
The 1970's
The Psychedelic 70's!
The 70's were not the 70's without platform shoes. Glam style complimented laid back fashion choices. Think: Disco Diva meets Hippie Chick.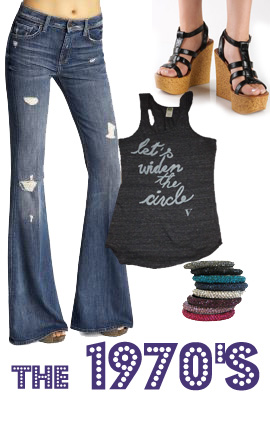 The Bellbottom, Piperlime
Compassion Racerback, Vaute Couture
Boost Gladiator Platforms, LuLus
Rhinestone Bangles, Kitson
The 1980's
The Awesome 80's!
The 80's were a time of gratuitous accessories, big hair and regrets. Lets try and make this fashionable.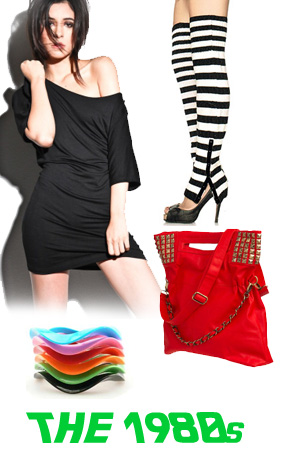 Lamixx Off-Shoulder Dress, 80s Purple
Striped Leg Warmers, PlasticLand
Wavy Colored Bracelets, My Diva's Closet
Bag-ging You For Mercy, Mod Cloth
The 1990's
The Naughty 90's!
Grunge, Neon Hip Hop Wear or Clueless Chic: You pick! (We pick grunge)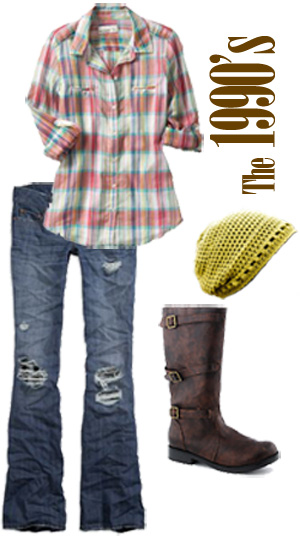 Favorite Boyfriend Jeans, AE
Roll Up Sheer Plaid Shirt, Old Navy
Summer Slouch Hat, Etsy
Quipid Press Boots, Shiek Shoes