This is the LAST installment of the Retro Style Series. If you missed it, make sure to check out the whole series from the 20's to the 90's!!
Are the 90's even considered retro?  If they are, that makes me super old. The 90's were my hay day for fashion – as I'm sure they were to many of you. Flannel shirts? Check. Chunky shoes? check. Frequent use of the words "whatever" and "As if!"?  Double check. My style icon? Rayanne Graff.  Favorite accessory? Thigh high stockings. Oh yeah! Lets recap the vastly different styles that were floating around during that time, and the accessories that loved them.
Grunge: The Anti-Fashion, Fashion
I have a very special place in my heart for grunge and its creator (arguably), Nirvana. Grunge was all about being comfortable and placing effort into creative development instead of clothing. Its ironic how this anti-fashion movement turned itself into fashion! Plaid, loose fitting jeans, and boots with matching disheveled hair completed this "just rolled out of bed" look.  Add a grandpa sweater and your the coolest thing in town!
To get your own grunge look, shop some big comfy sweaters and old concert tees at your closest vintage shop.  Grab some plaid shirts from Old Navy and some ripped "boyfriend" jeans from American Eagle and you are all set! No makeup or brush necessary.
Cluelessly Cutesy
The movie Clueless had a serious impact on fashion in the 90's. When everything was all grungy and unkempt, Clueless made fashion, well, fashionable again. This movie seriously sprung dozens of fashion trends! Some notables are pleated mini skirts, baby doll dresses, thigh highs, collared shirts, blazers, chunky heels and berets.
While some of these trends are hopelessly 90's, many are timeless and can easily be worn today. Recreate a classy Clueless chic style with this modcloth dress, cute blazer from topshop, and adorable tam/beret from Etsy.
Baggy and Bright
Lovers of Hip Hop know that the 90's were all about bright colors and SUPER baggy clothes. Yes this was the time when pants below the booty were popularized, and to the dismay of many, have yet to disappear.  Colored jeans and overalls were also extremely popular.
Recreate this look with an adorable jumper, some neon Converses, and a throw-back tee.
Hairstyles
While most women chose to wear their hair long and straight or wavy, the more high maintenance ladies ALL  had "The Rachel".  This intensely layered do was popularized by Jennifer Aniston's  character, Rachel, on the TV show Friends. Another popular look with men and women was the "bedhead" look, which could be worn long or short and required zero effort.
Shoes
Chunky shoes!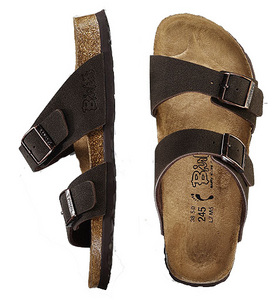 Birkenstocks (Boys can get vegan Birks at Mooshoes!)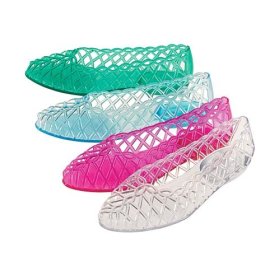 Jellies (I still love these.. don't be hatin')
Accessorize, Accessorize, Accessorize!
Symbols – symbols like smiley faces and peace signs were worn as jewelry, and on t-shirts and patches.
Mini backpacks

Chokers – usually made of thick velvet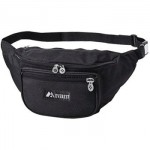 Fanny packs – Does anybody else LOVE the functionality of these but wouldn't be caught dead wearing one? Can somebody please make a fashionable version of this? ( Don't give me that Louis Vuitton BS)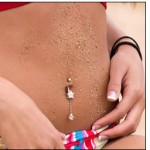 Body mods – Beginning with the navel piercing and tribal tattoos, this is when body mods went mainstream!
Style Icons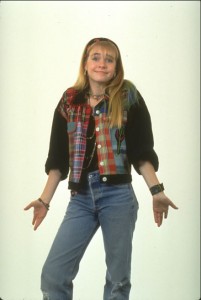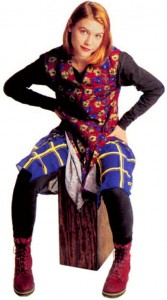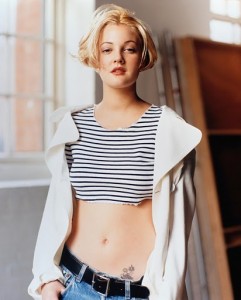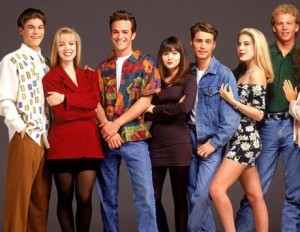 What were your favorite fashion trends of the 90's?