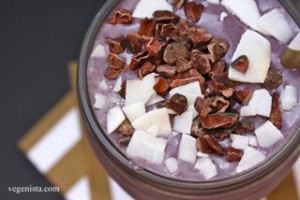 This colorful concoction is full of superfood super powers! It's full of antioxidants, vitamins, minerals, protein & omegas. It's delicious, & a bit indulgent, but oh so good for you. Who wouldn't want to start the day with a healthy chocolate milkshake?
Wild Blueberry & Cacao Superfood Smoothie
Ingredients:
1 cup simple homemade almond milk (recipe below)
1 banana
1/2 cup frozen organic wild blueberries 
1 Tablespoon raw cacao powder (Nativas Naturals)
1 Tablespoon organic virgin coconut oil (Dr. Bronner's)
1 Tablespoon soaked chia seeds
ice cubes
Instructions: 
Place all ingredients in a regular or high speed blender & blend until smooth. Top with extra goodies & enjoy!
Serves 1
Simple Homemade Almond Milk
Ingredients:
one cup raw almonds, soaked over night
3 cups pure water
optional: 1 teaspoon of brown rice syrup, & 1 teaspoon vanilla extract or seeds from 1 vanilla bean
Instructions:
Blend all ingredients in a high speed blender until smooth & creamy, approximately 3 minutes.
Strain liquid through cheesecloth or a "nut milk" bag. Reserve pulp to dehydrate & use as almond meal, or discard. Will last for up to 3 days refrigerated.
Yields approximately 3 cups