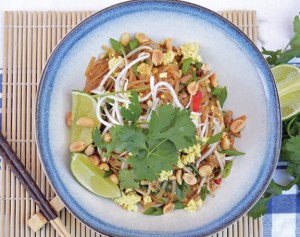 You don't have to go to Thailand to enjoy some great pad thai. Tamarind is a sour, tangy fruit that is used frequently in Indian and Thai cuisine. Check international aisles, Indian grocery stores, and other Asian grocers for tamarind or look for it on the Internet.
Pad Thai
Serves 4 
Ingredients: 
1/4 cup reduced-sodium tamari
2 tablespoons fresh lime juice
2 tablespoons tamarind liquid or 1 teaspoon tamarind paste mixed with 2 tablespoons water
1/4 cup natural sugar
8 ounces rice noodles
4 tablespoons grapeseed or sunflower oil, divided
1 pound soft or firm tofu, drained, patted dry, and crumbled
1 tablespoon nutritional yeast
1/4 teaspoon ground turmeric
Salt
4 ounces shiitake mushrooms, rinsed, patted dry, and cut into 1/4-inch slices
1 medium carrot, shredded
4 garlic cloves, minced
2 teaspoons Thai red chili paste
1/2 medium red bell pepper, cut into 1/4-inch slices
3 cups tightly packed fresh spinach
2 cups fresh bean sprouts
1/4 cup chopped roasted peanuts
Cilantro leaves and lime wedges, to garnish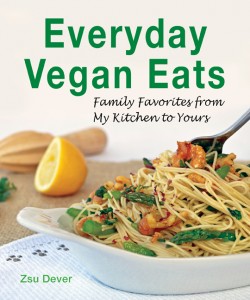 Preparation: 
In a small bowl, combine the tamari, lime juice, tamarind, and sugar. Mix well and set aside.
Cook the noodles in a large pot of boiling water until just al dente, about 3 minutes. Drain the noodles, toss with 1 tablespoon of the oil, and set aside.
Heat 1 tablespoon of oil in a large skillet over medium heat. Stir in the tofu, nutritional yeast, and turmeric. Cook, stirring, until the tofu is dry, 7 to 10 minutes. Transfer the tofu to a bowl, season to taste with salt, and set aside.
Heat the remaining 2 tablespoons oil in the same skillet over medium heat. Add the mushrooms and carrots and cook, stirring, until the mushrooms begin to brown, about 5 minutes. Stir in the garlic, chili paste, and bell pepper, and cook until the garlic is fragrant, about 30 seconds. Add the noodles, spinach, bean sprouts, peanuts, reserved sauce, and reserved tofu. Cook, stirring, until the noodles are tender but not overcooked, the sauce has been absorbed, and everything is heated through. Serve hot garnished with cilantro and lime wedges.
From Everyday Vegan Eats by Zsu Dever. ©2014 Zsu Dever. Used by permission from Vegan Heritage Press.