This Cabbage and Carrot Crunch Salad from Myra Goodman's cookbook Straight From the Earth is delicious to eat, beautiful to behold, and very healthful. It combines the crunch of red cabbage, carrots, succulent romaine hearts, crispy apples, and almonds—all complemented by sweet-tart dried cranberries and an agave-Dijon vinaigrette. You can make this salad any time of year, but I turn to it most often in the winter, because these tasty and highly nutritious ingredients are always available, even when the rest of produce selection has dwindled. When the days are cold, short, and gray, this salad brings a welcome pop of color and vibrancy to your table.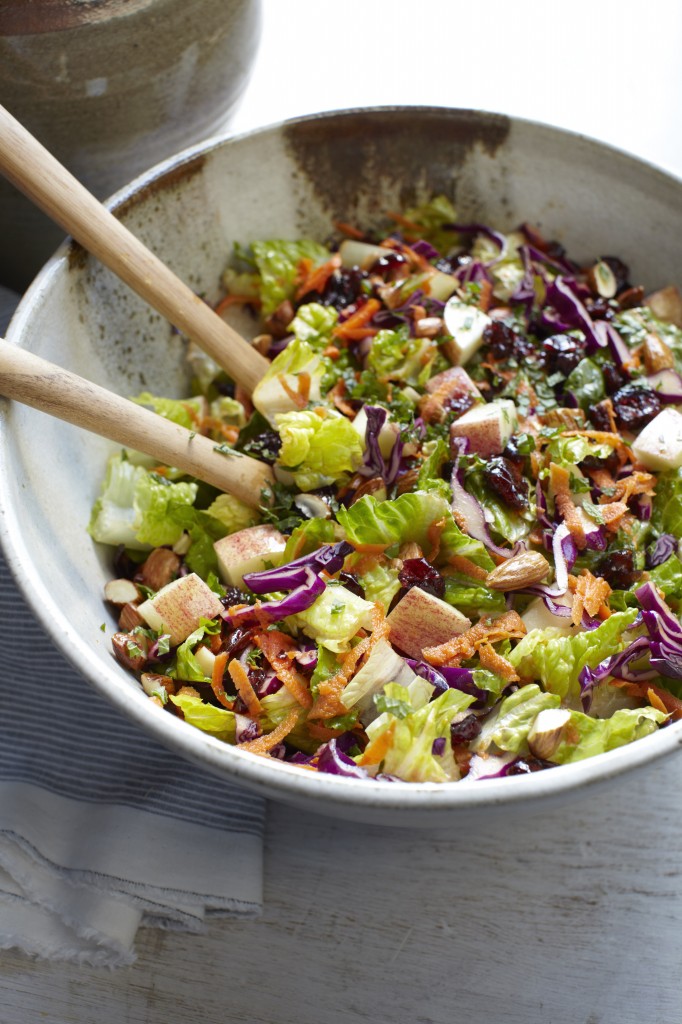 Cabbage and Carrot Crunch Salad
Ingredients:
AGAVE -DIJON VINAIGRETTE
½ cup/120 ml extra-virgin olive oil
3 tbsp plus 1 tsp red wine vinegar
2 tbsp agave nectar
1 ½ tsp Dijon mustard
¼ tsp salt
Pinch of freshly ground black pepper
SALAD
1 large romaine heart, cut or torn into bite-size pieces
2 cups/140 g shredded red cabbage
2 large carrots, coarsely grated
1 large sweet-tart apple (such as Honey Crisp or Fuji), medium dice
½ cup/75 g raw, unsalted almonds, toasted and chopped
½ cup/60 g dried cranberries, coarsely chopped
1 tbsp plus 1 tsp finely chopped fresh spearmint (optional)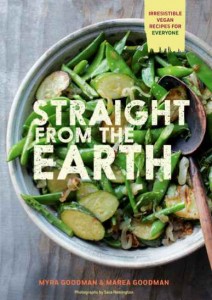 Preparation:
To make the vinaigrette: Combine the oil, vinegar, agave, mustard, salt, and pepper in a small jar. Seal the lid tightly and shake vigorously to emulsify. Set aside at room temperature.
To make the salad: Combine the romaine, cabbage, and carrots in a large bowl. Reserve 2 tablespoons of the vinaigrette. Add ½ cup/120 ml of the vinaigrette (or more as desired) to the vegetables, and toss to combine. Divide the salad among six plates or bowls.
Toss the apples with the 2 tbsp reserved vinaigrette and divide it among the individual salads. Top each salad with equal amounts of almonds, cranberries, and spearmint (if using). Serve immediately.
1 Serving: Calories: 300 | Fat : 23g | Carbs: 23g | Protein: 3g | Sodium: 150mg | Dietary Fiber: 16% | Vitamin A: 100% | Vitamin C: 45% | Vitamin E: 15% | Folate: 15%
From Straight from the Earth by Myra Goodman and Marea Goodman. Used by permission from Chronicle Books