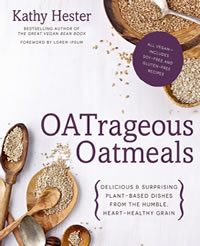 Say goodbye to boring oats and bland mix-ins because bestselling author Kathy Hester shows you delicious and exciting new takes on everyone's favorite health food with Banana Oatmeal Cookie Pancakes, Hummingbird Cake Oatmeal, Chai-Spiced Oat Shakes and Blackberry Mojito Overnight Refrigerator Oats.  She doesn't stop there. Savory recipes like Steel-Cut Oat Risotto, Oats-bury Steaks, Not-from-a-Box Mac and Oat Chez—even a healthy vegan sausage crumble made from steel-cut oats and spices—will wow oatmeal fans with new and nutritious dishes to try.
Save money by making your own staples like oat milk and oat yogurt.  With breakfast, lunch, dinner and even drink and dessert recipes taken to the next level of wholesomeness and flavor, these OATrageous dishes will dazzle your whole family and is the perfect heart-healthy gift for every oatmeal lover out there. Here's a sample recipe:
Blackberry Mojito Overnight Refrigerator Oats
Sweet juicy blackberries soaked in bright lime and mint flavors with the faintest aroma of rum will perk you up even on the toughest mornings. You can add a teaspoon or two of chia seeds to make this extra thick.
Ingredients:
1 cup blackberries (cut in 1⁄2 if large)
1⁄2 cup (120 ml) unsweetened nondairy milk
1⁄3 cup (31 g) rolled oats
2 tablespoons minced fresh mint or 1⁄8 teaspoon mint extract
zest from 1⁄2 lime or 1⁄4 teaspoon lime oil
1⁄2 teaspoon rum or rum extract, optional
1 tablespoon agave, to taste (or your choice of sweetener, to taste)
Preparation:
Add all the ingredients in a mason jar or a dish with a cover. Mix well and let sit in the fridge overnight. Stir and eat.
Makes 1 serving
From OATrageous Oatmeals by Kathy Hester. ©Kathy Hester 2014. Reprinted with the permission of Page Street Publishing Company.