As someone who loves trying out new recipes and making treats, but who is admittedly also a little bit of a health nut, Chef Amber Shea Crawley's wonderful new book, Practically Raw Desserts, is a dream come true.  Not only is the book filled with innovative and delectable-looking desserts, Crawley's recipes are also free of the nutrient-poor ingredients and common allergens—refined grains and sugars, butter and butter substitutes, soy, corn, and wheat, among others—that seem to be inevitable staples of traditional desserts (vegan or not).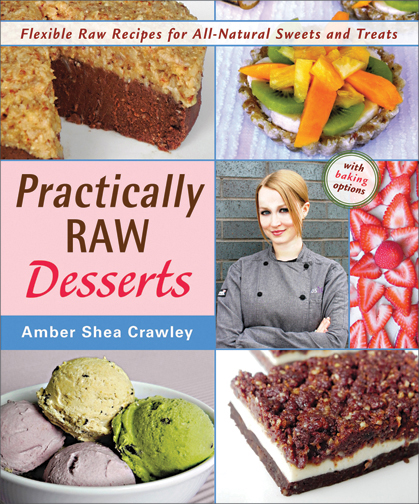 Before reading Chef Crawley's book, my experience with making raw treats had been limited to homemade nut-based "cheesecakes," banana ice cream, and pre-workout energy bars.  Though very few things beat raw cheesecake in terms of pure melt-in-your-mouth deliciousness, I had been making mostly traditional, baked desserts because that seemed to be in higher demand amongst the friends and family who ended up enjoying them.
Practially Raw Desserts, however, is filled with such a wide range of decadent treats that I am certain there is something in there for everyone, even the picky eaters.  Yes, Crawley includes the more familiar raw banana soft serve and nut-based cakes in there, but present are also highly original recipes like Lemon Poppyseed Truffles, Salted Tahini Caramels, Marzipan Buckeye Bars, and Austrian Sacher Torte (pictured below).
The best part, in my opinion?  A whole section on my favorite type of dessert: puddings and mousses!  Amazingly, even the desserts that on the outside appear most like their traditional and baked counterparts (like the Torte) are free of the contents you typically see in cookies, pies, candies, and cakes.  Instead, Crawley brings them to life with ingredients like unsweetened applesauce, dates, rolled oats, and coconut flour—a staple of Practically Raw Desserts.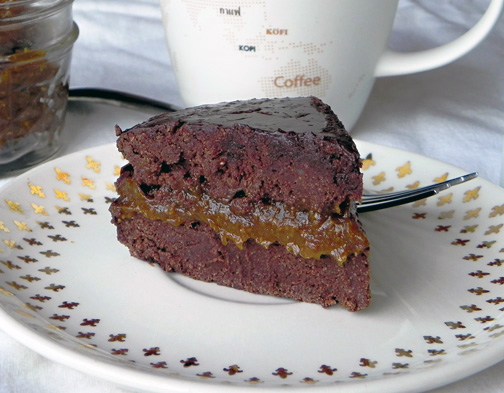 Now, many readers might be wondering if this is all too good to be true.  As much as healthier desserts sound appealing for those with a sweet tooth, are they too complicated to create?  Will I need a dehydrator, obscure ingredients, or elaborate advanced preparation?  Once again, I have to applaud Chef Crawley because the majority of her desserts are actually quite novice-friendly, yet unique enough to appeal to more advanced kitchen whizzes as well.  Some desserts do indeed need advanced prep (such as soaking nuts), and can be made simpler with the use of certain kitchen tools (like a food processor to slice up carrots for her Enlightened Carrot Cake, for instance), but the notably quick recipes are all labeled, and Crawley offers both dehydrating AND baking directions for her crunchier treats.  In her "Back to Basics" section, Crawley also walks readers through how to easily make batches of what she calls "staple recipes" that appear often in the book, such as nut milks and butters.  To put it simply: you don't need to live near a fully-stocked natural food store or own raw foodie-approved kitchen items to make your own raw or practically raw desserts!
The easy-to-follow and informative layout of the book is also well appreciated, with ingredients neatly listed in a rose-colored box, and Crawley's occasional "Chef's Tips" in little green boxes throughout the book.  These tips include her favorite ingredient swaps for certain recipes, an alternate way to shape bite-sized snacks, and disclaimers regarding taste preferences (and ways to customize your dessert to best satisfy your palate!).
I've already had the pleasure of making a few items from this book, and though some items pleased more than others, I've been very impressed with how yummy and texture-rich everything is!  It satisfies like real food should.  Practically Raw Desserts is a treat in itself, and a book I would highly recommend to all Chic Vegans, parents, baking enthusiasts, people who are brand new to raw food, and really anyone looking for fresher, healthier dessert inspiration!  Here's a super easy one to get you started: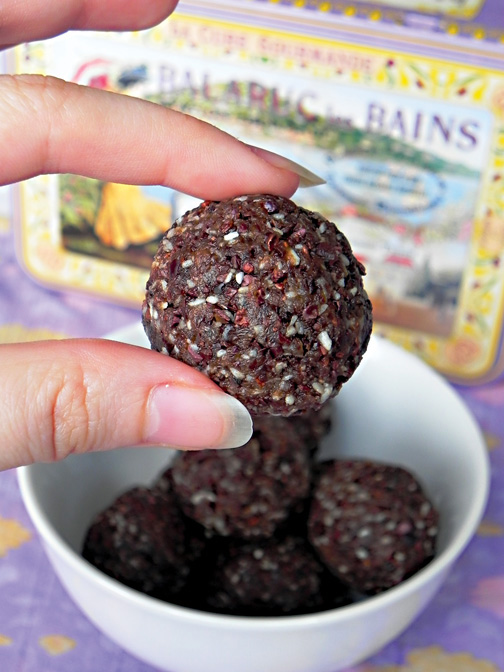 Cocoa Crunch Clusters
With just three ingredients plus a pinch of salt, these crunchy, nut-free snacks can be put together in a jiffy. The key is to use a 3:2:1 ratio of raisins:coconut:cacao nibs. Dried cherries, golden raisins, or 1 1/4 cups pitted dates can be substituted for raisins.
Ingredients:
1 1/2 cups raisins
1 cup unsweetened shredded or flaked coconut
1/2 cup cacao nibs
Big pinch of sea salt
Directions:
Combine all ingredients in a food processor and pulse until the mixture is sticky and well-combined. Roll into balls of any size and refrigerate until firm.

Store in an airtight container at room temperature for up to a week, in the refrigerator for up to 3 weeks, or in the freezer for up to 3 months. If frozen, bring them to room temperature before serving.
Yield: about 20 small or 12 large clusters
From Practically Raw Desserts by Amber Shea Crawley. ©2013 Amber Shea Crawley. Used by permission from Vegan Heritage Press. Author photo by Stephen Melvin.