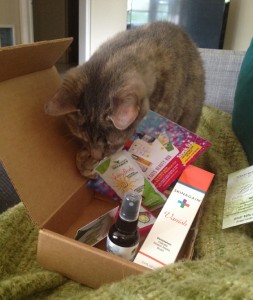 I feel like it's Christmas morning every month when my Vegan Cuts Beauty Box arrives. I just can't wait to rip open the box and discover what treasures lay inside. (My cat Clementine gets excited about it too!) Will there be a shimmery lip gloss? A sparkly nail polish? A fresh-scented hand lotion?
If you're unfamiliar with the Vegan Cuts Beauty Box, let me introduce you! It's exactly as it sounds: a box of cruelty-free beauty products that are sent to your door every month. Each box is full of 4 to 7 cosmetics and skin care samples that are free of animal products and aren't tested on animals. Most of the products found in the beauty box are also all natural and organic, which means that they don't contain toxic substances that are found in a lot of skin care products, such as parabens and petrolatum. It's perfect for those with sensitive skin who want to see how they fare with a new product, or those who simply just want to see if they like a particular item without having to spend a lot of money. It's also a great way to discover new vegan brands. If you like what you've tried, you can purchase its full-sized counterpart from the Vegan Cuts Marketplace.
The May Vegan Cuts Beauty Box contained:
Lauren Brooke Cosmetiques Mascara – This is the smallest cutest tube of mascara I've ever seen! This mascara is made with organic herbs and extracts, and it helps to strengthen, lengthen and protect lashes. It's free of the nasty stuff that other mascaras usually contain like nanoparticles, petroleum, and synthetic fragrances, because the eyes seem like the last place on the body that you would want to adorn with toxic chemicals.
Gourmet Body Treats Raw Finishing Powder – This shear powder is made with ingredients like organic arrowroot powder, bamboo extract, olive leaf extract and chamomile, and it's ideal for all skin types. It absorbs oil, minimizes lines and helps to give your foundation extra staying power.
SkinAgain Vanish Cream – Like many others, I've got quite a few scars and stretch marks, and even some cellulite. This cream was specially formulated to help diminish all three with natural ingredients such as aloe vera, green tea extract, and shea butter. It's fragrance free and ideal for sensitive skin. It's too soon to tell if it's working, so I'll have to report back later with an update.
Sevi Blue Yarrow Sea Salt Texturizer – My hair gets wavy and kind of crazy in the hot, humid summer weather. I used to fight it with straightening products and flat irons, but over the past few years I've come to embrace my waves. This texturizing spray for hair contains dead sea salt, flax seed extract and herbs that give hair light body while defining curls, so it definitely be of help to me when the hot weather hits.
Good Garden Organics Natural Sunscreen – This is another product that will be put to good use once the sun comes out here on the east coast. I have pale skin, and I burn really easily, so I'm in constant need of sunscreen. This light mineral lotion nourishes skin while protecting it from the harsh rays of the sun.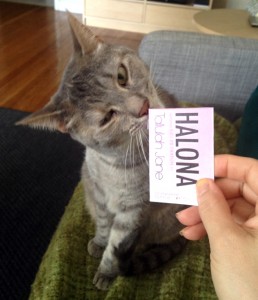 Tallulah Jane Halona Perfume – Most perfumes give me a headache (and some even make me dizzy) so I tend to avoid them. Happily I didn't have a negative reaction to this perfume from Tallulah Jane, which smells like limes, ginger and spices. I may be slightly partial to the brand because I have a cat named Tallulah. (That's not her.)
The Beauty Box is available as a monthly subscription, which means that a new box of goodies gets delivered to your door every month without an effort from you. If you like the samples in your box, you can order their full-sized counterparts from the Vegan Cuts Marketplace.