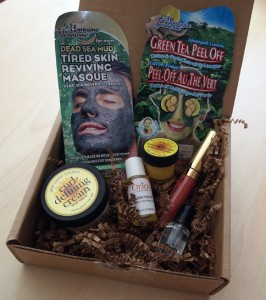 It's hard to believe it's already May! I know that another month has gone by because the mail carrier brought me another Vegan Cuts Beauty Box. If you're unfamiliar with the Vegan Cuts Beauty Box, you should know that it's a box of cruelty-free beauty products that are sent to your door every month. Each box is full of 4 to 7 cosmetics and skin care samples that are free of animal products and aren't tested on animals. Mot of the products are also all natural and organic, which means that they don't contain toxic substances that are found in a lot of skin care products, such as parabens and petrolatum. The beauty box makes it easy to discover new vegan brands without committing to full-size products or spending a lot of money. If you like what you've tried, you can purchase it's full-sized counterpart from the Vegan Cuts Marketplace. I'm in love with the Beauty Box, and each delivery is like a little mini birthday in the middle of the month. I can't wait to rip open the box and discover what treasures lay inside. Will it be lip gloss? Nail polish? Hand lotion?
The April Beauty Box Contained:
Glamnatural Lip Cream – Because of the package, I expect this to be lipgloss, but it's actually a lip cream, not a gloss. It's sort of like soft lipstick. It's made with shea butter, which helps to moisturize lips, and it glides on smoothy. The color is perfect for my skin, and it's going to get a lot of use this spring.
Montagne Jeunesse Masks – I used to use face masks a lot, but somehow got out of the habit. These packets of Dead Sea Mud and Green Tea Peel Off masks made it easy to get back in the habit again. The mud mask is supposed to be for men but I used it myself. It removed impurities and firms skin, and it made me want to place cucumber slices on my eyes while taking a hot bubble bath with a glass of champaign at my side. The peel off mask has a nice clean scent and it cleans and tones while refreshing the skin.
Jane Carter Solution Hair Care Products – These all natural products give hair a healthy boost, no matter what its texture or type. The texture of my hair has been a little weird since my surgery in March, so the nourish and shine solution was a nice surprise in this month's beauty box. It has a nice, fruity scent, and I found myself wondering what the great smell was a few times, only to discover that it was me! I'm saving the Curl Defining Cream for the summer, when I the humidity will take over and turn my hair into a frizzy mess.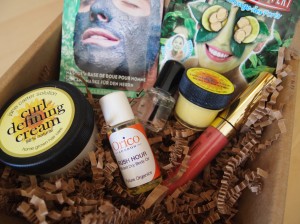 Orico London Body Oil – This vitamin-rich organic body oil absorbs quickly and leaves behind a soft, silky glow. My skin has also been dry weird since my surgery, so this oil was also a welcome surprise in this month's box.
Zazzle Dry Nail Polish Top Coat – I've been using nail polish a lot lately, which is a new thing for me. I used to pain my nails a lot years ago, but much like face masks, I fell out of the habit. Some of the polishes I've been using chip easily, so I've been in need of a top coat. This quick-drying clear gloss is the perfect top coat! I really like that it's free of formaldehyde, toluene, DBP, and camphor.
The Beauty Box is available as a monthly subscription, which means that a box of new surprise products gets delivered to your door every month without an effort from you. If you like the samples in your box, you can order their full-sized counterpart from the Vegan Cuts Marketplace.