In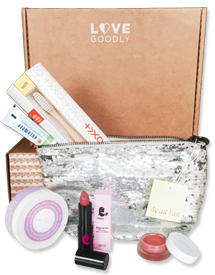 case you haven't heard, subscription boxes are kind of in right now. There are so many options to choose from and you can find something that suits your personality and interests. From food to clothes to makeup to shaving, you can literally find a subscription box for anything.
So it takes a lot for a subscription box to really stand out, but Love Goodly manages to do just that. Love Goodly lets you discover eco-friendly brands of beauty, food, snacks, and accessories. Each box is carefully curated with samples that meet Love Goodly's standards of being healthy, cruelty-free, vegan, and natural brands. They believe that we should vote with our wallet for conscious brands and with their subscription box, you get to do that.
I was given the opportunity to check out their December box and I was super excited to see what I was going to get to review! Here is what was in my box:
Lippy Girl Vegocentric Lipstick in Schmoopy
Ok, I am not a huge lipstick person, I prefer lip balm/gloss, but I LOVE this lipstick. It is the perfect color and goes with pretty much any outfit, which was awesome for the holidays. This lipstick is also certified vegan, vee-free, gluten-free, and chemical free. It's made with natural oil and waxes that make your lips look and feel great. I'm definitely going to check out their other products after trying this lipstick.
hellomellow Balance Body Butter
During the winter, I usually have super dry hands. Not anymore! This body butter is an amazing blend of avocado and mango butter scented with essential oils like bergamot, chamomile, and orange. It smells heavenly and makes even the driest skin soft and smooth. It also is made with all natural ingredients, and cruelty-free. This body butter isn't just for dry skin but you can put it on stretch marks, scars, sunburns, calluses, and even use it on the ends of your hair if it's super dry! Talk about an overachiever!
Deux Lux Sequin Cosmetic Bag
How did Love Goodly know I needed a new makeup bag? My old one was falling apart at the seams and this cosmetic bag was a welcome surprise in the box. It's super cute in silver sequins, has tons of room and it is made with all vegan materials. Now I have an adorable place to store all my new Lippy Girl products!
Auromere Ayurvedic Toothpaste
Do you ever really think about all the things that are in your toothpaste? Probably not. I just want to make sure my teeth are clean and my breath is fresh. I can honestly say that I have never thought about the ingredients in my toothpaste. So when I saw this toothpaste in the box, I was intrigued. I was a little doubtful that it could do as good a job as my regular toothpaste but I was glad that I was proved wrong! This toothpaste is made with all-natural botanical extracts and essential oils and leaves you with a fresh clean feeling. It also has no fluoride, gluten, artificial sweeteners, dyes, or harsh chemicals. Oh, and, of course, it is vegan and cruelty-free!
Hello Gorgeous Toothbrush
What good would toothpaste be without a new toothbrush? I love this bamboo toothbrush that is a much more eco-friendly option when compared to plastic toothbrushes. Most toothbrushes end up in the garbage and that plastic doesn't decompose so it ends up sitting in a landfill for years and years. Not this toothbrush! It is made with bamboo and other natural ingredients and features a wave-shaped design that can reach difficult spots in your mouth. It cleans just as well as regular toothbrushes while being environmentally conscious!
I am a huge fan of the Love Goodly box subscription. They introduced me to some awesome products that I will definitely be trying again. I also really like that each month's box supports a different cause. The December/January box supports Farm Sanctuary.
If you would like to try out a box from Love Goodly, they have a few options. You can get a bi-monthly box, 6-month box, or 12-month box. You can check out their website to get more details.
If you are looking for a subscription box that lets you support conscious brands and businesses as well as help donate to worthy causes, then you should check out Love Goodly! I promise they won't disappoint.