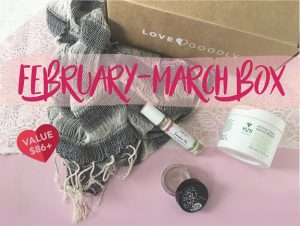 It's time for another Love Goodly review!  This time, it's their February-March box and once again, Love Goodly doesn't disappoint.  For those of you who don't know about Love Goodly, they are a bimonthly subscription box that sends you nontoxic beauty, eco lifestyle, and wellness products at a great price.  All of their products are cruelty-free, organic, non-GMO, eco-friendly, and vegan.  You can see my other reviews of their boxes here, here, and here.
The February-March box included some pretty awesome things.  My favorites had to be the hand-woven scarf and the cream luminizer.  There was also a roll-on essential oil stick and facial moisturizer.
The Marquet Fair Trade Ton Fai Open Weave Scarf was made in Thailand and every step was done by hand.  You can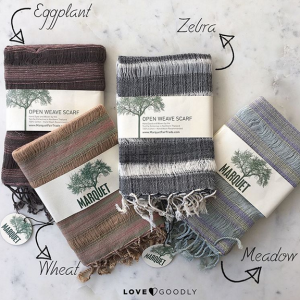 choose from one of eight different colors or be surprised!  I got the Zebra pattern and it goes with pretty much everything!
Orglamix Cream Luminizer was my second favorite product, which is surprising because I have never used any product like this before.  The Luminizer is a cream highlighter that adds a nice glow to your complexion.  I love that it isn't greasy or heavy and it doesn't make me look like I'm wearing roll-on glitter like I may have back in the 90's….
Orglamix also included their Sunshine Oil which is a blend of essential oils including grapefruit, sweet orange, mandarin, lemon, and lime peel.  It's seriously like sunshine in a bottle.  We haven't had much sunshine in Chicago this January and blend of citrus in this oil is very uplifting.  It's also a great way to hydrate your skin and available exclusively to Love Goodly.
Finally, YUNI Organic Active Calm Moisturizer was also a part of this box.  This moisturizer is non-toxic, vegan, and cruelty-free.  It helps with elasticity and while it was a little greasy, it was still lightweight and didn't feel too goopy.  I wouldn't use this every day, but in the harsh winter months, it's very helpful.
Each box is $29.95 and a part of the proceeds for this box go to the Beagle Freedom Project.  You can also shop for individual products on Love Goodly's website and pick and choose what you want.  I still love this box and am always excited to see what comes next!  Hopefully, you'll love the products as much as I do!