"Our indulgent snacks are made with pure ingredients that won't weigh you down but instead, lift you up!" That's the promise from the team at Bakeology.  As someone who has a sweet tooth, I'm always on the lookout for products that satisfy my cravings without diverting me from my healthy lifestyle too much. When I tried Bakeology's Cookie Bites hoping they would fit the bill, I was not at all disappointed.
The Bakeology Cookie Bites currently come in three varieties: chocolate chip (my favorite!), snickerdoodle, and vanilla chai shortbread. Not only are these little cookies vegan, but they are also certified gluten-free and sourced from non-gmo ingredients.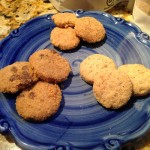 For not a huge caloric hit, you can have three crunchy cookie bites that deliver a lot of flavor. And if you don't bother too much with worrying about calories, then by all means, keep snacking! They make a great after-dinner dessert or pair perfectly with a cup of coffee or tea—especially, the vanilla chai shortbread. I'm a chocolate girl all the way, but I was surprised how much I loved the hit of chai in the vanilla chai shortbread! The snickerdoodle had great flavor, too, and, although you might think it odd, I kept thinking these particular cookies would make a great fall pie crust after a quick whirl through a food processor. Sadly, I devoured my cookie samples before I got to give this (possibly brilliant?) idea a chance.
Bakeology is the result of a mother/daughter team, Dawn and Sasha, whose desire is to "to share our home baked, pure creations with everyone." Their little company is relatively young, and hopefully expanding its reach beyond their California home base. If you'd like to enjoy these lovely little sweets and help a woman-owned small business expand its roots, I highly encourage you to order a few of these cookie bite bags from their website.
Bakeology Cookie Bites are good on their own, but you can also use them in recipes, such as these Spooktacular Snickerdoodles, which are perfect for the spookiest day of the year. Everyone from guests, ghouls or goblins will enjoy these treats!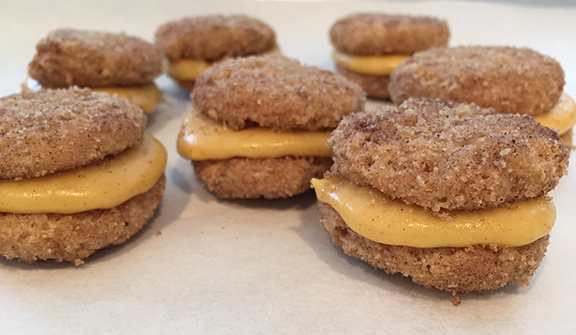 Spooktacular Snickerdoodles
Ingredients
Cookies
1 bag Bakeology Snickerdoodle Cookie Bites
Pumpkin Creme
2 tbsp coconut oil
1/4 cup pumpkin puree
1/4 tsp cinnamon
Dash of vanilla extract
2 cups organic powdered sugar
Method
Whisk together coconut oil, pumpkin puree, cinnamon & vanilla extract until smooth. Add powdered sugar, 1 cup at a time, and mix until combined & creamy. Using a small knife, add roughly 1 teaspoon of creme to the center of a Snickerdoodle and top w/ another Snickerdoodle to create a crunchy Spooktacular Snickerdoodle.
Contest time!
Enter to win two bags of Bakeology Cookie Bites and 2 small almond milks. Follow the instructions below to enter. U.S residents only, please. Contest ends at midnight eastern time on October 28th. Good luck!